Here is the unfortunate fact: we all keep aging on a daily basis. Over the years, these small daily changes build up subtly and begins to show its "ugly face" starting around 40ish and just keeps going downhill from there. While your alternative is even more undesirable, we need to be grateful to be alive and have incredible technology today that helps us anti-age.
I am turning 62 this year and to look at me you would say, Lauri has great genetics and she was always this young looking. This is actually not the case at all.  Looking at my pictures at 35 years old and having lived in the southern sunny climate throughout my college years I was terribly sun-damaged and aging at a rapid rate. My mom at 80 having lived in Florida half her older life was incredibly sun-damaged and was ravaged with horrible facial skin cancers. Check out both our pictures below.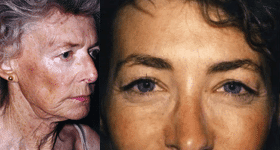 Recognizing I was aging very rapidly at 35 and working along with my plastic surgeon husband, Dr. Dean Kane, we were determined to find a skin program that would help me and our patients effectively reverse the damaging effects of sun and the environment and stop this aging process that surgery could not.
First Fountain of Youth Treatment: ZO Skin Health by Dr. Zein Obagi
Dean first met Dr. Zein Obagi 30 years ago and recognized he had developed a skin system that would revolutionize the skin world. Dr. Obagi's skin product line was not available to the public until I turned 40 and I jumped on board immediately and have never once altered from Dr. Obagi's philosophy.
The key factor of Dr. Obagi's system was combining Retin A (tretinoin) with a Hydroquinone cream system that effectively penetrated deep in the dermis of the skin on a DAILY basis to stop and reverse the aging of the skin and to be able to maintain beautiful healthy skin. Twenty-one years later I continue to use Dr. Obagi's newest lines of skin retinols, skin lightners and anti-oxidant creams to keep my skin forever youthful. The KEY factor is that as we age daily, we have to anti-age daily. Using Dr. Obagi's advanced skin systems of retinols and anti- oxidants allows us to do just that, stay forever young.
 
Second Fountain of Youth Treatment: Yearly ZO Controlled Depth Chemical Peel
Relying on daily skin products is crucial, but a yearly boost of a stronger ZO Controlled Depth chemical peel helps to increase the tightening, collagen and elastin of the skin. Any residual sun-damage and pigmentation that is eliminated by peeling away the gradual buildup of dead layers of tissues over a years time. This type of peel has a 7+ day downtime in which the entire face will completely peel leaving you with brand new skin.  To maintain the effects of the peel, you need to return to your daily ongoing regimen.
I am always asked,  "do I need to stay on these products forever?  Yes, Yes, Yes. As long as you want to stop the aging process you need to use a retinoid and anti-oxidants on your skin every day of your life.
Now look at mine and my mother's pictures before and over the years using these 2 treatments. My face looks younger at 52 than at 40. My mother not only reversed her sun-damage at 80, but stopped getting her skin cancers because she was continually exfoliating her skin, shedding the pre-cancer cells before they could turn into a true cancer.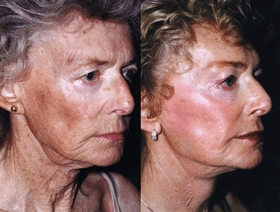 Third Fountain of Youth Treatment: Sculptra The Liquid Facelift
While the above two skin treatments work at the surface level of the skin to stimulate new skin cellular turnover and collagen and elastin, Sculptra works below the skin.  Sculptra is injected under the skin to stimulate your collagen and elastin and to restore your skin's youthful qualities by tightening and firming skin laxity and thickening the skin tissues.
Sculptra is NOT a filler. Sculptra is the crystalized form of dissolvable suture material (Poly-L-Lactic Acid). It was identified that when some sutures dissolve under the skin they not only hold the incision closed but it stimulates all the youthful properties of the skin such as collagen and elastin production. Collagen and Elastin are the two major players in keeping our skin firm, tight, plump and youthful.
Dr. Kane artfully injects Sculptra into the entire face to achieve his "Stimulation Facelift".  When you first use Sculptra, you need to start with at least two sessions 6 weeks apart to achieve optimum results. Sculptra will stimulate and tighten your face for an entire year. A yearly boost is highly recommended to continually keep the collagen and elastin production   to maintain the firmness of the skin and reverse your aging effects. Remember we continue to lose collagen and elastin as we age. The older we are, the more our faces lose our ability to make collagen and elastin. Sculptra is truly one of our fountain of youth treatments that prevents and reverses the aging process.
I personally have had 4 sessions of sculptra over the past 3 years. I have a yearly boost to keep and maintain the firmness and tightness of my face. While I had a facelift 2 ½  years ago due to the laxity of my neck tissues, I still continue to use these 3 fountain of youth treatments to maintain my facelift results and to keep anti-aging my face.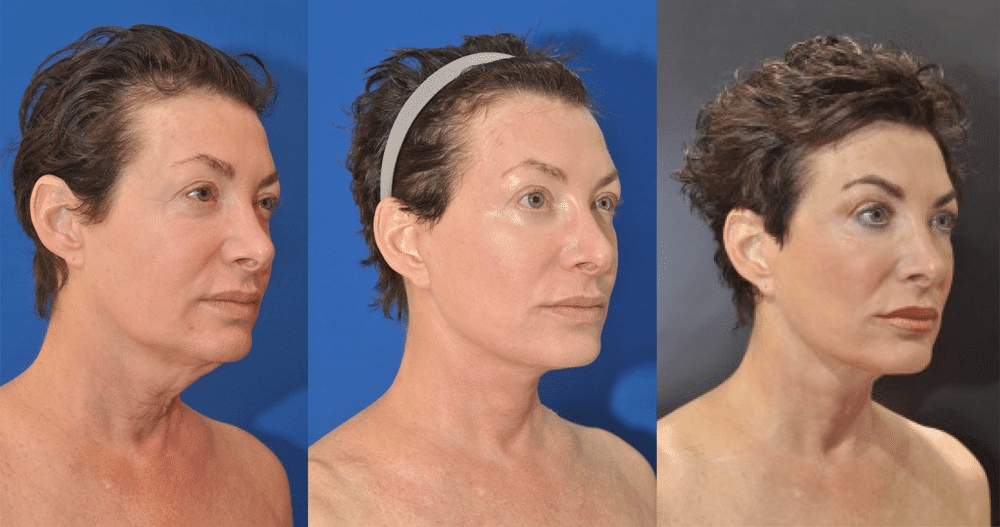 How Can We Help You Achieve Your Forever Youthful Face.
So now you know my personal secrets, but I am happy to share all I do and help other women do the same. When you come in for a consult with Dr. Kane you will also meet with me and I personally address your issues and help you find the right solution to keep you looking forever young.
You can always email me with questions: Lauri@DrDeanKane.com and call the office to schedule your consultation at (410) 602-3322 . Our website has great information and before and afters to check out more of our patients' results: www.DrDeanKane.com/gallery.
We're located on Reservoir Circle just a block off the Baltimore beltway, convenient to greater Baltimore, Annapolis, the Eastern Shore, Southern Pennsylvania, Delaware and Frederick.