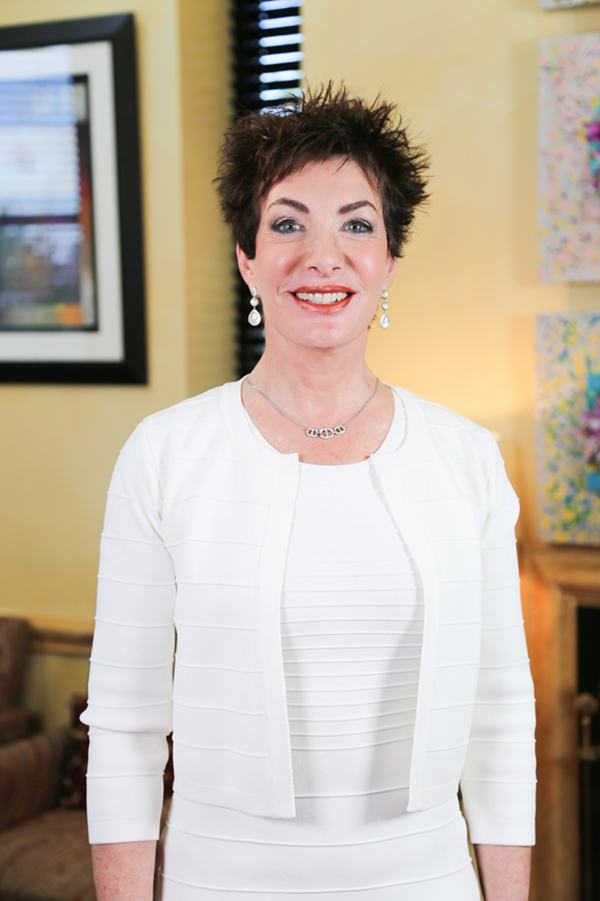 Lauri Kane, MPH, ScD, a trained skin health and cosmetic specialist, is committed to helping patients at the Center for Cosmetic Surgery & MediSpa in Maryland obtain healthy, youthful skin as well the desired bodies and images that gives women the self-confidence that comes with it. She has been personally trained to use the ZO Nu-Derm® cream products and the  ZO 3-Step Peel® by their creator, the renowned Dr. Zein Obagi and now the new generation of ZO Zein Obagi, MD Skin Health. Whether you are in search of beautiful, rejuvenated skin or honest skin advice or help in determining the right cosmetic procedures Lauri Kane, MPH, ScD with Dean Kane, MD, FACS will help guide you to find the optimal approaches to meet your individual needs.
Lauri Kane, MPH, ScD currently conducts all of our patients' consultations along side Dr. Dean Kane, taking the time to discuss concerns, answer questions, will walk potential patients through their entire procedure, and make sure expectations are not unrealistic. Her friendly chair side manner is known to put our patients at ease. Behind the scenes, Lauri administrates the entire Center for Cosmetic Surgery and Medspa, overseeing the personnel management, accounting and marketing of the practice.
---
Education, Training and Professional Accomplishments
Lauri Kane MPH, ScD 's training is second to none. After earning a Bachelor of Science Degree from the Department of Nutrition and Clinical and Community Dietetics at the University of Florida, she obtained a master's degree in Public Health from the University of Puerto Rico School of Public Health. She later completed a Doctor of Science in Maternal and Child Health from the prestigious Johns Hopkins University School of Hygiene and Public Health.
Associate Professor in Maternal and Child Health at the University of South Florida in Tampa, Lauri taught a course in Women's Health Issues for graduate students. Returning to Baltimore over 25 years ago to reside permanently with Dr. Dean Kane, Lauri took on a role as Research Coordinator in the Department of Maternal and Child Health at Johns Hopkins School of Public Health and later became a faculty advisor to the Department as well. When Dr. Dean Kane chose to open his solo practice in plastic surgery in 1990, Lauri "temporarily" stopped working in public health to administrate her husband's plastic surgery practice. Twenty-four years later, Dr. Dean and Lauri Kane are proud partners in their successful and well known Center for Cosmetic Surgery and Medspa.
---
Skin Health Training
In 1996, Lauri Kane attended a Systems ZO course to learn about Dr. Obagi's skin care treatments and products. In 1997 Dr. Dean Kane and Lauri Kane were personally trained by Dr. Zein Obagi to become part of his ZO Faculty at Dr. Obagi Medical Products where they both traveled around the U.S. and Hawaii actively presenting the Dr. Obagi System courses to other physicians, estheticians and nurses. Their roles as faculty completed in 2002  when Dr. Obagi left the OMP company. However, in February 2014, Dr. Obagi invited Dr. Dean Kane and Lauri again to become part of his Faculty for his new ZO Skin Medical System. Lauri and Dr. Kane both attended a faculty training in February 2014, when they were awarded the faculty positions.
Throughout the 24 years in practice, Lauri continues to be educated in skin health by the skin research experts of the skin companies, Allergan, Young Pharmaceuticals, Topix, Johnson and Johnson whose products are sold in Dr. Kane's practice to make sure she keeps up to date in all aspects of the skin care products and in the understanding of skin health.
---
Community Volunteer
Presently, while Lauri is actively managing The Center for Cosmetic Surgery and Medspa, she is very much committed to helping women with breast cancer. Lauri has created unique fund raiser events to actively support The Red Devils Organization of Maryland with her Painted Ladies Events and her husband, Dr. Dean Kane's art events Lauri presently sits as an active Board Member for The Red Devils Organization for over 4 years. A Maryland based charity, The Red Devils actively provides hands on service in 40 hospitals to women who are actively receiving chemotherapy for their breast cancer. These services include transportation to treatments, meals and groceries, house cleanings, medical expenses, living costs and emergency needs to any women in need. Lauri took up the Red Devils cause due to the No RED TAPE approach to provide women in the throes of breast cancer with what they needed when they needed with no questions asked.
---
Painted Ladies Books and Events
Lauri Kane, MPH, ScD creates out of the box approaches to raising awareness for breast cancer. As a result of all of Lauri's efforts, she and Dr. Kane have raised over $10,000 through their painted ladies events, art auction of Dr. Dean Kane's personal artwork and a book about their events. What started out as just a monthly lecture about breast surgeries turned into an event about women celebrating the transformations of their lives. For more information email Lauri Kane at Lauri@DrDeanKane.com.
Seven female patients of our practice had plastic surgery ranging from:
cosmetic breast augmentation for natural aging
breast reconstruction caused by breast cancer
breast reconstruction from a failed cosmetic augmentation
reconstruction resulting in a body lift and breast lift / augmentation from gastric bypass surgery for massive weight loss
mommy makeovers due to pregnancies and breast feeding
The woman were diverse in age and race, from 35 to 58 years old and included Asian, African American and Caucasian women. A routine Open House and Lecture evolved into a fantastic celebration. The event generated sensations of "Queens for the Day" that would have everlasting impact on their lives. Their bodies were painted to appear as though they were wearing contemporary tops and gowns. A professional cosmetologist made up their faces, their hair was styled, jewels were draped about their necks and ears; and finally they received a professional photo shoot. They were truly queens that walked down a red carpet.
Our book: "Painted Ladies: Celebrating Life" and the DVD from the event was inspired by the life stories of the seven women and their achievement to reach personal self-fulfillment and internal happiness – Becky, Cindy, Chandra, Deborah, Georgette, Janet and Kristina. All of these women were all very courageous, but the ultimate sacrifice was Chandra's who lost her breast to cancer. She found inner peace and life strength through breast reconstruction. We have dedicated this book to Chandra, whose stamina and perseverance to reach her 5 year survivor mark is being celebrate by a book whose profits will be donated to Race for the Cure. Chandra is an inspiration for all to appreciate life to its fullest.
We hope to inspire and help women find their inner sense of peace even if they need to find it through physical enhancements. Women should be able to find personal happiness and self-fulfillment without feeling guilty. Our event was about the celebration of women being able to find their inner and outer beauty, hope and life. For more information email Lauri Kane at
Lauri@DrDeanKane.com
.