Overview
In the Baltimore MediSpa of Dr. Dean and Lauri Kane, they have dedicated their Practice to provide comprehensive treatments for all skin issues. Whether you want prevention and/or treatments for skin aging, acne, oiliness, sun-damage, acne scarring, red issues, brown pigmentation, and skin cancers, we have skin care products and treatments that take care of all these issues. We offer both home skincare treatments as well as in-office procedures such as Facials, HydraFacials, MicroNeeding with PRP, Microdermabrasion, Peels of all levels, and Lasers for all problems. The following is a brief overview of all skin concerns and treatments we offer in our Baltimore Center for Cosmetic Surgery and MediSpa. For greater depth of information be sure to visit www.DrDeanKane.com.
Today's Millennials are focused on preventing the aging process. This group of young professionals recognizes that they want to keep their skin healthy and fresh. They learned from their parents that sun-worshipping only leads to skin cancers and very damaged and aging skin.
---
Reversing the Aging Process
Anyone who is 50 years or older will tell you about how they used the baby oil and sun reflectors to get a better tan on the beach when we were in our younger years. Unfortunately, no one told us what we would experience in our later years: severe pigmentation, brown age spots, freckling, skin cancers, thin and lax skin. To truly effectively reverse, stop and achieve beautiful healthy skin we recommend that a person starts with Dr. Zein Obagi's ZO Skin Care Products at home and add in treatments at our office that are described below.
Fortunately, it is never too late to reverse and stop the aging process. The before and after pictures below is Lauri Kane's mom who at 80 years old living in Florida had severe sun-damage and skin cancers. Lauri with Dr. Kane reversed all her damaged skin and returned it to a very healthy and glowing state.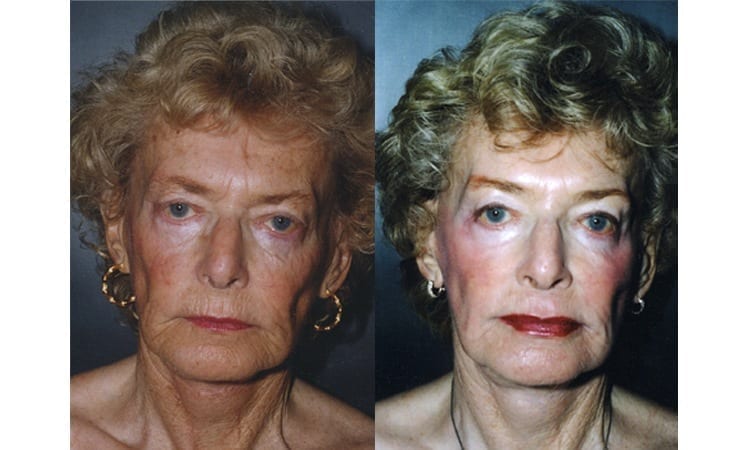 View More Images in Our Before and After Gallery
**Individual results may vary from patient to patient**
---
Today's ZO Skin Health Products by Zein Obagi, MD has the powerhouse of strong Tretinoin cream combined with hydroquinone to stimulate new cellular turnover and erase the brown pigmentation from old sun-damage. These products will also be very effective and help prevent future skin cancers as it is actively exfoliating the skin and shedding pre-cancerous cells.
In addition to the home skincare products, Peels, MicroNeedling with PRP, and Lasers performed in our office will be advised to get at the deeper skin damage. TCA peels and IPL and Fractional Laser both go deep in the skin to truly exfoliate and rid the skin of the damaged deep layers, bringing the skin back to a healthy glowing state. MicroNeedling with PRP provides a very deep exfoliation and then uses your own nutrients from your Plasma Rich Proteins to nourish and heal the skin.
---
Sculptra: The Collagen and Elastin Stimulator
Sculptra is advised when the skin has lost a lot of its collagen and elastin and has become thin and lax. Sculptra is an injectable that is performed by Dr. Kane. Sculptra is injected into the entire face which stimulates your own collagen and elastin deep under the skin that will thicken, firm, and tighten the skin. The process involves 2 sessions of Sculptra injections done 6 weeks apart as your initial treatment. The Sculptra will stimulate your elastin and collagen the entire year in which you see subtle but substantial changes to the skin. Every year after the first treatment you come in for a yearly one session booster to keep your skin stimulated and never allowing you to lose any more collagen and elastin as well as keep up a continual stimulation so that you are actually stopping the aging of the skin forever.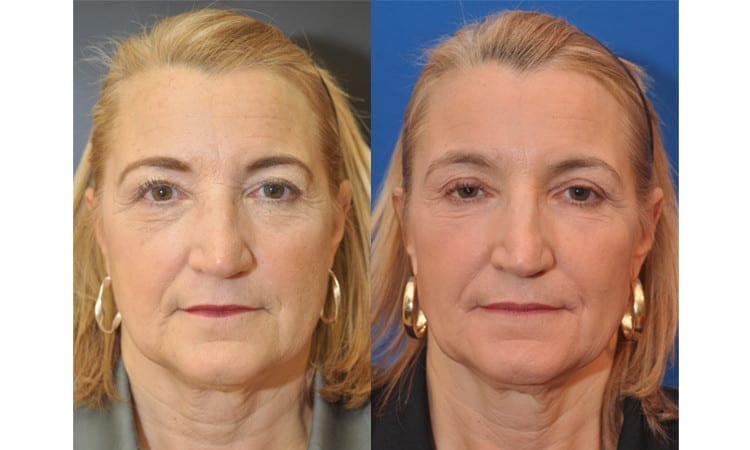 View More Images in Our Before and After Gallery
**Individual results may vary from patient to patient**
---
Acne, Oily Skin & Acne Scarring
Acne and Blemishes
We offer the latest medical treatments and products for acne therapy. Acne is a common skin condition that affects people of all ages in varying degrees. Our professional guidance for treating adult hormonal acne, as well as teen acne is supported by a customized progressive treatment plan. Our goal is to work with you to improve your appearance and self-esteem. The combination of naturally occurring oils and dead skin cells clog the pores or hair follicles in your face, chest, back, and shoulder area. This is not a condition you need to live with or allow it to run its course. Within our practice, we begin with a manageable home care protocol to attack the oil and bacteria. Options like our Blu Light Therapy, Acne Peels, Retinoids provide a long-term care method for treating mild to moderate acne. Oral Therapy, like spironolactone is available for more severe acne.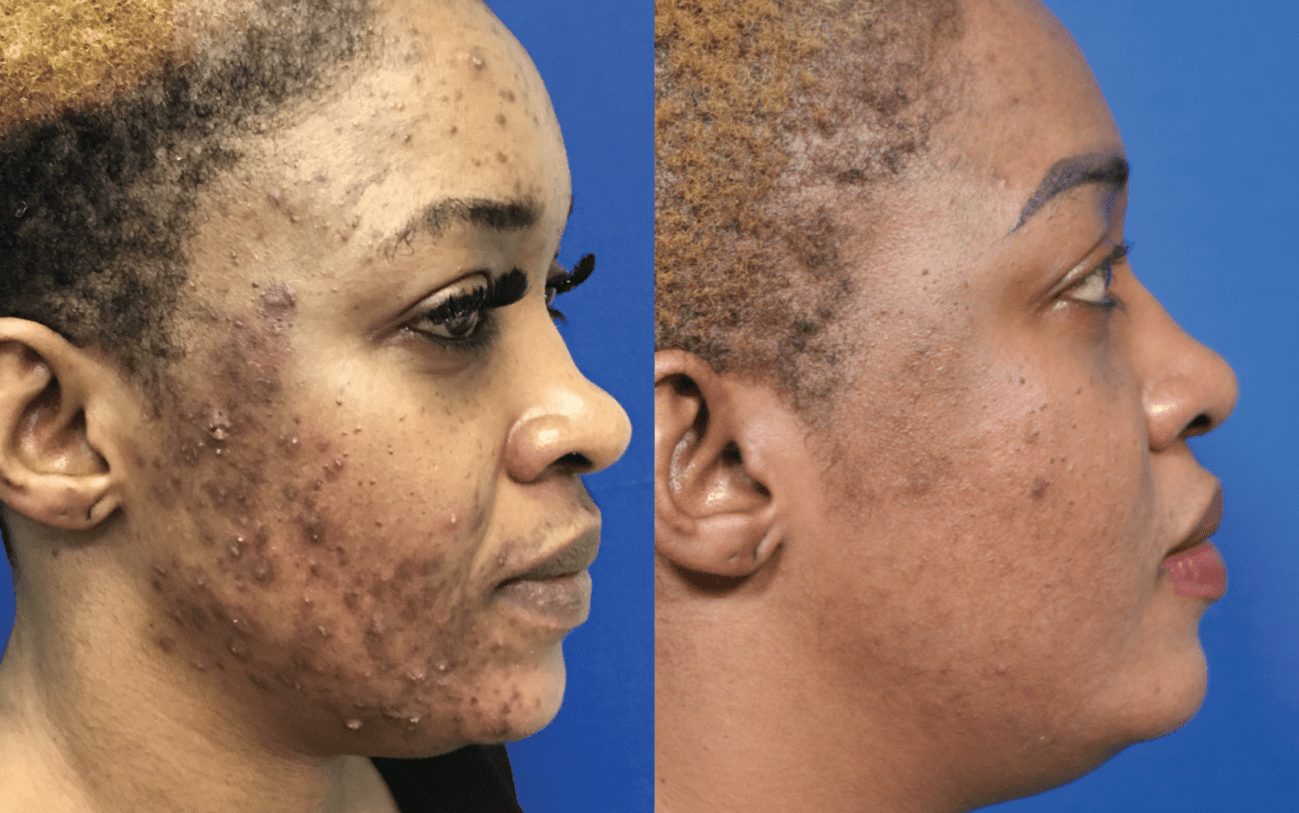 View More Images in Our Before and After Gallery
**Individual results may vary from patient to patient**
---
Causes of Acne
Unfortunately, acne and oily skin go hand and hand as it's the oils on top of the skin that smothers the bacteria into the pores causing small mini infections called a pimple. The clogged pores continue to brew with bacteria growing and growing until the skin is appropriately exfoliated and the pores are opened allowing the pimple to release its infected contents. But pimples left on the face for an extended time can leave brown marks as well as red angry scarring.
Dual Acne Treatments
Dual type of treatments is necessary to help with stubborn acne. At home care of ZO Skin Health Products by Dr. Zein Obagi are a must in which daily use of oil control and exfoliating skin products are used daily. Acne unfortunately is very effected by the continual release of hormones and requires daily use of skin products to combat the bombardment of these hormones. Teenagers get acne the worst due to this outpouring of hormones in their early development which can last into their 20's. If teenage acne is not taken care of early, acne scarring becomes a problem for life. 
Acne Boot Camp 
We offer an acne boot camp that consists of the home skincare program with Dr. Obagi's skin products, as well as in-office treatments with Blu Light Therapy, glycolic and salicylic peels, and HydraFacials that offer incredible cleansing of the face. The key behind all these treatments is to control the oil on the face as well as keeping the skin exfoliating every day to keep the pores from clogging.  For teenagers who don't want to do a lot of home care, we have simple solutions such as using glycolic/salicylic pads that they can carry in their backpacks and use throughout the day or after sports activities. 
Acne Scarring
Guide to treating acne scars and surrounding skin discoloration. To meet your expectations a combination therapy of Lightening creams and cortisone. Surrounding the scar area is hyperpigmentation. Hydroquinone is a popular cream to reduce discoloration, when this therapy is combined with retinol, Retin A and a glycolic, the area begins to smooth and lighten. Keloid or raised scars are effectively treated with a series of cortisone injections, reducing redness and inflammation.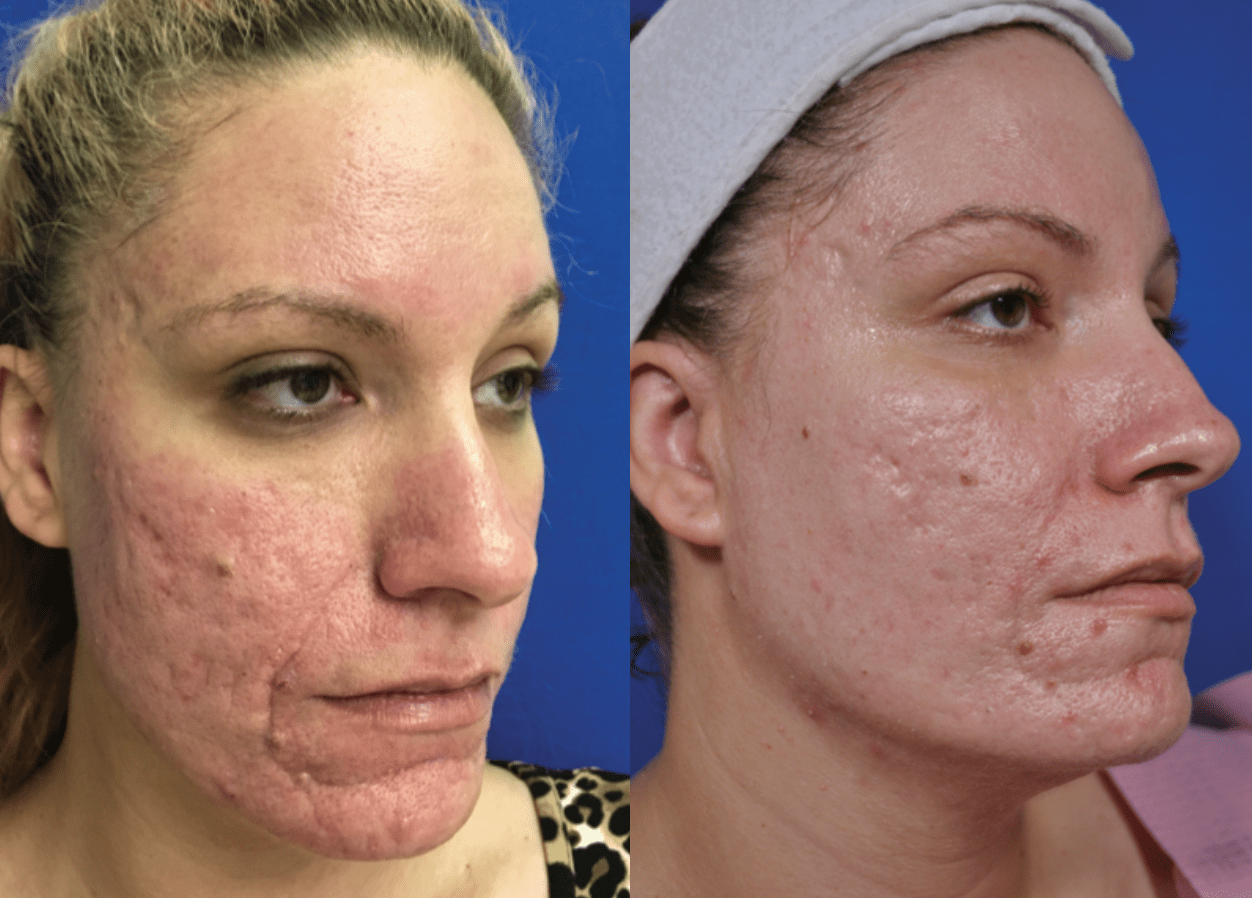 View More Images in Our Before and After Gallery
**Individual results may vary from patient to patient**
---
Combining Microneedling with PRP, TCA Peel and Filler Treatments for Acne Scarring
Varying degree of acne scars can be significantly improved with a series of Microneedling, stimulating new collagen for a healthier, smoother appearance. A filler offers additional smoothing and plumping into deep pitted scars with indentations in the surrounding area. 
For acne scarring, MicroNeedling with PRP truly helps stimulate the collagen and elastin under the scarring to plump out the skin. In addition, strong TCA Peels are also incredibly important to help tighten and reduce the pores of the face that reduces the scarring effect. (Show Bliss Martin here). And Indian Patient The patient below has been actively treated for both her active acne as well as her acne scarring with the combination of ZO Skin Health Products and both MicroNeedling with PRP and TCA Peels. You can see a very dramatic improvement in her skin.
The patient below has been treated with Fillers, PDO Threads, and TCA Peels and you can see how the acne scars look plumped up and much smoother.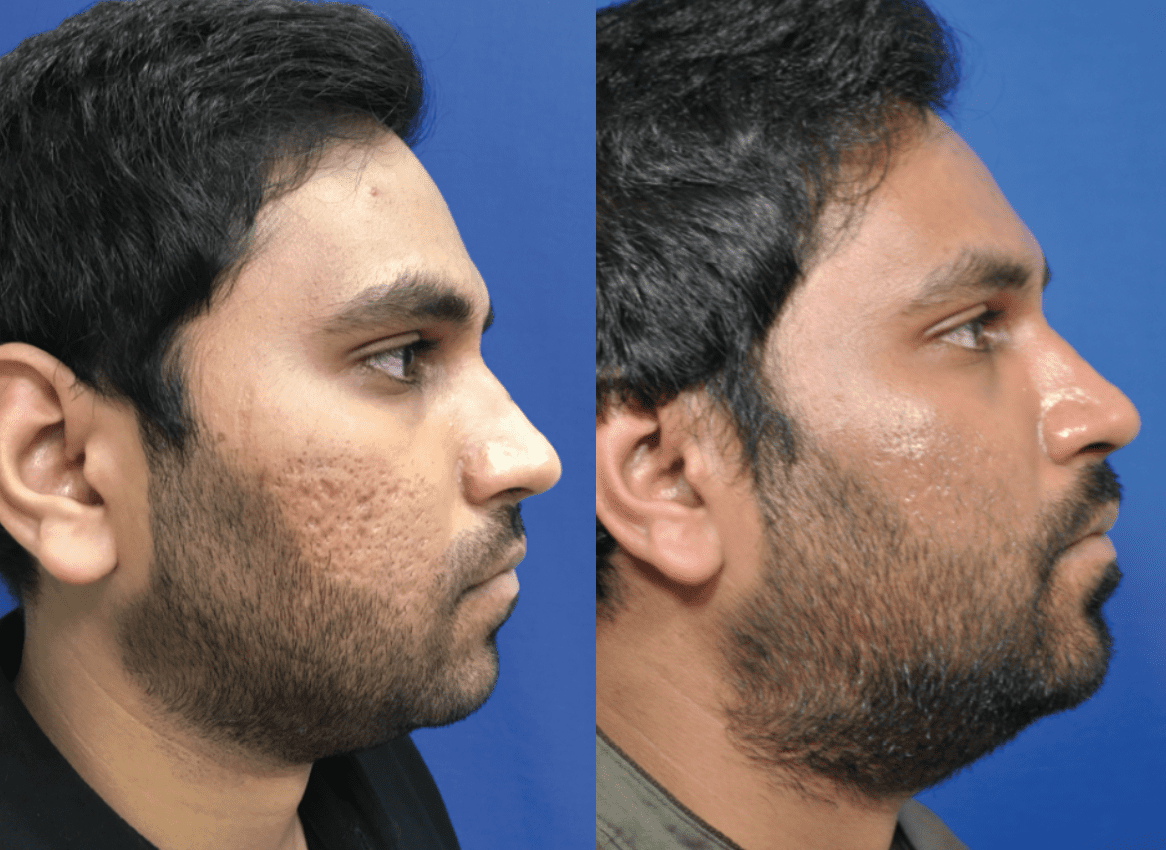 View More Images in Our Before and After Gallery
**Individual results may vary from patient to patient**
---
Brown Hyper-Pigmentation for All Skin Colors
Regardless of your skin color, we all develop brown pigmentation when exposed to the sun. If little protection is used when exposed to the sun, the brown pigmentation can be severe.  As shown below this African American Man has very dark pigmentation due to sun exposure. His natural lighter brown shade was unmasked and exfoliated using the ZO Skin Health Products with daily use of Tretinoin and Hydoquinone creams. In addition, he had a 20% TCA peel performed by Dr. Kane to get at the very deep skin damage.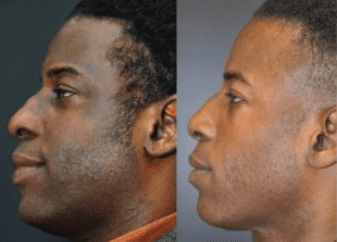 View More Images in Our Before and After Gallery
**Individual results may vary from patient to patient**
---
In our Practice, we have been taking care of people of color for over 30 years. We have been relying on the most effective skin program by Dr. Zein Obagi called ZO Skin Health. Dr. Obagi understood and developed products that truly reversed and controlled sun-damage and pigmentation for people of all color.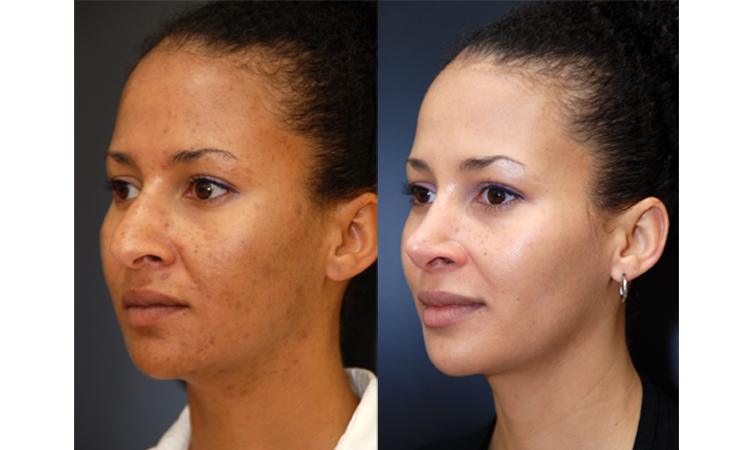 View More Images in Our Before and After Gallery
**Individual results may vary from patient to patient**
---
Lauri Kane's picture below shows her at 40 years old with significant brown pigmentation, wrinkles, and early aging of her skin due to the continuous exposure she had to the sun.  At 40 she started Dr. Obagi's skin program and never stopped using the same products at the age of 64 years old. She also does a yearly 20% TCA Peel to keep her face firm and tight and youthful. As you can see, Lauri not only reversed her skin damage but has stopped the aging of her skin.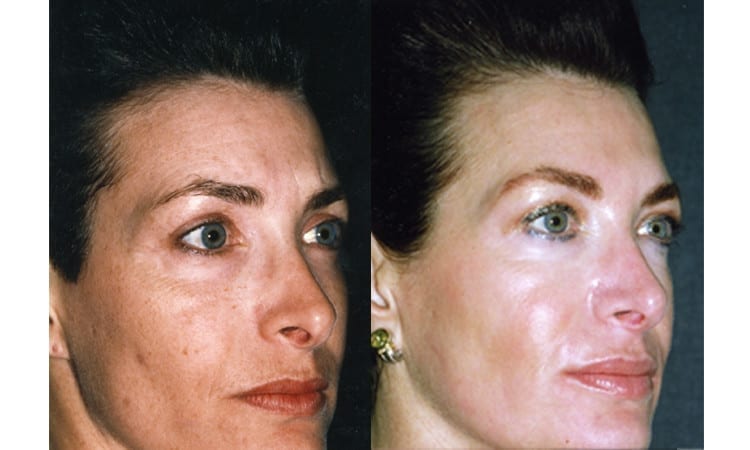 View More Images in Our Before and After Gallery
**Individual results may vary from patient to patient**
---
Red Skin Issues
If you are experiencing any form of red skin issues, IPL or Intense Pulse Light Laser is the ideal treatment. This laser detects red in the skin using a special wavelength. It zaps the red cells and destroys them. Generally, the destroyed red cells turn purple which takes several days to a week to fade away. To reduce the redness effectively it generally takes 3 or more treatments done every 4 weeks. But once treated, the redness is close to becoming totally gone.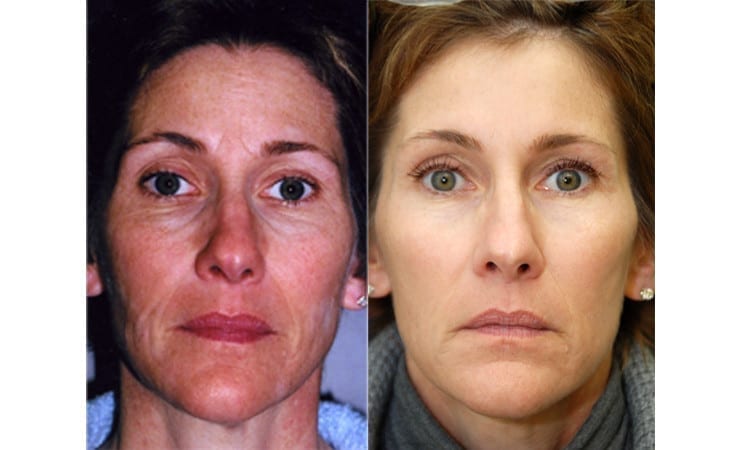 View More Images in Our Before and After Gallery
**Individual results may vary from patient to patient**
---
Rosacea and Sensitive Skin
If Rosacea is your concern, we have special ZO Skin Health products to help reduce the redness as a home care product as well as using the IPL laser to effectively reduce the redness on your face as well as our Ideal Rosacea Dermal Facial. 
Our Ideal Rosacea Dermal Facial will help to soothe, calm, and hydrate impaired skin like rosacea. This facial incorporates oat milk as an excellent humectant for hydration. Also included are botanicals, lactic solutions, pro-vitamins, and antioxidants like green tea, oat extract, arnica, panthenol, and cucumber to calm and improve skin appearance. These ingredients also ease irritation, blotchiness, redness congestion, and sensitivity. Take care of your red sensitive skin today.
View More Images in Our Before and After Gallery
**Individual results may vary from patient to patient**
---
Dry Skin
If you are looking for a relaxing and hydrating facial, you are in the right place. Timeless Anti-Aging treatment is a thorough deep cleansing and hydrating facial. Designed to improve the look of color tone, texture, and pores. Rid your skin of that dry look with extra hydration which softens the skin and leaves you with a radiant look. Our facial includes a light cleansing, a special polish to detox the skin, with added extractions and light glycolic peel. Finish with a relaxing hand treatment from essential oil and green tea. We have excellent hydrating moisturizers skin products from both ZO Skin Health and PCA Products. We will help you determine which one is suited for you.
Maintaining Glowing Healthy Skin Baltimore, Maryland
Good Skin Health Maintenance with Facials and Light Peels
Is your skin in a good healthy state but you want to maintain a refreshed glow? The MediSpa in the Baltimore office of Dr. Dean Kane has a comprehensive array of facials and light peels to keep the glow glowing. In addition, The ZO Skin Health Products has a Medispa line of products that include light retinols, antioxidants, wonderful moisturizers, an array of cleansers for all skin types, as well as scrubs and skin polishes and non-hydroquinone skin products.
Our facials and peels are personalized by our Esthetician's Deb and Kelly to meet your skin needs and skin type. Both Deb and Kelly truly listen to your goals and help you determine what is ideal for you. We offer facial packages that you can pick and choose so that you can experience a different facial or peel every time you come in. Ideally having a routine monthly facial or peel will help achieve a more intense cleansing and exfoliation of the skin that you can't get at home.
HydraFacials are a must-try facial. It's like having water microdermabrasion. People fall in love with the HydraFacials and again Kelly and Deb can personalize the treatment to meet your skin needs. If you have a special occasion that you need a quick refreshed glow, HydraFacial is your go-to facial.
---
Prevention of Aging for the Millennials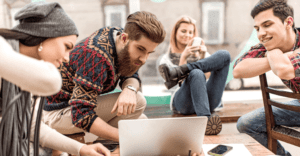 For the Millennials, the ZO Skin Health Products by Dr. Zein Obagi are ideal to protect and prevent the aging process. The ZO Skin Products provide a mild but effective group of anti-oxidants, retinols, and a diverse array of sunblocks. There is a sunscreen protection skin product that blocks the damaging effects and protects the skin from the blue rays that come off our computer screens, damaging UV light that comes from indoor lighting to outdoor sun as well as technology devices that emit damaging rays. 
Keeping the skin clean and refreshed, our MediSpa offers an array of facials, peels, microdermabrasion, and HydraFacials that add a deeper cleansing and exfoliation that is a complement to your home skincare regiment.
---
Latisse

There's been a growing interest in LATISSE® ever since it was introduced and Dr. Kane's office is no exception. LATISSE® is the first and only FDA-approved prescription treatment for inadequate or not enough eyelashes, growing them longer, fuller, and darker. Discover the LATISSE® difference as we have!

CLICK HERE FOR BEFORE AND AFTER GALLERY
LATISSE® solution is an actual growth treatment. In fact, it's the only FDA-approved treatment clinically proven to grow lashes. And it's the only lash growth product of its kind available by prescription. So you'll need to talk to your doctor to see if it's right for you. LATISSE® grows lashes longer, fuller, and darker.
LATISSE® solution is a once-a-day treatment you apply topically to the base of your upper eyelashes, as instructed by your doctor. Then, gradually, the results
come in. You may start to see more length in as little as 4 weeks and you should achieve full growth in 16 weeks. It's not an illusion of growth. If you are tired of getting eyelash extensions that fall off, need replacing, and require constant maintenance then LATISSE® may be for you. It's your own eyelashes – only better! Look at our before and after gallery to see patients' results from using LATISSE®.  Join our email list by emailing Nina@DrDeanKane.com or visit our Specials page to savings and promotions for LATISSE®.
---
How LATISSE® works.
LATISSE® makes lash growth possible because of its active ingredient: bimatoprost. Although the precise mechanism of action is unknown, LATISSE® is believed to affect the growth (anagen) phase of the eyelash hair cycle in two ways: first, it increases the length of this phase, and second, it increases the number of hairs in this growth phase.
"I have always had long eyelashes. They were long but blonde and hard to see without mascara. I started using LATISSE® as soon as it came out. I experienced new lash growth around the 4-6 week range. It is was amazing! I could actually see new small baby eyelash hairs growing in. My newly grown lashes and existing lashes had a growth spurt. I know have darker blonde lashes that are full and thick. I now wear mascara because I like to, not because I have to!" – Nina Schilling
---
The history behind LATISSE®.
It's remarkable how one great product can lead to another. Such was the case with LATISSE®. Allergan, a leader and pioneer in eye care, dermatology and medical aesthetics, has introduced the world to a range of products, including LATISSE®, the first and only FDA-approved prescription treatment for inadequate or not enough eyelashes, growing them longer, fuller and darker. But its origin wasn't completely new.
Back in 2001, Allergan developed a medicated eye drop used to treat ocular hypertension. In addition to successfully lowering eye pressure (the only treatable
risk factor for glaucoma), many patients using this medication experienced a side effect – they began to grow longer, fuller, and darker lashes.
This led Allergan to begin its study of this medication's active ingredient, bimatoprost ophthalmic solution 0.03%, for the sole purpose of generating lash growth. After conducting a clinical trial on safety and efficacy for 4 months on 278 patients, LATISSE® earned its FDA approval in December 2008. Since then, Allergan has sold approximately 1.5 million bottles of LATISSE® solution.
---
Call Today to Schedule Your Appointment!
To book an appointment for any of our MediSpa treatments and to begin your skin health rejuvenation, contact us today. You can reach us by calling (410) 602-3322, texting our office cell phone (443) 334-7868, or emailing us at Lauri@DrDeanKane.com.
---
To find out about facial procedures in Maryland, call the Center for Cosmetic Surgery & MediSpa at (410) 602-3322 and ask for Lauri Kane. Schedule a Consultation Today