In Baltimore, neck lift surgery is increasingly popular as men and women discover the rejuvenating effect the procedure can have on their appearance. In fact, patients often combine facelift and neck lift surgery when they're seeking a full update of their face and profile.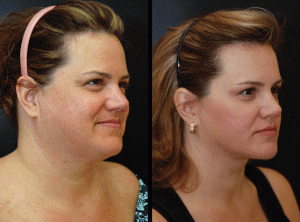 Neck Lift by Dr. Dean Kane – Click Here for Gallery
**Individual results may vary from patient to patient**
---
CLICK HERE FOR BEFORE AND AFTER GALLERY
---
At Dr. Dean Kane's Center for Cosmetic Surgery & MediSpa in Baltimore, Maryland, neck lift surgery can correct the appearance of slackened neck muscles and drooping skin along the neck and beneath the chin. Neck lift surgery, also called a cervical tuck, is a highly customizable Baltimore facial rejuvenation procedure that can target each patient's unique anatomy and cosmetic goals.
Ready to find out more? Simply request a consultation online with Dr. Kane. He can help you determine if a neck lift is a good choice for you, and whether you should consider adding other facial rejuvenation surgery or non-invasive skin treatments to your plan.
---
To find out about facial procedures in Maryland, call the Center for Cosmetic Surgery & MediSpa at (410) 602-3322 and ask for Lauri Kane. Schedule a Consultation Today
---
Neck Lift Plastic Surgery in Baltimore
Sagging skin and wrinkling along the neck or the appearance of a double chin can make you look much older than you are. By removing pockets of fat from the chin and neck area, eliminating drooping rope-like bands of muscle and tightening loose skin and muscles, neck lift can restore the taut, slender appearance of a youthful neck and jawline.
The procedure begins with a hidden incision directly below the chin and in some cases, incisions behind the ears. Through these incisions the neck muscles may be sculpted and tightened and any excess fat extracted. Lipo-contouring may be employed to evenly remove fatty tissue. Additionally, loose skin may be smoothed upward and any excess removed.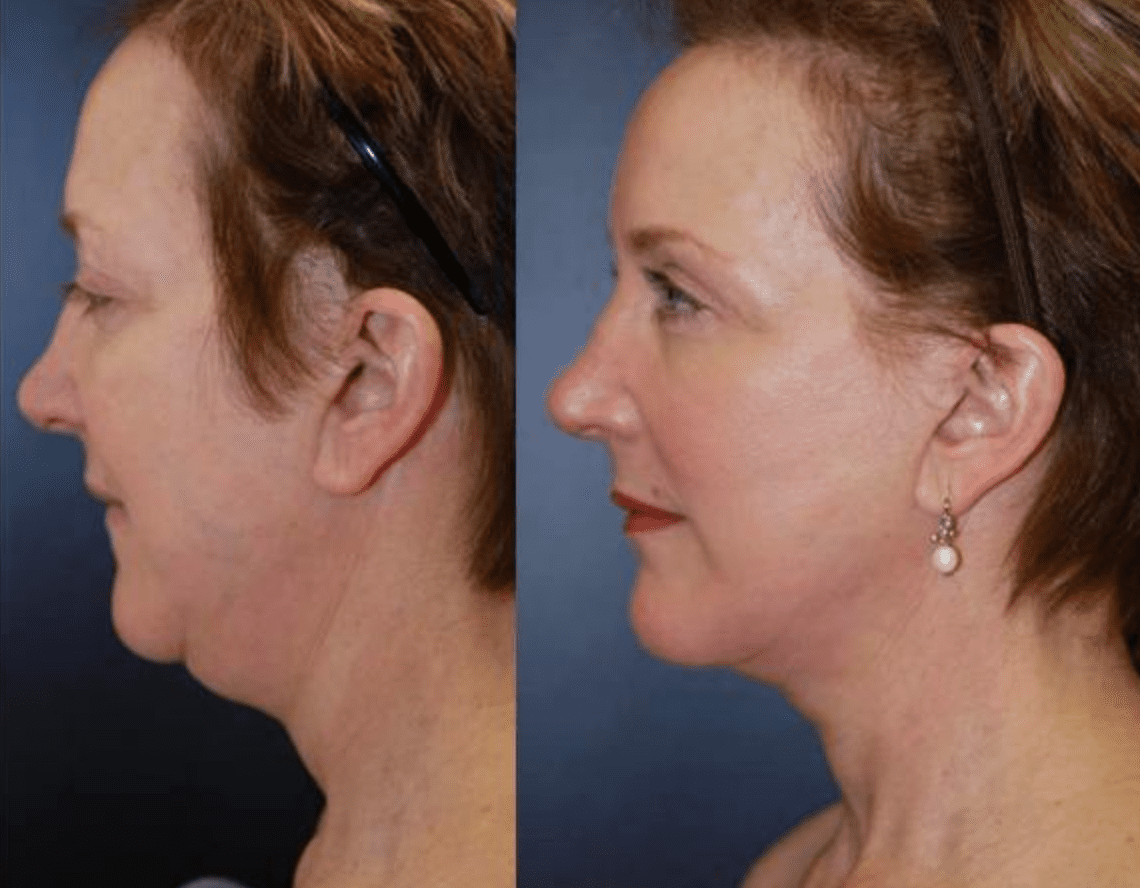 Neck Lift by Dr. Dean Kane – Click Here for Gallery
**Individual results may vary from patient to patient**
---
After Your Neck Lift
Following neck lift surgery, you can expect some swelling and bruising that may persist for several days. Many patients also experience numbness in some areas; these after-effects are completely normal and usually dissipate in one to two weeks.
Most Baltimore patients who undergo neck lift are extremely pleased with the results, reporting a more youthful looking neckline and attractive profile. To find out if a neck lift is right for you and get an idea of the cost involved, call (410) 602-3322 and ask to speak with Lauri Kane. She can answer many of your questions and give you a free estimate.
Then, request your consultation with Dr. Dean Kane at the Center for Cosmetic Surgery & MediSpa on Reservoir Circle in Baltimore. We serve patients from Delaware and southern Pennsylvania to the eastern shore as well as our clients in Annapolis and Baltimore.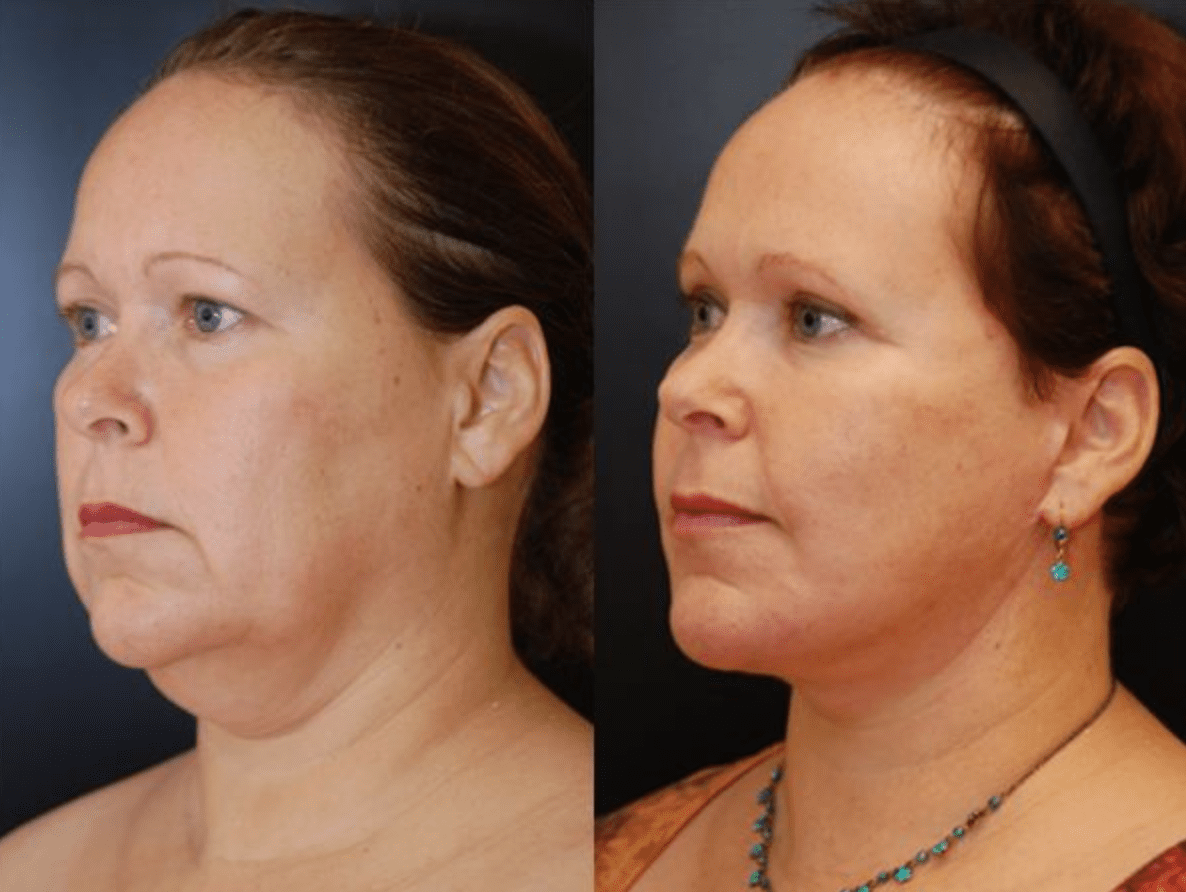 Neck Lift by Dr. Dean Kane – Click Here for Gallery
**Individual results may vary from patient to patient**
---
Neck Lift Recovery
Dr. Dean Kane advises his Maryland patients that after the first 2 weeks a large portion of the swelling will go down, but the scars are very obvious and he advises that most patients take off 2 weeks for a short scar facelift and 3 weeks for the traditional facelift.Since the scars are very new and will show for at least a month or two he recommends that patients wear their hair in front of their faces to hide the scars and be able to go to work. When it comes to Facelifts or any facial surgery such as upper and lower eye lid surgery, neck lifts, rhinoplasties or forehead lifts Dr. Dean Kane's advise is that although you can return to work within 2-3 weeks, it doesn't mean you'll be ready to attend your son or daughter's wedding!
Facelifts and all facial procedures take a minimum of 3 months to begin to soften and the swelling to reduce and scars to soften. Ideally patients who are having a facelift or any facial surgery should given themselves 6 months to 1 year for their optimal results. Faces just get better and better over time.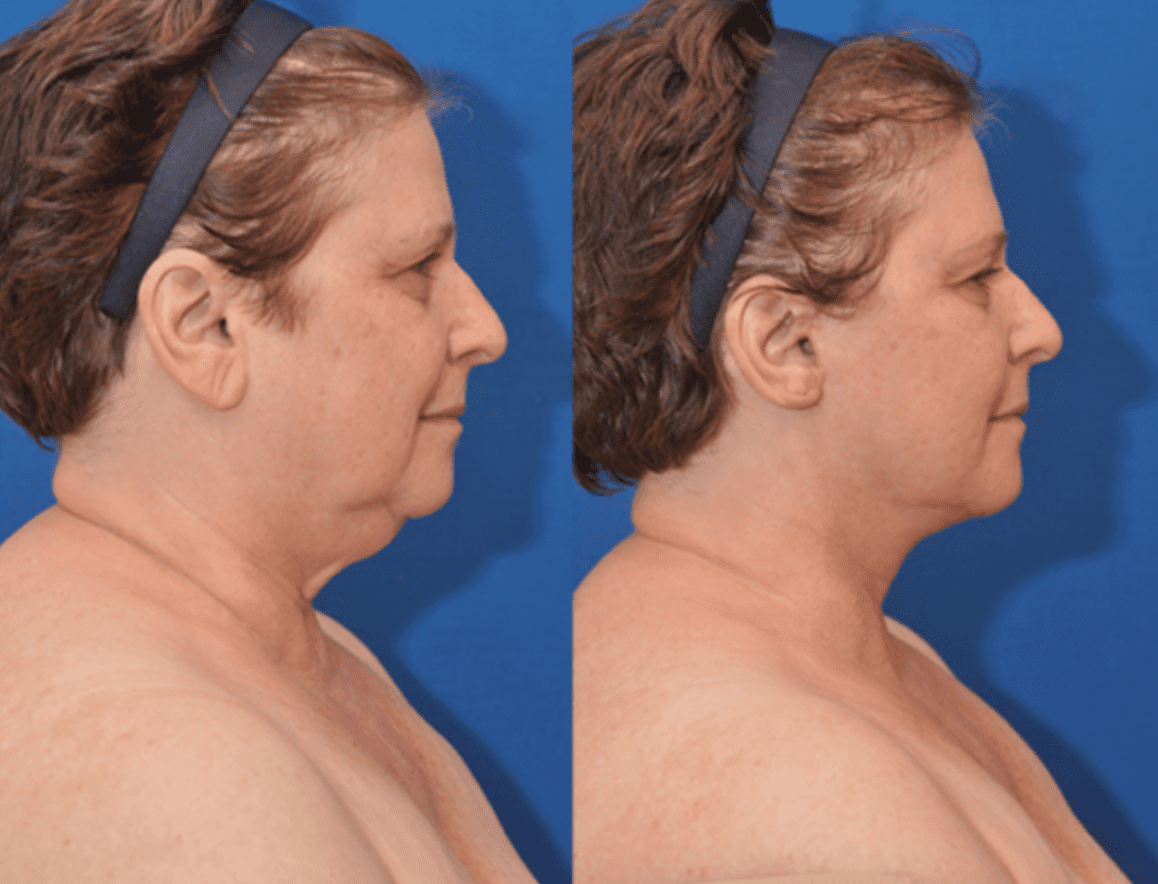 Neck Lift by Dr. Dean Kane – Click Here for Gallery
**Individual results may vary from patient to patient**
---
To find out about necklifts in Maryland, call the Center for Cosmetic Surgery & MediSpa at (410) 602-3322 and ask for Lauri Kane. Schedule a Consultation Today