Click here to book your next procedure with ProNox or call (410) 602-3322.

We have listened to our patients. You want cosmetic procedures but don't want the pain that comes with beauty. The old adage "No Pain No Gain" is not true any longer in the office of Dr. Dean Kane's Baltimore Center for Cosmetic Surgery and Medspa. We now have Pro-Nox™. If fear of the pain is stopping you from having filler injections, Sculptra, MicroNeedling we now have Pro-Nox™ that will alleviate your fear, anxiety, and reduce the pain. Pro-Nox™ provides a dramatic improvement in your overall cosmetic experience while receiving your treatments.
What Is Pro-Nox™?
Pro-Nox™  is a machine that provides a 50% oxygen / 50% nitrous oxide gas mixture when you need it; simply inhale. You may have heard of laughing gas, this is very similar. Since you, the patient, controls how much you breathe in, you can breathe in as much as you need to reduce your anxiety and pain, whenever you need it.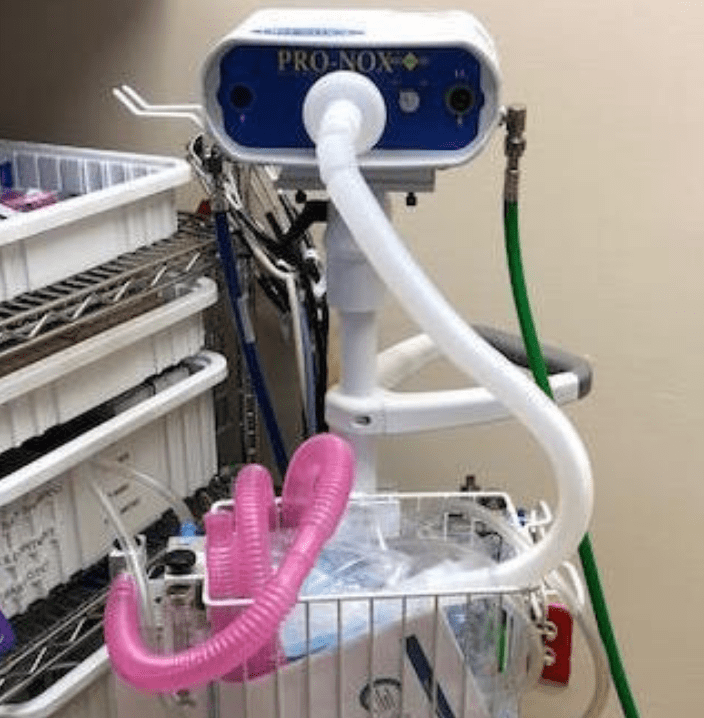 How does the Pro-Nox™ work?
The Pro-Nox™. is a piece of equipment that has tubing that mixes the exact 50/50 percent blend of Nitrous Oxide and Oxygen together. You hold the tubing in your mouth and when you begin to feel any anxiety or pain you just inhale. You simply breathe in and out until you feel relaxed enough. The treatment is being done the whole time you are taking these breaths whenever you feel you need it. 
Pro-Nox™ is in addition to the use of topical numbing ointments, lidocaine nerve blocks and injections and oral anti-histamines and Tylenol as you may normally take.
---
To find out about our Pro-Nox in Maryland, call the Center for Cosmetic Surgery & MediSpa at (410) 602-3322 and ask for Lauri Kane. Schedule a Consultation Today
---
Kelly Rippa Uses Pronox to Ease the Pain of a Cosmetic Procedure
---
Can I drive myself to the procedure?
The effects of Pro-Nox™ begin immediately, within 30 seconds of inhaling in the Pro-Nox™. You will automatically feel relieved of your anxiety and discomfort. It is quick-acting and also quick to leave your system, so you are able to drive your own car within 15 minutes after the procedure is completed. This is a true game-changer when it comes to immediate pain and anxiety relief for people who have a true fear of needles and painful procedures.
Can Pro-Nox™ replace the need for anti-anxiety medications like valium?
Yes, Pro-Nox™ provides a similar euphoria-like state that reduces your anxiety within seconds of breathing the mixture. By reducing your anxiety, this also reduces your pain threshold so the procedure is much more tolerable and reduces the need for Xanax or Valium.  As a patient, you are in total control to administrate as much or as little as you determine to meet your own personal needs to reduce your anxiety and pain.
Is Pro-Nox™ Safe?
Pro-Nox™. has been FDA approved since 2013 to provide the effective combination of the nitrous oxide (laughing gas) with oxygen to provide a short-acting relief of pain. Because it is self-administered the patient controls how much you breathe in and therefore is very safe while undergoing cosmetic procedures. There have been no reported complications associated with Pro-Nox™.
Which Cosmetic Treatments can Pro-Nox™ be used for?
Because of the wide range of non-surgical and minimally invasive procedures, Dr. Dean Kane performs in his Baltimore Cosmetic Office, we find Pro-Nox™. is extremely useful and remains safe for the following cosmetic procedures:
Are There Any Side-Effects To Using Pro-Nox?
While most patients experience a wonderful euphoria, a state of happiness and significantly diminished pain, Pro-Nox™ can create a feeling of temporary hallucinations, possible headaches or slightly nauseous.  But after 5 minutes of not inhaling any additional gas, these symptoms immediately disappear.  Again, the patient controls the amount you breathe in. As a result, you only take intermittent breaths enough to reduce your own anxiety and discomfort throughout the procedure.
Can Pro-Nox™ be used by Everyone?
There may be a rare group of patients who may be too sensitive to the Nitrous Oxide mixture which is why our nurses and Dr. Kane will review your medical history to make sure you would be able to tolerate this new analgesic option. However, it has been found that the majority of patients can tolerate the comforting effects of Pro-Nox™.
Ready to Experience your Next Cosmetic Procedure with Pro-Nox™?
Give us a call (410) 602-3322 to set up your cosmetic procedure and let us know that you would like to use Pro-Nox™. while undergoing the treatment. There will be a minor charge for the use of the Pro-Nox™. Our patients feel the cost is worth it; to have such a more pleasant experience. You can also email Lauri@DrDeanKane.com for any questions you may have regarding the Pro-Nox™or any of our cosmetic procedures.