Cleansers
Hydrating Cleanser This very rich and creamy cleanser removes oil and impurities from the skin while providing nourishing, moisturizing and calming effects to the skin.
Exfoliating Cleanser: This cleanser is ideal for oil and acne prone skin. It has a dual function of exfoliating and cleansing both the oils and impurities of the skin and decreases surface bacteria that contribute to the acne process.
Gentle Cleanser: Works for all skin types. This gel based cleanser is designed to remove impurities and leave the skin feeling refreshed, clean and hydrated.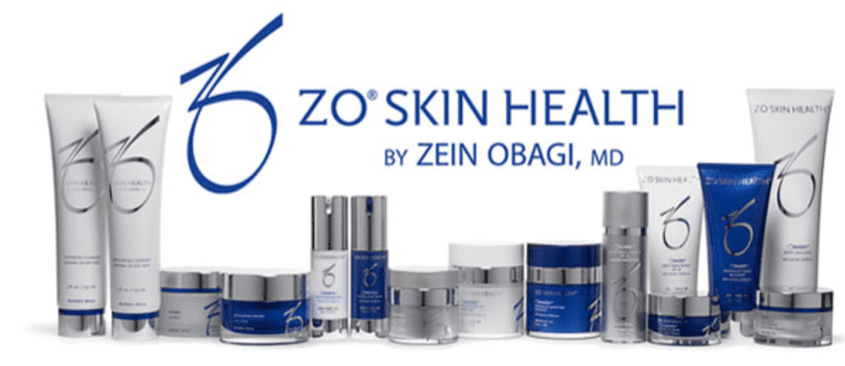 Toners
ZO Calming Toner This wonderful toner is excellent for aging skin and  helps soothe dry, sensitive or irritated skin while creating the right PH balance to allow all the ZO products to easily penetrate the skin.
Oil Control Pads:   Using a 2% salicylic acid, these highly effective acne pads are ideal to reduce the oils, bacteria and dead layers of skin cells which are all the culprits of acne. The pads also have a soothing emollient to calm and reduce acne redness.
Complexion Renewal Pads:  These pads have the blend of salicylic and glycolic acid to remove dirt, minimize surface oils and exfoliate clogged pores and dead layers of skin.
EXFOLIANTS
Exfoliating Polish: Magnesium crystals exfoliate dead skin cells to create a clear, smooth and even toned complexion. Ideal to use to exfoliate flaking and peeling skin when you are using the stronger prescription Retin A and Retinol products.
Dual Action Scrub: Is a stronger type of crystal exfoliant than the polish. It is perfect for oily and thicker type of skin types. Men with acne and thick beards really like the effects of this strong scrub.
Exfoliating Accelerator: Using the powerful combination of glycolic and lactic acid will help in the removal of dead layers of skin cells while providing calming and soothing benefits with aloe, green tea and chamomile. 
Enzymatic Peel: is a home type of peel formulated to gently remove flaky peeling skin and leave the skin smoother, softer and brighter.
Acne Control: is a maximum strength acne-fighting formula that helps to control surface oils, neutralizes bacteria and helps to prevent future breakouts.
SKIN LIGHTENERS
Pigment Control Crème 4% Hydroquinone is used to lighten and control hyperpigmentation. It is highly effective at going deep into the dermis to reduce melanin production at the cellular level. Melanin is what gives us our brown tones to the skin. The Pigment Control Crème with 4% Hydroquinone helps to control and inhibit overproduction of the brown pigment when our skin is exposed to too much sunlight or sun damage. This product must be used with an exfoliator such as Blending Cream and Tretinoin or ZO Texture and Wrinkle Repair Creme that has powerful retinols.
Pigment Control Crème 4% Hydroquinone and 20% Vitamin C: This powerful combination helps lighten and brighten severe brown hyperpigmentation and melasma. The blend of 4% Hydroquinone and Vitamin C are very synergistic in the skin to bleach and lighten difficult pigmentation issues.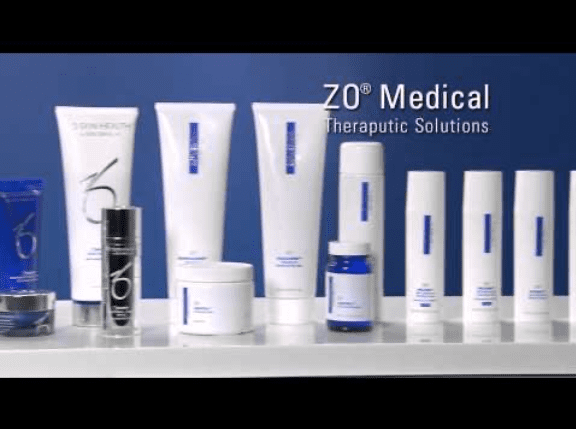 SKIN RENEWAL AND REGENERATION
Pigment Blending Crème with 4% Hydroquinone and TRETINOIN Duo:  The philosophy of Dr. Obagi's skin renewal program was and is today to mix the powerful combination of Tretinoin (0.1%, 0.05% or .025%) with a highly effective skin cream that would penetrate the Tretinoin deep into the dermis layers stimulating new cellular turnover. This incredibly effective combination corrects deep brown hyperpigmentation issues and fines lines on the face.
This has been and is today the essence of skin rejuvenation and youthful skin. When new skin is stimulated to come to the surface, the old layers shed away and new skin appears clearer, smoother, hydrated and toned. Fine lines are reduced as the old skin layers peel away giving way to plump new skin cells. Facial skin appears brighter, tighter and glowing. The Pigment Blending Cream offers an even greater ability to help the traditional tretinoin penetrate more effectively giving way to better skin regeneration and glowing skin.
Watch Lauri Kane Apply ZO Blending Cream with Trentinoin.
---
Wrinkle and Texture Repair Dr. Obagi created as a stand-alone product that uses 1% Retinol and special plant stem cell antioxidants to stimulate skin renewal and cellular turnover also at the deeper dermis layers by using a unique delivery system. Like Tretinoin, the Retinol will stimulate your own natural production of hyaluronic acid which is what gives us our own natural soft plumpness and hydration of our skin. Wrinkle and Texture Repair is the perfect product again to be used as a newcomer to the ZO line or as a maintenance product to provide continue anti-aging effects to your skin. You will achieve visible improvement of your skin's texture, firmness and color tone.
Radical Night Repair: This is the strongest of the 1% Retinol standalone skin cremes that powerfully exfoliates the dead layers of the skin to improve skin textures, fine lines and pigmentation. This skin product goes on like a pussy cat and roars like a lion when used in continuous days in a row. This is one product that needs gradual adjustment to his powerful strength.
Antioxidant Skin Products
Daily Power Defense is a powerful antioxidant crème designed to protect the skin from the damaging rays of the sun and environmental factors. It also acts as a light moisturizer for those people who want hydration to the skin, but not a heavy type of cream.
10% Vitamin C Crème provides a potent dose of Vitamin C that brightens and protects the skin of environmental damages. This product promotes even skin tones and minimizes fine lines.
Growth Factor: is a lightweight gel for all skin types containing nourishing growth factors to strengthen the skin, supports rejuvenation and protects against future signs of aging.
HYDRATING SKIN PRODUCTS
Say No to Conventional Moisturizers 
The popularity of moisturizers has led to the term "Sensitive Skin."  Using moisturizers occasionally when needed is acceptable, but to depend on them to hydrate and clam skin daily is damaging to the skin.  With repeated use, moisturizers have a negative impact on skin, making it weaker and drier  ultimately impairing the skin's barrier function.  It is also detrimental to skin's cellular functions, arresting its ability to renew itself, leading to skin sensitivity and accelerated skin aging. 
Renewal Crème – Dry skin, irritated skin. 
Anti-Aging Formula 
This functional hydrator contains encapsulated retinol, powerful antioxidants and a natural anti-irritant agent to calm, replenish, rejuvenate and repair the skin's moisture barrier. 
Recovery Crème – Severely dry skin, irritated skin. 
Anti-Aging Formula 
Calming agents help prevent inflammation as retinol and other ingredients work actively overnight to repair and regenerate skin cells to help reduce fine lines and wrinkles. 
Hydrating Crème – Post procedure, compromised and severely dry or irritated skin. 
Epidermal Repair Crème 
This advanced, dual purpose formula delivers essential hydration and calming for post-procedure, compromised and severely dry or irritated skin.  It also supports the skin's natural regenerative process for skin renewal and improvement in the appearance of fine lines and wrinkles.  The formulation's rich hydrators replenish lipids and restore the skin's barrier while branched beta glucan helps reduce the appearance of redness. 
Firming Serum 
Firming Serum reinforces skin health and hydrates to support the visible improvement in skin elasticity and firmness. 
 Restoracalm – Normal to Dry Skin 
Soothing Recovery Creme 
Formulated for all skin types to help reduce redness, calm skin irritation and stimulate natural skin barrier restoration. 
Rozatrol 
Strengthening skin treatment to relive symptoms associated with mild, moderate and severe rosacea. 
Sun Blocks
ZO Smart Tone Broad Spectrum SPF 50 
Ultra-lightweight sunscreen with customizable color beads designed to blend into most skin tones.  Provides broad-spectrum protection against UVA/UVB rays.  Natural melanin helps shield skin from the aging effects of high-energy visible light (HEV).  Oxybenzone free. This exceptional sun blocks protects against the technological rays from phone and computer screens as well as outdoor environmental pollutants and damaging rays of the sun.
Elta MD Sun block: A wide range of sun blocks are offered to provide sun protection for all  skin tones, color, as well as dry to oily acne skin types. Elta MD is a broad spectrum block which comes in water resistant sun protection for active lifestyles, sheer and lightweight as tinted and non-tinted for both acne-prone and sensitive skin types.
Latisse

There's been a growing interest in LATISSE® ever since it was introduced and Dr. Kane's office is no exception. LATISSE® is the first and only FDA-approved prescription treatment for inadequate or not enough eyelashes, growing them longer, fuller, and darker. Discover the LATISSE® difference as we have!

CLICK HERE FOR BEFORE AND AFTER GALLERY
LATISSE® solution is an actual growth treatment. In fact, it's the only FDA-approved treatment clinically proven to grow lashes. And it's the only lash growth product of its kind available by prescription. So you'll need to talk to your doctor to see if it's right for you. LATISSE® grows lashes longer, fuller, and darker.
LATISSE® solution is a once-a-day treatment you apply topically to the base of your upper eyelashes, as instructed by your doctor. Then, gradually, the results
come in. You may start to see more length in as little as 4 weeks and you should achieve full growth in 16 weeks. It's not an illusion of growth. If you are tired of getting eyelash extensions that fall off, need replacing, and require constant maintenance then LATISSE® may be for you. It's your own eyelashes – only better! Look at our before and after gallery to see patients' results from using LATISSE®.  Join our email list by emailing Nina@DrDeanKane.com or visit our Specials page to savings and promotions for LATISSE®.
---
How LATISSE® works.
LATISSE® makes lash growth possible because of its active ingredient: bimatoprost. Although the precise mechanism of action is unknown, LATISSE® is believed to affect the growth (anagen) phase of the eyelash hair cycle in two ways: first, it increases the length of this phase, and second, it increases the number of hairs in this growth phase.
"I have always had long eyelashes. They were long but blonde and hard to see without mascara. I started using LATISSE® as soon as it came out. I experienced new lash growth around the 4-6 week range. It is was amazing! I could actually see new small baby eyelash hairs growing in. My newly grown lashes and existing lashes had a growth spurt. I know have darker blonde lashes that are full and thick. I now wear mascara because I like to, not because I have to!" – Nina Schilling
---
The history behind LATISSE®.
It's remarkable how one great product can lead to another. Such was the case with LATISSE®. Allergan, a leader and pioneer in eye care, dermatology and medical aesthetics, has introduced the world to a range of products, including LATISSE®, the first and only FDA-approved prescription treatment for inadequate or not enough eyelashes, growing them longer, fuller and darker. But its origin wasn't completely new.
Back in 2001, Allergan developed a medicated eye drop used to treat ocular hypertension. In addition to successfully lowering eye pressure (the only treatable
risk factor for glaucoma), many patients using this medication experienced a side effect – they began to grow longer, fuller, and darker lashes.
This led Allergan to begin its study of this medication's active ingredient, bimatoprost ophthalmic solution 0.03%, for the sole purpose of generating lash growth. After conducting a clinical trial on safety and efficacy for 4 months on 278 patients, LATISSE® earned its FDA approval in December 2008. Since then, Allergan has sold approximately 1.5 million bottles of LATISSE® solution.
---
---
Make Your Appointment Today!
No matter what your skin type and needs may be, if you live near Baltimore, Maryland, facial rejuvenation is close at hand. At the Center for Cosmetic Surgery & MediSpa, we welcome African Americans, Asians, Caucasians, and Hispanics. In fact, we have many years of experience designing individualized treatments for people of all backgrounds and all skin color.
Call us soon at (410) 602-3322 or request an appointment online. We look forward to working with you in our offices on Reservoir Circle in Baltimore, serving Annapolis, Delaware and southern Pennsylvania.
Policies
Any changes to your appointment require 24 hours' notice or all specials, discounts or coupons will be forfeited.
---
To find out about facial procedures in Maryland, call the Center for Cosmetic Surgery & MediSpa at (410) 602-3322 and ask for Lauri Kane. Schedule a Consultation Today