Video: Lauri Kane discusses Microneedling with PRP, a new form of inducing collagen production into the skin.
How Do You Achieve and Maintain Healthy Glowing Skin?
There is nothing so beautiful as radiant and glowing, blemish-free, silky smooth, firm and even colored skin! Look at the celebrities all made up for the red carpet. Current make-up produces this very result. Even in Spanish, the word to "make one's face up", "maquiar" or "mask" is to project the same ideal goals.
You can achieve this level of healthy skin by adding MicroNeedling with PRP for your facial skin texture and ZO Skin Health to maintain and promote its improvement. 
What is MicroNeedling (SkinPen®)?
MicroNeedling, also called Collagen Induction Therapy (CIT), is an exciting new treatment that works to enhance your collagen and elastin and reduce pigmentation, skin textures, fine lines, wrinkles and acne scarring. At The Center for Cosmetic Surgey and MediSpa in Baltimore, Dr. Dean Kane is proud to offer MicroNeedling with the SkinPen®. It is the only FDA approved medical grade microneedle tool to help return your skin back to a healthy, smooth and clear appearance.
What Skin Issues Can MicroNeedling Help to Correct?
Acne scarring, pigmentation, fine lines and wrinkles and sun-damage take away the beauty of healthy skin. The loss of collagen and elastin is the main culprit for aging skin. Believe it or not, the skin starts to age at 30 years old when your body and skin biologically begin to slow down and the passive loss of collagen and elastin begin.
How does MicroNeedling work?
MicroNeedling is a minimally invasive treatment that uses the SkinPen® to make minuscule needle punctures to create channels within the skin. The purpose of these tiny punctures is to create a controlled injury to stimulate the body to heal itself by generating collagen, elastin and structural fiber formation as well as induce cellular turnover. MicroNeedling has been scientifically proven to improve the health of the skin and create smooth, even-colored, clear and firm skin.
MicroNeedling with Platelet Rich Plasma (PRP)
Microneedling combined with Platelet Rich Plasma (PRP) provides an even greater impact on the healing power of your skin. PRP is the process where just one syringe of your own blood is drawn by our nurses. Your blood is spun down to separate the Platelet Rich Plasma (yellow color) from the actual red blood cells. In the PRP (the yellow plasma) are your own high concentration of growth factors and platelets.
How Does PRP Penetrate the Skin to Improve MicroNeedling Results?
The process involves using the SkinPen® to create these tiny needle channeling. This channeling is created by a very specific pattern on the face with the SkinPen's precise controlled depth level of needles that penetrate into the skin causing these tiny holes.  While the microneedling works alone to stimulate your collagen and elastin, the PRP provides for even greater stimulation and cellular turnover.
The PRP is applied topically directly onto the open channels (the tiny pinpoint holes) so that the platelets are absorbed immediately under the skin providing an instant soothing and comforting sensation to the skin. The PRP is left on the face for a minimum of 4 hours while the nourishing and comforting effects of the plasma work to stimulate collagen, reduce pain and control the inflammation required to produce a firmer, smoother, more even colored skin. There is no scaring with these micro-channels other than possible pinkness for up to 24 hours. The side-effects of PRP are minimal other than the rare bruise at the draw site and no potential for allergies because it is your own blood being used.
The effects of PRP with MicroNeedling provide an improved experience with greater comfort for the patient. MicroNeedling induces the controlled inflammation required to generate a healthier skin. PRP also provides a higher magnitude of collagen stimulation as the cell-messengers re-stimulate the fibroblasts longer and recruit more fibroblasts to the skin treated.
What is the Purpose of Combining PRP (Platelet Rich Plasma) with MicroNeedling?
Another way to induce controlled inflammation is to recruit the same cell stimulators the body uses to heal itself during an injury.
Platelets are non-living cells in the plasma or liquid of your blood. When the body's blood vessel is injured, circulating platelets stick to the exposed collagen and spill their granules of cyto-mediators (cell-messengers). One of the cells attracted to this collagen-platelet aggregate is the fibroblast which is stimulated to form more collagen and the tissue healing molecules above. Plasma also contains fibrin which blankets the exposed nerves injured during the micro-damage to reduce the discomfort added by the procedure.
MicroNeedling combined with Platelet Rich Plasma (PRP) provides an even greater impact to the healing power of your skin. PRP is produced by drawing a syringe of your own blood by our Registered Nurse. Your blood is centrifuged to separate the plasma (yellow fluid) from the actual red blood cells leaving the lighter platelets in the now Platelet Rich Plasma. In addition, the PRP (the yellow plasma) contains your own high concentration of growth factors in addition to your platelets which further generate this stimulating cycle.
---
To find out about Microneedling in Maryland, call the Center for Cosmetic Surgery & MediSpa at (410) 602-3322 and ask for Lauri Kane. Schedule a Consultation Today
---
Can I use Serums instead of PRP with MicroNeedling?
If patients prefer to use serums instead of PRP, hyaluronic acid serums are ideal to be used with MicroNeedling.  Hydrolyzed hyaluronic acid serums improve penetration and moisture to the skin. Hydration is key to preventing collagen and elastin degradation of the skin. Hyaluronic Acid provides instant hydration and smoothing of the skin. The hydration plumps the surface and helps the skin hold onto moisture. Maintaining moisture in the skin is key to achieving long term reduction of fine lines of the skin.
What are the Benefits of MicroNeedling with PRP?
Safe to perform on all skin types and skin color from light to dark tones.
Minimally invasive with little downtime.
Exceptional improvements for acne scarring and surgical scarring 
Can be used on the face and all body parts.
Can be done all year round.
What are the Side-Effects of MicroNeedling?
You can expect temporary warmth to the skin, flushing, and pinkness. The pinkness will last for about 3 days. Topical post-treatment creams will provide comfort, reduction of inflammation, and reduction of potential itching.
What skin issues can MicroNeedling effectively treat?
Acne scarring
Surgical scars
Fine lines and wrinkles
Stretchmarks
Pigmentation and discolorations of the skin
Skin laxity
Large pore sizes 
Skin texturing (specifically around the lips and chin)  
Skin roughness, flaking, and weathering
Who is a candidate for MicroNeedling?
What is so special about MicroNeedling is that individuals of all skin color and tone can be candidates for this Collagen Induction Therapy. Here in Baltimore, Maryland where we have a tremendous diversity of people from African Americans, Africans, Asians, Caucasians, East Indian, West Indies,  Hispanics, Mediterranean and  Middle Eastern all can be candidates for this type of procedure. Often times, laser rejuvenation procedures are not always appropriate for individuals of color. But individuals of all color who desire to correct the various skin issues as described above such as pigmentation, acne scarring, wrinkling, and texturing problems can be safely treated with MicroNeedling.
Will MicroNeedling hurt?
Unlike the home treatments that can be purchased on the internet, the SkinPen is a medical-grade quality that can go deeper into the skin requiring a topical anesthetic to be applied to numb the area being treated. The numbing greatly helps reduce the feeling of the tiny needles penetrating. When the PRP is applied there is immediate comfort and relief from your own healing platelets.
What can I expect after the treatment is done?
The microneedling creates a sunburn-like pinkness or flush that lasts approximately 3 days. Within hours of being treated the warmth, effect reduces to a minimum and by the next day, the skin can have slight itchiness. Post-treatment kits are given to every patient in which topical creams are used to soothe and reduce post-inflammatory responses. Most patients return to their natural color within 3-4 days. A very light flakey peel can occur during these 3-4 days.
When can I see the results?
It is recommended to have three treatments done 4 weeks apart. Your skin will look healthier right away after each treatment looking smoother and more even-toned. Final results are very dependent on your initial level of sun-damage, skin issues, and general health of the skin. For most people, the final results can take up to 3 to 6 months for your skin to naturally form the collagen and elastin.
**Individual results may vary from patient to patient**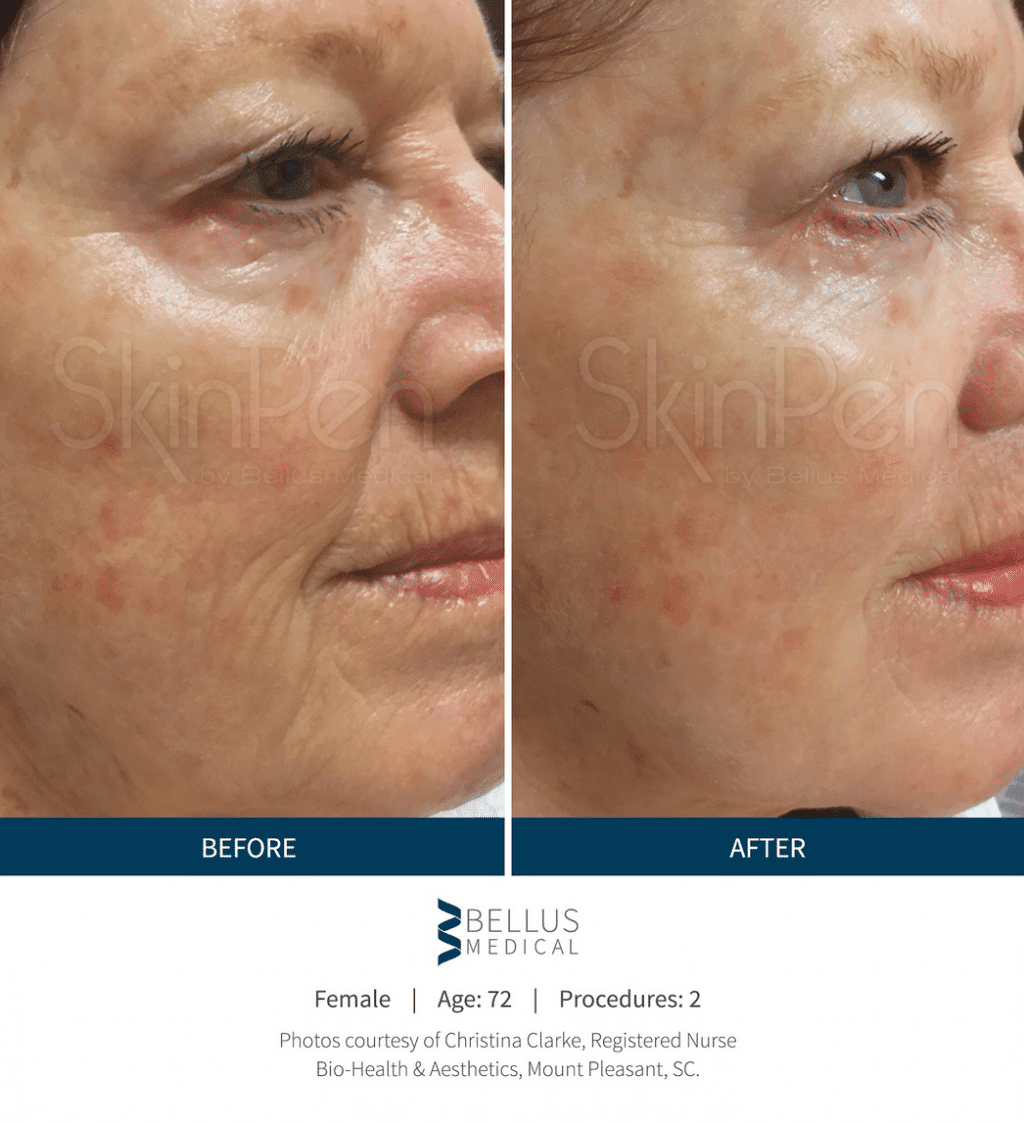 **Individual results may vary from patient to patient**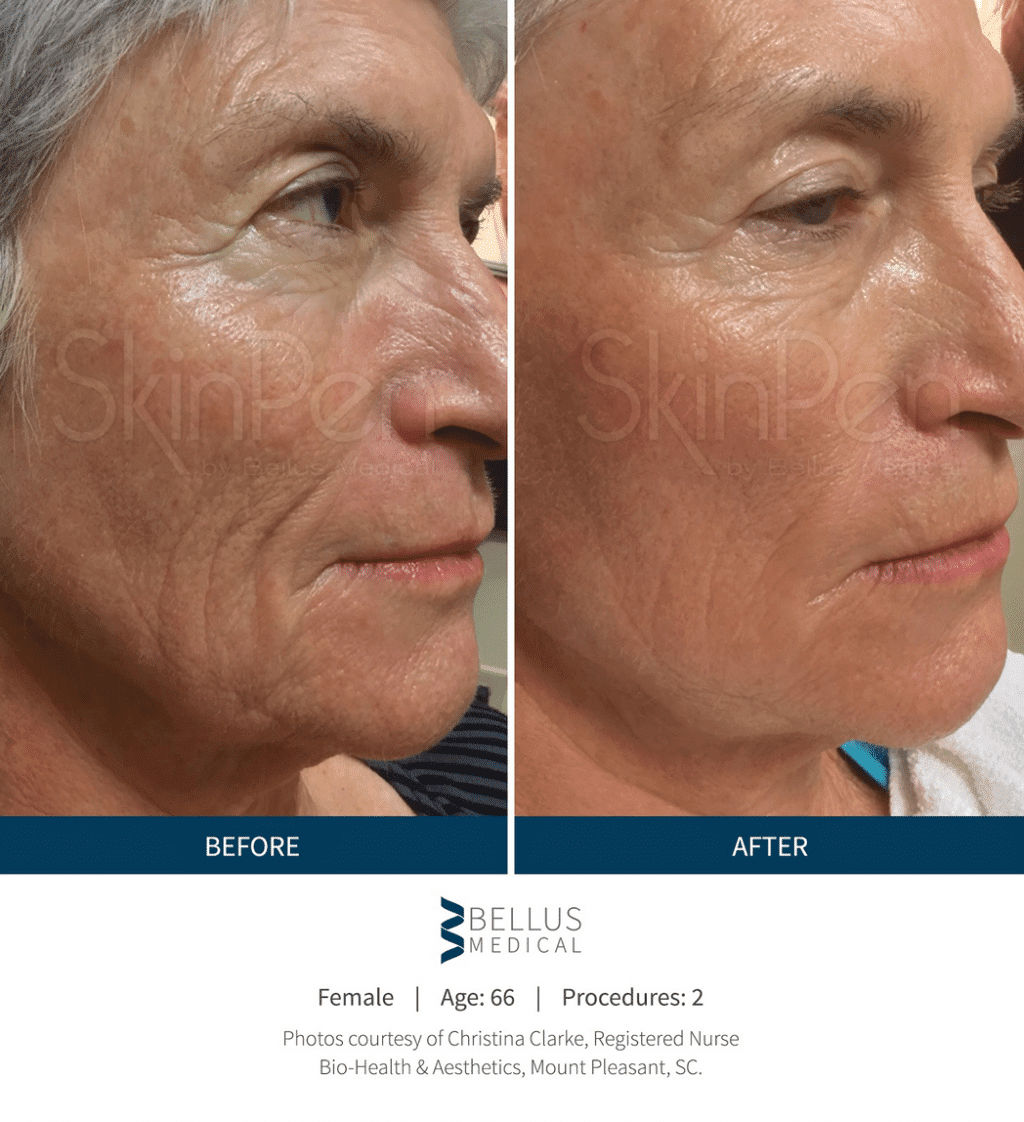 **Individual results may vary from patient to patient**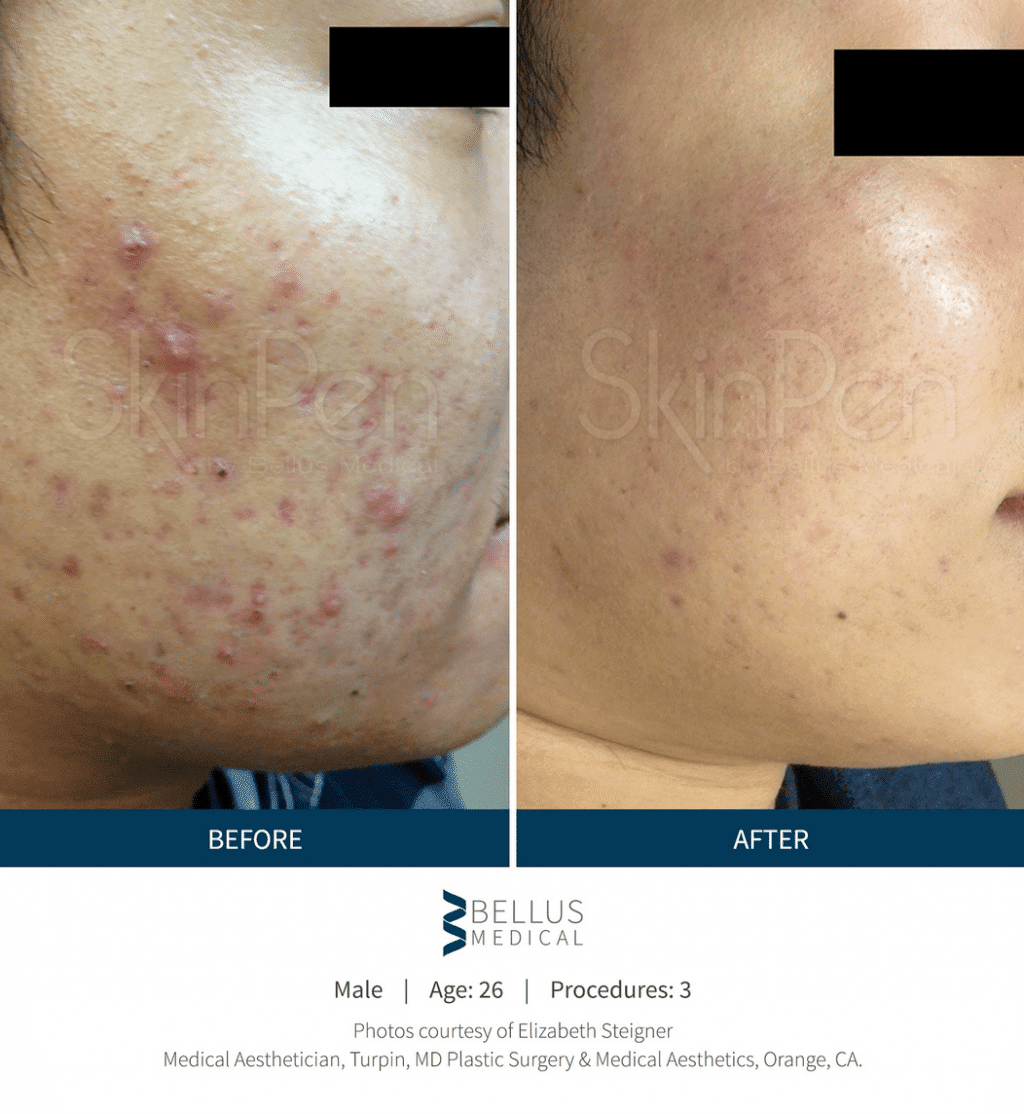 **Individual results may vary from patient to patient**
---
To find out about Microneedling in Maryland, call the Center for Cosmetic Surgery & MediSpa at (410) 602-3322 and ask for Lauri Kane. Schedule a Consultation Today
---
What is recommended to prepare my skin for MicroNeedling?
In our Center for Cosmetic Surgery and Medspa, Dr. Dean Kane has developed a Skin Health program based on the philosophy, techniques, and skin products from Dr. Zein Obagi. Through the use of tretinoin and hydroquinone skin products, Dr. Obagi developed the ZO Skin Health System. For all skin procedures that involve controlled dermal injuries to the skin, Dr. Kane requires that all his patients prepare their skin 6 to 12  weeks prior to the treatments.
The goal of this preparation is to begin the process of cellular turnover, blood flow to the face, and control melamin production to help prevent hyperpigmentation. This is particularly important for all patients of color who are at a greater risk of hyperpigmentation when any injury to the skin can cause an increase in their melanin production. The ZO Skin products will hasten the healing of the microneedling treatment and allow for ongoing stimulation of your collagen and elastin. 
The philosophy of the ZO Skin Health System is to stimulate continual cellular renewal and rejuvenation of your skin on a daily basis and to complement any treatments that are performed in our Medspa. The ZO Skin Health System is also used post-treatment of MicroNeedling so that your collagen and elastin continues to build toward beautiful healthy and glowing skin all year long.
Who performs the MicroNeedling and PRP procedure?
MicroNeedling is a medical induction therapy of collagen. Our highly trained nurses perform the MicroNeedling Procedure with PRP. As part of their training, our nurses understand the depth of the penetration of the needles and apply the appropriate depths depending upon the skin issues and concerns. The depths of penetration of the SkinPen with the medical-grade can range from .25 to 2.5 mm. Unlike home-use devices that hardly penetrate beyond .2 mm depth. The other issue with home devices is that the needles are of poor quality that can cause more harm than good to the skin. In the office of Dr. Dean Kane, we take tremendous pride that you will always be treated with our professionally trained and caring staff.
What are the costs for MicroNeedling with PRP or Serums?
It is highly recommended to have 3 treatments done 4 weeks apart. The special pricing for the package of three MicroNeedling Treatments with PRP is $2250. If done as a single treatment the cost is $850. If you choose to use serums rather than PRP that the series will be $1650 and the single treatment with the serum would be $650. For anyone wanting just a targeted area of the face for example around the mouth, nasal folds, and chin that would be $550 with a serum.
How do I set up my appointment for MicroNeedling?
If you are interested in MicroNeedling and new to our Center for Cosmetic Surgery and Medspa please call us at (410) 602-3322 or email Lauri@DrDeanKane.com to schedule your skin consultation. Your initial appointment will be set up with our highly experienced medical estheticians who will evaluate your skin issues and begin your skin treatment program to prepare your skin for the MicroNeedling. As mentioned above it is highly recommended that the skin be prepared before having the MicroNeedling therapy. Our estheticians will get your skin ready with Dr. Zein Obagi's ZO Skin Health System as well as introduce you to our nurses who will be performing the procedure. Give us a call today so we can get you started on your path to beautifully clear, smooth, and glowingly healthy skin.
Maintenance Following Your MicroNeedling Procedure
In general, each treatment will stimulate collagen formation to develop at 2 weeks and peak at 12 weeks. With positive results lasting for up to 6 months.  This is why a daily regimen of tretinoin skin care using a ZO Skin Health care system will provide an ongoing stimulation of the collagen and elastin and cell turnover for more favorable and prolonged results.
No Pain No Gain is NOT True Any Longer.
Pro-Nox™ analgesia is Now Available at Dr. Dean Kane's MediSpa.  Click here to learn more.
MicroNeedling Video Resources:
MicroNeedling Treatment Session and Day After Procedure Results
Video: Lauri Kane undergoes a MicroNeedling with PRP procedure, displaying the process in detail and day after results!
---
MicroNeedling Recovery and Downtime
Video: MaryLu, Susan and Lauri each receive MicroNeedling treatment the same day and discuss their results, how they feel and expected downtime.
---
MicroNeedling With the SkinPen VS At Home Treatments
Video: MaryLu and Lauri discuss key benefits to using the SkinPen over a home-based alternative.
---
MicroNeedling VS Chemical Peel Procedure
Video: Lauri discusses which areas MicroNeedling is the more effective procedure when compared to a Chemical Peel.
---
To find out about Microneedling in Maryland, call the Center for Cosmetic Surgery & MediSpa at (410) 602-3322 and ask for Lauri Kane. Schedule a Consultation Today