Today's Men are seeking Cosmetic Services and Treatment
Welcome to our Center for Cosmetic Surgery and Medspa. Dr. Dean and Lauri Kane are dedicated to providing the highest level of quality cosmetic treatments and plastic surgery.  Dr. Dean Kane is a Board Certified Plastic Surgeon with over 33 years of experience achieving exquisite results for his patients.
At the Center for Cosmetic Surgery & Medspa, we offer only the most advanced cosmetic services and skin products available today. Your health, wellness, satisfaction, and safety are our top priorities. Dr. Dean and Lauri Kane pride themselves that they have a diverse patient base in which women and men of all color and ethnic diversity are welcomed in their practice.
In today's cosmetic world, men are seeking the goals of rejuvenation of their faces and bodies. Men tend to focus on the Non-Surgical Rejuvenation of their faces with our newest PDO Eurothread Lifts, ThermiTight, Fillers, Botox, Dysport and Sculptra and CoolSculpting to slim their chins.
For their bodies, men seek to slim their bodies down with liposuction and achieve greater muscular contour with liposuction etching of their abdomens. Liposuction is often used to help treat "men's boobs". It is a very easy approach to reduce the fullness in a man's chest without an invasive gynecomastia surgery that requires long incisions. Men can return to work within a week of their liposuction and no one knows they had surgery. For non-surgical treatments to slim their bodies and chests, they turn to CoolSculpting. For the man who has a mild fullness in his chest, CoolSculpting of his chest is ideal and requires no downtime and no surgery. Men can drive themselves to our office and return to work the same day!
---
To find out about Men's Cosmetic Services in Maryland, call the Center for Cosmetic Surgery & MediSpa at (410) 602-3322 and ask for Lauri Kane. Schedule a Consultation Today
---
Men's Cosmetic Services include:
Face Surgeries
Non-Surgical Face Rejuvenation Treatments
Body Surgeries
Non-Surgical Body Procedures
Medi-Spa Services
Before And After Photos Of Happy Patients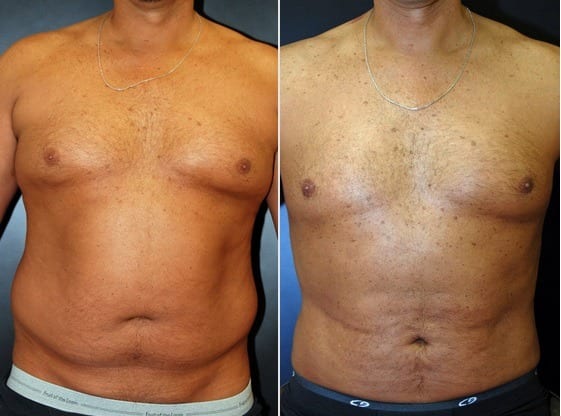 **Individual results may vary from patient to patient**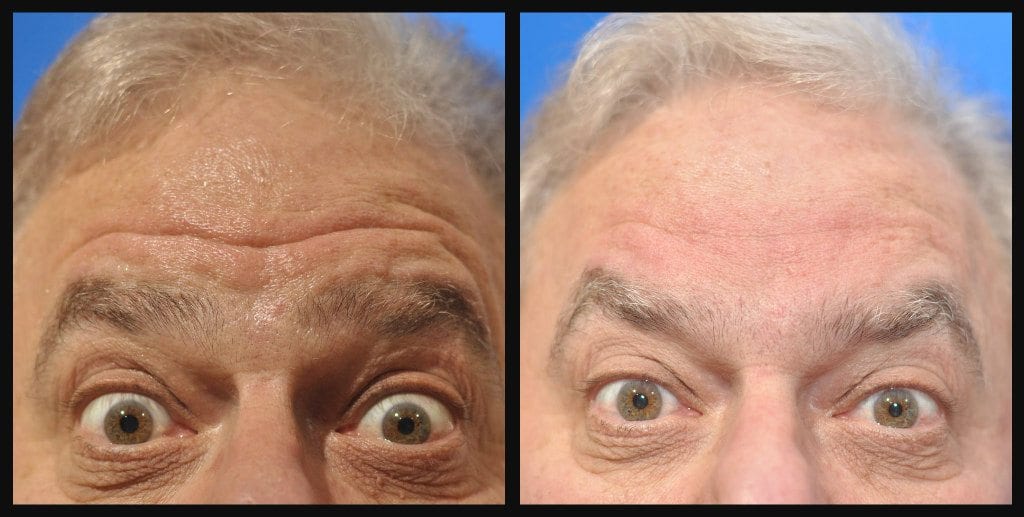 Botox and Fillers
**Individual results may vary from patient to patient**
Click Here To view More Before And After Photos
---
To find out about Men's Cosmetic Services in Maryland, call the Center for Cosmetic Surgery & MediSpa at (410) 602-3322 and ask for Lauri Kane. Schedule a Consultation Today
---
Specialize Medspa treatments for Men of Color
At Dr. Dean Kane's Plastic Surgery Center in Baltimore we offer services for men of all ethnic color. We understand how men, in general, are now seeking cosmetic services to improve their appearance. We provide treatments for men of color who generally have more issues with pigmentation skin problems and razor bumps from shaving.  We have laser hair removal treatments that protect and reduce the risk of pigmentation and help control irritation from shaving and prevention of razor bumps. The Obagi ZO Skin Health System is ideal for men of color to help with their pigmentation problems and reduction of the razor bumps.
Fully Accredited Operating Room in Dr. Kane's Center for Cosmetic Surgery
Dr. Kane has a fully accredited operating room within his Baltimore Center for Cosmetic Surgery and Medspa. His patients enjoy the comfort of a very safe, private and warm environment to have a wonderful cosmetic surgical experience. Their highly experienced nurse anesthetist has been with Dr.
Kane for over 19 years and is extremely gifted at placing Dr. Kane's patients into a wonderful sedation type anesthesia.
Personal Attention by the Kanes
Dr. Dean and Lauri Kane take personal pride to make sure all their patient's questions, issues, and concerns are always addressed by giving their patients their private cell phone numbers as well as their emails. Patients have direct access to both of them 24 hours a day, 7 days a week. They will accept phone calls even while they are on vacation. You will receive the highest quality of care when you become a patient of their practice.
Schedule Your Consultation Today
We have early morning and evening hours to accommodate men whose work hours make it difficult to schedule appointments. Give us a call today and we will try to find an appointment to accommodate your busy work schedule. Call our office  (410) 602-3322 or email Lauri@DrDeanKane.com to make your appointment. We look forward to having you as our patient, meeting all your cosmetic needs and achieving your ideal appearance.
What to Expect at Your Consultation
The Consultation Appointment with Dr. Dean Kane.
The recommended way to determine the appropriate surgical procedure for each of Dr. Kane's male patients is a personal evaluation through extensive consultation. Dr. Kane and his wife Lauri Kane meet with every male client to determine the ideal surgical approach to meet his patient's needs. At this appointment, his patients are given a complete tour of the office, Medi-Spa and Operating Room and view an educational video about the desired procedures.
Each patient is personally evaluated, before and after photos are shown and the estimated length of recovery of the procedure are all provided. All plastic surgery recommendations are given with the exact fee quote that include the Dr. Kane's fees, operating room and anesthesia costs. All his fees include extensive post-op follow-up visits until Dr. Kane's patients are fully healed and recovered. Patients are always welcomed back at any time in the future for no charge or even just to say hello and show off their fantastic results!!