About our Extensive Skin Care Program
We have structured our Skin Care Program to meet all your ongoing needs and make sure we achieve your desired results.

When you begin on our ZO Skin care program we like to start slowly as these products are prescription level and very effective. We like for you to have a slow adjustment to the skincare regiment.
We have you come back in two weeks to see how you have done on these products and provide a free enzyme clean up. We then have you come back again 2-4 weeks again later to ensure the products are working correctly for you and that your skin is improving. We then set up routine visits to ensure you continue to progress and achieve healthy skin again. During your first visit, there is a one-time consultation fee of $75.  For all subsequent these visits there are no visit charges. Our peels and facials are personalized to meet your skincare needs and your goals.

We offer a wide array of ZO skin products by Dr. Zein Obagi, facials, peels, Microneedling with PRP, Blu Light Therapy for acne and lasers including Laser Hair Removal, IPL, Fractional Pixel, Radio Frequency to help with all skin issues at Dr. Dean Kane's Medspa. Specifically, we use Dr. Obagi's newest line called ZO Skin Health that works on people of all skin color and skin issues. It is an extremely effective system that works very quickly. We specialize in helping people of all ethnic diversities and people of color.
---
Skin Care FAQ's
I am African American, what can be done about my pigmentation problems? Or How to I get rid of the hyperpigmentation on my face?
In the MedSpa of Dr. Dean Kane in Baltimore we specialize in dealing with pigmentation problems of people of all color. Dr. Kane has been using Dr. Obagi's ZO Skin Health System for over 28 years which has been extremely successful for people from all ethnic diversity.

What causes hyperpigmentation?
There are two main causes: one is long term sun exposure that brings unwanted melanin to the skin surface and chronic stressors on the skin like irritation from ongoing acne.

Is pigmentation permanent?
No, Dr. Dean Kane in Baltimore helps patients with hyperpigmentation in his MedSpa using Dr. Zein Obagi's Skin Health Products that effectively remove the unwanted pigmentation in people of all skin color.

What treatments are the best for pigmentation?
A home treatment is best to provide ongoing control of the melanin production. Dr. Dean Kane uses ZO Skin Health System for a strong prescription based home system. For deep pigmentation, Dr. Kane will then offer a strong TCA Chemical Peel that will lift and clear the deep levels of pigmentation often known as melisma.

What skin products help with hyperpigmentation?
The key products are Retin A or the generic Tretinoin and hydroquinone. The Retin A helps to exfoliate the dead layers of skin and stimulate new skin cells. The hydroquinone reduces the melanin production that causes the hyperpigmentation. Dr. Obagi's skin product is called Pigment Control that has 4% hydroquinone.

I go out in the sun can I use the Obagi Skin Products?
Yes but you must use a very strong sun block, a big hat and sun glasses to protect the new skin. Dr. Kane's medspa really reply's on the Elta sun blocks for great protection.

What can I do about my acne scarring?
In the Baltimore MedSpa of Dr. Dean Kane there are many procedures used to help with acne scarring. Dr. Kane believes in using ZO Skin Health Products on a daily basis to prevent more acne. For Scarring the combination of MicroNeedling with PRP, TCA Chemical Peels and the use of fillers and PDO threads are all used to smooth and plump out the deep scar tissue.

What can be done about redness on my face?
Intense Pulse Light or IPL is ideal to laser the red pigmentation. In Dr. Dean Kane's MedSpa in Baltimore, he recommends at least 3 treatments of IPL to help reduce and control the red concerns of the face.

What can be done for acne?
Acne is caused by oils on the top of the skin clogging the pores and trapping bacteria under the skin. In the MedSpa of Dr. Dean Kane in Baltimore he recommends using the ZO Skin Health Products, specifically the oil control pads, Tretinoin, Skin Polish and enzyme peels. All of these products will control the oil productions, provide daily exfoliation and allow the pores to remain open and free of bacteria.
---
Whether you're looking to improve the health of your skin or you simply want to feel pampered and gain a special glow, we offer a wide variety of facial rejuvenation treatments for Baltimore, Maryland men and women at the Center for Cosmetic Surgery & MediSpa. With choices like the Dr. Obagi ZO 3-Step Peel®, the Retin-A Peel®, glycolic acid masks and peels and micro facials, we have options for anyone whose goal is softer, healthier skin, including people of African-American, Hispanic, Asian, and Caucasian backgrounds.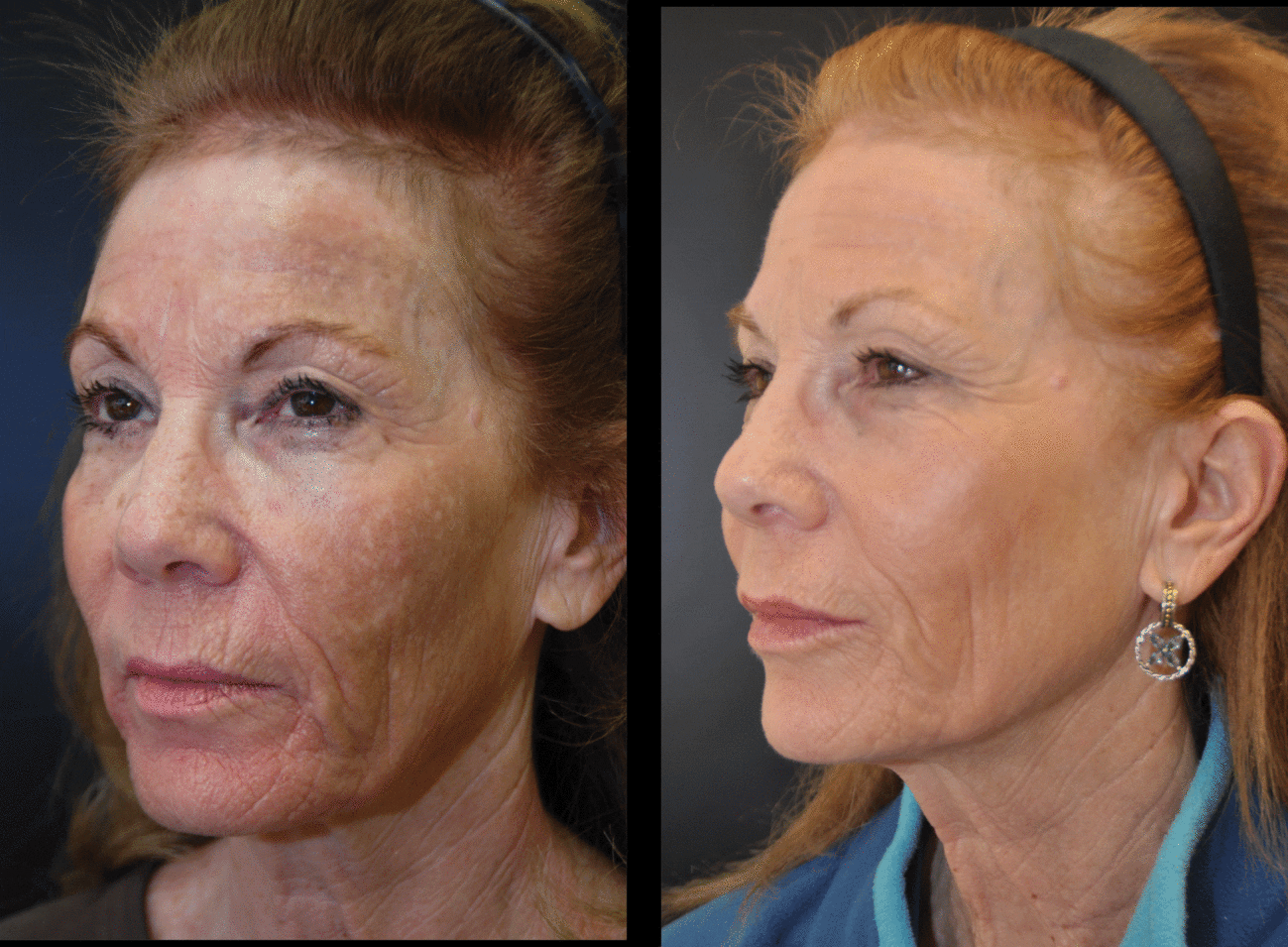 CLICK HERE FOR BEFORE AND AFTER GALLERY
---
Make Your Appointment Today!
No matter what your skin type and needs may be, if you live near Baltimore, Maryland, facial rejuvenation is close at hand. At the Center for Cosmetic Surgery & MediSpa, we welcome African Americans, Asians, Caucasians, and Hispanics. In fact, we have many years of experience designing individualized treatments for people of all backgrounds and all skin color.
Call us soon at (410) 602-3322 or request an appointment online. We look forward to working with you in our offices on Reservoir Circle in Baltimore, serving Annapolis, Delaware and southern Pennsylvania.
Policies
Any changes to your appointment require 24 hours' notice or all specials, discounts or coupons will be forfeited.
---
To find out about facial procedures in Maryland, call the Center for Cosmetic Surgery & MediSpa at (410) 602-3322 and ask for Lauri Kane. Schedule a Consultation Today