Your Are Invited to: Tea Time to Erase Time: A President's Day Event with the Staff of Dr. Dean Kane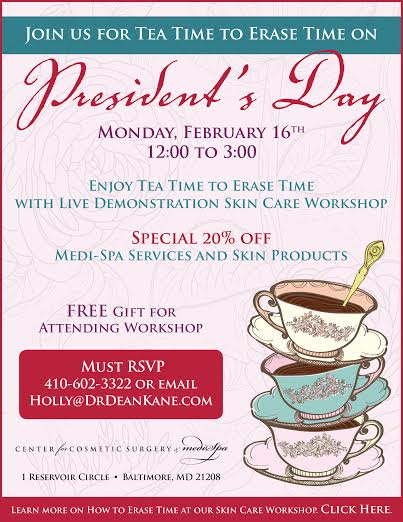 Join Dr. Dean Kane's staff at the Center for Cosmetic Surgery and Medspa to enjoy tea time, a light lunch and learn about how to erase time with ZO Skin Health by Dr. Obagi, Face Peels, Laser Rejuvenation procedures and non-surgical procedures using injectables like Dysport, Botox, Fillers.
A great afternoon to enjoy a skin care workshop, watch demonstrations of live ZO 3 Step Peels, VI Peels, 24 K Golden Facials and the laser procedures of ClearLift to tighten and firm skin, IPL and Pixel to reduce red, brown and texture issues of your face and touch and feel all the skin products. You will have the ability to interact with the staff and have all your questions answered about your facial concerns.
All who attend will receive 20% off on any future service that is purchased at time of the workshop and 20% off Skin Care products. Enjoy a light lunch and tea service. Receive a special President's Day Gift.
Our Tea Time Event will take place on Monday, Feb 16th from noon to 3:00 at our office location:
1 Reservoir Circle, Suite 201, Pikesville 21208. Free and easy parking.
We are looking forward to seeing you at our Tea Time to Erase Time Event.