At the Center for Cosmetic Surgery & MediSpa, we've dedicated ourselves to serving the facial plastic surgery needs of Baltimore Maryland facial rejuvenation patients for more than sixteen years. We know that men and women who project a healthy self image also have a healthy outlook on life; it's our privilege to help our patients look and feel their best.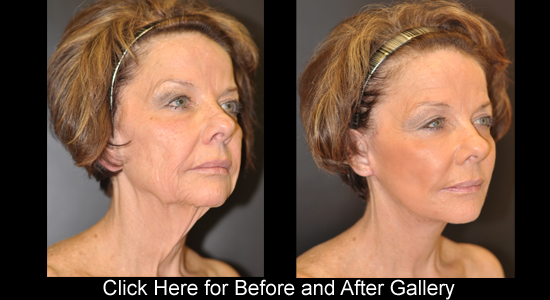 Whether you're interested in brightening up your eyes or considering combination facial surgery for more complete rejuvenation, you'll find what you're looking for with us. We provide a full range of safe and effective facial plastic surgery procedures in our warm, inviting offices in Baltimore, Maryland. Along with facelift surgeries we offer a variety of procedures to keep your face looking youthful, balanced and refreshed, including:
In addition to facial plastic surgery we are proud to offer our patients a menu of non surgical facial rejuvenation treatments. We also perform other cosmetic surgery procedures including breast augmentation with saline or silicone gel implants, tummy tuck, liposuction, body lift, breast lift and more.
---
Recovery from Facial Plastic Surgery
Recovery from Facial Plastic Surgery Procedures is a Major Concern of Baltimore Maryland Patients of Dr. Dean Kane in his Maryland Center for Cosmetic Surgery and Medi-Spa. No matter what plastic surgery procedure a patient comes for to board certified plastic surgeon, Dr. Dean Kane of Baltimore Maryland, a major concern is "how fast will I recover to be able to return to work and what will recovery be like?" In a general sense regardless if patients have facelifts, breast augmentation or breast lifts, tummy tucks or abdominoplasties or liposuction, within the first 3-4 days after surgery, patients are getting over the anesthesia effects and adjusting to the realistic level of discomfort they will be facing for the next several weeks. Its seems after this first 3 night window, the majority of patients wake up on the 4th morning feeling much better and seeing the light at the end of the recovery tunnel. The level of feeling better increases daily and is very much dependent on the plastic surgery procedure.
---
---
Contact us for Baltimore Facial Rejuvenation
If you live near Baltimore, Maryland and cosmetic surgery interests you, it may be time to request a consultation. Dr. Dean Kane, Lauri Kane and their professional staff look forward to meeting you, discussing your facial rejuvenation options and helping you make the decisions ahead.
You'll enjoy your visit to the Center for Cosmetic Surgery & MediSpa. Though patients often compliment us for a waiting area that is "as comfortable a living room," we're also very proud of our state-of-the-art surgical suite. You can spend some time relaxing in our art gallery and refreshing in our medical spa. You'll leave feeling informed, at ease and prepared for the next step that's right for you.
Give us a call at  410.602.3322  and make an appointment soon. We're located on Reservoir Circle just a block off the Baltimore beltway, convenient to greater Baltimore, Annapolis, the Eastern Shore, Southern Pennsylvania, Delaware and Frederick.