Dr. Dean Kane, Baltimore Board Certified Plastic Surgeon understands the desire to achieve immediate facial rejuvenation with limited downtime and recovery. If you want the effects of a facelift but are not ready for surgery a Thread Lift might be the solution for you. Thread Lifts are the latest in non-surgical technology and can be used in the face, neck and now in most body parts.
What is a Thread Lift?
Thread Lifts are absorbable surgical sutures that are placed just below the skin subcutaneously to stimulate your own collagen and elastin production to lift, firm, tighten, contour and brings volume and plumping into the skin. Numerous styles of the PDO Thread Sutures have been developed to perform a variety of cosmetic rejuvenating functions from improving wrinkles, lifting skin laxity to lightening pigmentation and improving acne scarring.  Some common and brand names for Thread Lifts are:  threadlift, suture lift, suspension lift, weave, Silhouette InstaLift (SIL) sutures, PDO, MINT PDO and PDO  Eurothreads.
---
To find out about Thread Lift procedures in Maryland, call the Center for Cosmetic Surgery & MediSpa at (410) 602-3322 and ask for Lauri Kane. Schedule a Consultation Today
Patient below had a combination of a surgical necklift, surgical eyelid lift with PDO Threadlift to her face. *

What Are PDO and PLLA Threads?
Thread Lift Sutures are made from PDO and PLLA dissolvable surgical sutures. They are biodegradable and are pre-inserted through a sterile cannuala (a blunted needle) which is placed under the skin. PDO is Polydioxanone and PLLA is Poly-L-Lactic Acid also known as Sculptra. Both have been FDA approved and are dissolvable or biodegradable molecules that have been used in surgeries for decades. What makes Thread Lift sutures unique from your typical dissolvable suture is that they have been purposefully manufactured with clogs or barbs to catch under the skin to lift and pull the skin upward to lift skin laxity. As these PDO threads dissolve they cosmetically stimulate a person's collagen and elastin for skin tightening, volumizing, plumping and firming. 
What makes these threads so effective is a system of threads that are also dissolvable, but come in different forms, thickness and lengths. They also come in an injectable format so that no anesthesia is required to insert them. They are as easy to inject just like a filler injection.  Also instead of one type of suture fits all problems we offer an array of unique threads that perform multi-functions.
Patient below had PDO Threadlift to her face and neck. *

Who Are Good Candidates For a PDO Threadlift?
The PDO Threadlift works well for people of all ages and all ethnic backgrounds. For example, patients who are younger with early skin laxity, as well as older patients who do not want to undergo an invasive facelift procedure due to medical issues. The PDO Threadlift is even ideal for those patients who have had a previous traditional facelift in the past and are seeking to simply refresh their faces again.
This procedure is an option for smokers and medically high-risk patients, and for people who would rather avoid general anesthesia. The PDO Threadlift is popular with men who are excited about the possibility of a natural-looking lift without scarring, especially if they are bald or have a receding hairline. Patients can expect to achieve the following face lift effects:
Repositioning of the cheeks and jowls
Reducing the naso-labial and marrionette folds
Creating a well-defined jaw line
To achieve optimal results, careful patient selection is key. As one of the first surgeons in the country to perform the threadlift procedure, Dr. Dean Kane is highly experienced in choosing appropriate candidates and performing the procedure with precision. Wondering whether the PDO Threadlift is a good choice for you? The best way to find out is to request a consultation with Dr. Kane.
Patient below had Contour Threadlift with a TCA Chemical Peel. *

Where can Threads be used?
A diversity of Threads can be used in the following ways to provide instant non-surgical results in the following areas.
Non-Surgical Facelift
Non-surgical Neck Lift
Non-Surgical Brow Lift
Wrinkle lines in and around the lips
Deep neck wrinkles
Forehead furrows
Crepey Décolleté Skin
Plumping Out Acne Scarring
Threads for Nose Reshaping
Thread Lift for a Non-Surgical Face and Neck Lift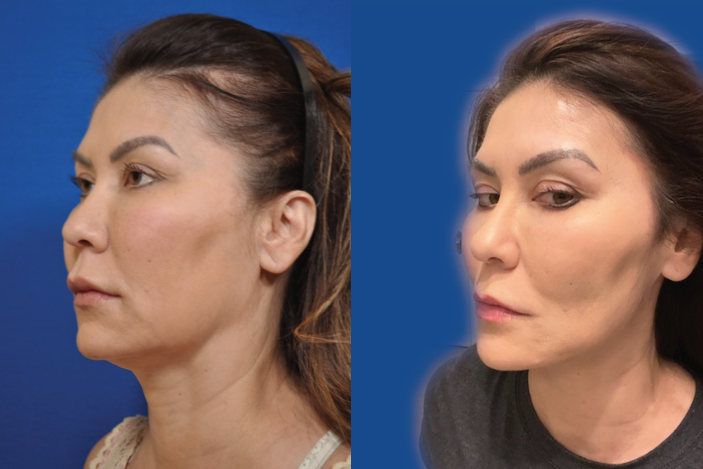 Many people today have little time for downtime and recovery from a surgical facelift but want to have an instant rejuvenation and lifting of their face, Jowls and Neck. Thread Lifts are the perfect solution for those people who want to look naturally refreshed with little recovery time. The Threads will lift the skin laxity of the cheeks, nasal folds and jowls of the face and neck. The results are instant and very natural with minor bruising or swelling. Most patients return to work the next day.
Thread Lift for a Non-Surgical Brow Lift
While Botox is the go to for brow elevation, it doesn't always complete the job to give the brows enough of an arch. Using Threads to lift the eyebrows into a higher elevation, also takes away the hooding above the eyes as well. It still is important to also have Botox in the brow so that your muscles are not working against the threads, but helping the threads lift the skin of the forehead to stay up.
Thread Lifts for Forehead Wrinkles
Many people have deep furrows across the forehead where Botox can not help. These deep furrows need to be filled in with either threads for fillers. The threads used in the forehead will stimulate the collagen and elastin to plump out the depth of the wrinkle and smooth out the forehead. Threads are especially good when the lines across the forehead are more superficial but are creases within the skin. These small threads will fill in the fine creases and erase the lines away.
Thread Lift for Acne Scarring
Patient below had threadlift to acne scarring and TCA Chemical Peel Combination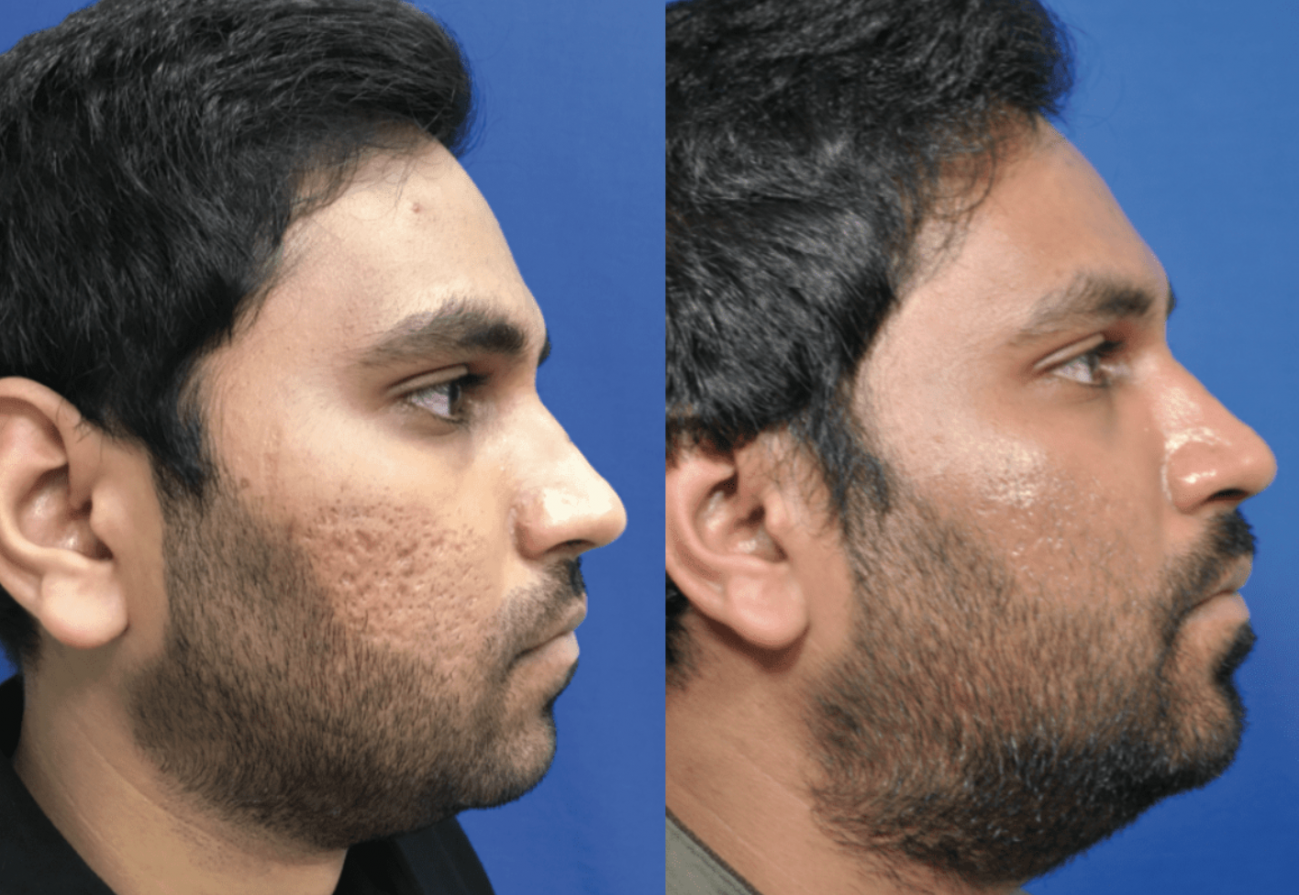 The PDO Threads come in different forms and sizes. Dr. Kane has had excellent success with the micro version threads to plump up acne scarring. These tiny threads are inserted under the acne scarring to force the skin to produce collagen and elastin which in turn plump the scar tissue. Dr. Kane inserts the tiny threads in a mesh form under each acne scar to plump up the depth of the scar tissue. As you can see in the patient below, his scars are much more smoother.
How Is the Thread Lift Performed?
Using just a local anesthetic, Dr. Dean Kane will first numb the areas of the face and body to be lifted. The sutures come within a sterilized cannula (a small blunted needle).  These cannulas also have the added ability to provide more local anesthetic if the patient feels any discomfort while be inserted under the skin. The patient will feel pressure, but little to no pain. The procedure continues in a few different ways depending on what area of the body Dr. Kane is lifting. During your consultation, Dr. Kane will provide a complete evaluation and treatment plan.
If the goal is to plump wrinkles in and around the mouth than Dr. Kane would perform a mesh technique of injections and a smoother style thread is used. The smoother threads will stimulate the collagen and elastin to reduce the lips lines or smoker lines, wrinkles that surround the chin and mouth area.
For an arm lift, a combination of smooth style threads and the twisted, barbed style would be used. The smooth style will be inserted to create a mesh-like result smoothing and plumping the crepey skin. The twisted and barbed style will be used to lift the skin laxity. This fantastic combination will be excellent at helping both issues.
Patient below had a surgical neck lift, eyelid lift, Contour Threadlift to face and TCA chemical peel. *

**Individual results may vary from patient to patient**
How Painful are Threadlifts?
Because the threadlifts are done with a tiny needle, only a local anesthetic is used to numb the face so you never feel any discomfort. For patients who are anxious about getting the numbing injections, Dr. Kane offers Pro-nox. Pro-Nox is a self-administered "laughing gas" that patients breath in when feeling any anxiety and pain and get an immediate relief. The Pro-Nox immediately relieves all patients anxieties and you are in control of how much you breath in. The great part is that you can still drive yourself to the office and back home with the local anesthetic and Pro-nox. Click here to learn more about how Pro-Nox works.
In our Baltimore Center for Cosmetic Surgery and Medspa we have a fully accredited operating room suite in which we can provide Twilight  IV sedation as an option for patients who prefer a light sleep. The PDO Threadlift procedure normally takes about 1-2 hours.
What is the Thread Lift Recovery?
The great news about the non-surgical use of the Thread Lift is that there is no need for any incisions, external stitches, no sedation anesthesia, or extensive recovery. The Threads are inserted through tiny puncture sites that close on their own by the very next day. Patients can expect some mild swelling and bruising for approximately a week. If there is any extensive bruising, a steroid pack can be prescribed to quickly reduce the swelling. Ice packs are also very helpful in reducing bruising and swelling. On occasion mild puckering can occur, but with massage and time the puckering goes away within 1-2 weeks.
A facial or body garment may be advised for approximately a week to hold the sutures in place while they set within in the skin. Dr. Kane recommends that physical activities be reduced to not jolt the sutures for 1 to 2 weeks. If one's employment does not entail physical activity or lifting than you can return to work the very next day. Make-up can be applied to cover any potential bruising.
Over the counter pain relievers can help with minimal discomfort. Patients should avoid direct sun, submersion in a hot sauna or bathtub, swimming, vigorous washing of the face and no face down pressure from a massage or yoga type activity.
To find out about Thread Lift procedures in Maryland, call the Center for Cosmetic Surgery & MediSpa at (410) 602-3322 and ask for Lauri Kane. Schedule a Consultation Today
How Fast Can I Expect Results from a Thread Lift?
Instant gratification! The exciting part of the Thread Lift is that these special sutures give an instant lift and then over the next 12 months a continual tightening and smoothing of the skin tissues.

How long will a Thread Lift last?
Thread Lifts will last approximately one year. The PDO Threads dissolve in about 3 months. As they dissolve, they stimulate your skin to produce collagen and elastin that will continue to firm and tighten the face. At any time, more PDO threads can be added to keep the face skin lifted and tight.
**Individual results may vary from patient to patient** 
What is the cost of the Thread Lift?
The cost will vary on how many PDO Threads are being used on the face and neck. For a typical PDO Threadlift for the face and neck, Dr. Kane likes to use between 4-6 threads per side of the face and neck. The cost can range from $3000 to $3500. But every patient is different with different needs. Some patients only want their jowls lifted and this only takes approximately 2 threads per side of the face. The cost can be as little as $1600. For the cat eye threadlift or browlift again only 2-4 threads the brow to create a non-surgical brow lift especially when Botox and Dysport are no longer effective to lift the brows.

What Are the Risks of a Thread Lift?
The risks are extremely rare. However, our staff performs a thorough medical history before the procedure to make sure there are no contra-indications to inserting these sutures.
While not a risk, but an outcome of the procedure, a person needs to expect bruising and swelling for 1 to 2 weeks. Thread Lifts are a minimally invasive procedure where Dr. Kane is inserting the sutures under the skin. With any insertion of material, filler, Botox or these sutures, patients always need to be aware that they can bruise and have swelling.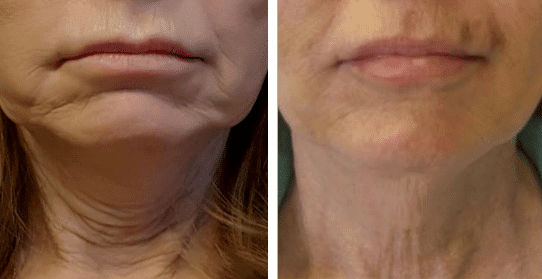 **Individual results may vary from patient to patient**
Dr. Dean Kane's 17 Years of Experience with Thread Lifting
Dr. Kane has been using threads to lift faces since 2005 called Contour Threads when they were first FDA approved. He has tremendous experience and success with using thread lifting for his patients. He continues to seek the best options for his patients who are seeing non-surgical solutions for face and neck lifts. He understands that people do not have the downtime for a surgical facelift and are looking for a minimally invasive approach that does not require anesthesia and limited downtime. The Injectable PDO and PLLA Threads created by Eurothread provide the most advanced options that Dr. Kane now offers to his patients. Patients can drive themselves to the treatment and with the use of local anesthetic and also ProNox (a laughing gas), Dr. Kane provides a very comfortable and easy solution for all his patients.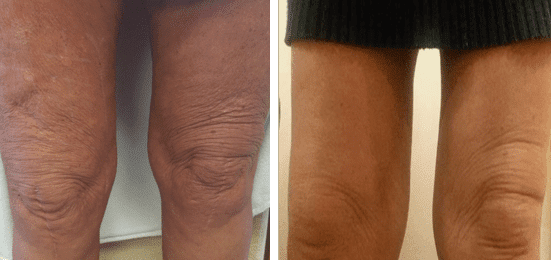 **Individual results may vary from patient to patient**
Can the Thread Lift be combined with other procedures?
Yes, Dr. Kane has used the Thread Lift with other facial cosmetic procedures such as

Schedule a Consultation
To learn more about Thread Lifts and how they can provide exceptional results without the need for surgery please call (410) 602-3322 and schedule your consultation with Dr. Kane today.