For residents of Baltimore, facial rejuvenation options are more numerous and more effective than ever before. Non-surgical treatments make sense for so many people —from those who've had Maryland plastic surgery and want to protect their investment to people who would like to delay surgery a while longer.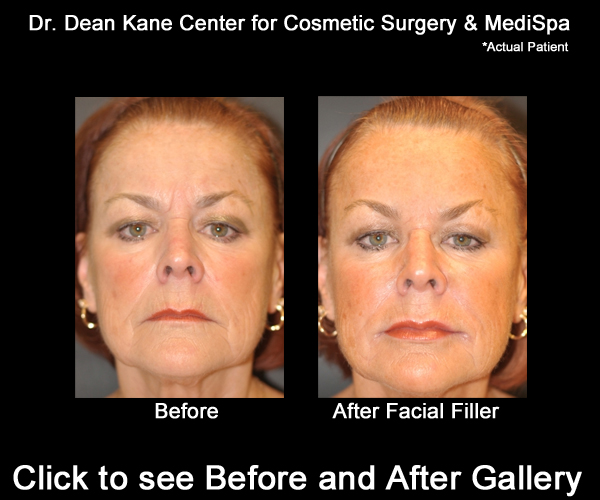 CLICK HERE FOR BEFORE AND AFTER GALLERY
Time and environmental conditions work together to wear down and damage the skin, stealing its smoothness and luster. However, with the help of injectable fillers like Restylane®, Perlane®, JUVÉDERM® Injectable Gel Ultra Plus, Radiesse® and wrinkle treatments like BOTOX® Cosmetic, Maryland men and women can reclaim a youthful appearance. These treatments, as well as facials, chemical peels and laser hair removal, help Baltimore patients feel better by looking better.
Dr. Dean Kane's Baltimore, Maryland Center for Cosmetic Surgery & MediSpa, is proud to offer a comprehensive selection of facial rejuvenation treatments. Request an appointment today to learn more about:
---
Non-Surgical Facial Rejuvenation in Baltimore
Dr. Dean and Lauri Kane are deeply dedicated to providing facial and skin rejuvenation treatments for people of all ethnicities. They have steadily built a diverse clientele consisting of patients of African, Asian, Hispanic, Latin and European heritage by offering treatments and procedures that can benefit any skin tone and texture.
Patients seeking ways to counter the physical consequences of aging trust the doctors at the Center for Cosmetic Surgery & MediSpa because of their expertise, experience and commitment to helping patients look and feel great. They have committed much of their time and energy to the advocacy of non-invasive treatments, as these have become increasingly effective and long-lasting. While current medical technology and procedures cannot truly reverse aging and many patients do eventually seek plastic surgery in Maryland, the nutrients, anti-oxidants and internal moisturizing compounds non-invasive treatments provide can help delay the effects of aging.
---
---
We're Here for You
When you're ready to find out how to revitalize the way you look and feel with facial rejuvenation treatment in Maryland—BOTOX Cosmetic, Restylane and more—give us a call at 410.602.3322 and speak with Lauri Kane. She can answer many of your questions and help you get started on the road to the right plan for you.
Our MediSpa is located on Reservoir Circle just off the beltway along with our Baltimore cosmetic surgery practice. We see patients from greater Baltimore and Annapolis, and from Delaware and southern Pennsylvania and the eastern shore. Request an appointment with us today.