In our Baltimore Center for Cosmetic Surgery and Medspa, Dr. Dean Kane is a true out of the box thinker and creator.  Dr. Kane is combining the newest technologies and advancements to provide patients with even greater non-surgical face lift outcomes.
Dr. Kane offers two great Non-Surgical Facelift Procedures: The Silhouette InstaLift that lifts and firms the facial skin with dissolvable collagen producing sutures and the ThermiTight, uses radio frequency to tighten the face and neck.
---
Patient Experience with the Silhouette InstaLift and ThermiTight Duo
---
Patients today are looking for alternatives to a surgical facelift and ThermiTight and Silhouette Instalift are the ideal duo that accomplishes both tightening and lifting of the lax skin tissues of the face. This fantastic non-surgical combination produce facelift affects and can be done under local anesthesia or IV sedation.
---
Silhouette Instalift
The Silhouette InstaLift places anchoring sutures under the skin to pull the lax skin of the face and neck upward toward the temple hairline lifting the skin of the nasal folds, jowls and turkey neck. The sutures themselves are made from the Sculptra and when the sutures dissolve under the skin, they stimulate collagen and elastin for increased tightening and firming while creating a secondary lift lasting up to 18 months to 2 years.
---
To find out about facial procedures in Maryland, call the Center for Cosmetic Surgery & MediSpa at (410) 602-3322 and ask for Lauri Kane. Schedule a Consultation Today
---
ThermiTightRF
THERMItight® is a minimally invasive procedure that uses a special probe that emits thermal energy in a very safe and controlled treatment. The patient is awake with local anesthetic. Dr. Kane's patients experience minimal bruising with this revolutionary new technology. The entire procedure can take up to an hour and improvements will be seen within 3 months.
The ThermiTightRF uses a needle-like probe under the skin, to tighten and stimulate your own collagen and elastin to firming the face and neck. ThermiTight alone enhances patients who have mild skin laxity and who need the energy boost to achieve firming of their tissues.  For patients with a greater skin laxity, the Silhouette InstaLift provides this added directional lifting and tightening.
---
Why Combine the Two Procedures
Both procedures will tighten the skin but in different ways giving an even more dramatic and greater effect. Both procedures provide an immediate and prolonged stimulation of skin shrinking or directed tightening. There is no surgical cutting of the skin. Each procedure takes approximately an hour. Patients can drive themselves home if no narcotic or sedative is given at the time of the procedure. For the combined procedures, you should expect additional swelling and mild bruising so the recovery time can be from 1 to 2 weeks. But anyone working from home would be able to work by the next day.
---
Do I have to have to be put to sleep for the combined procedures?
Silhouette InstaLift and ThermiTight can be done at the same time and requires only local anesthesia with oral sedation or IV Sedation.  However, for our patients' comfort the procedure can be performed under local anesthesia with Pro-Nox. Pro-Nox is a self-administered "laughing gas" that patients breathe in when feeling any anxiety and pain and get an immediate relief. Click here to learn more about how Pro-Nox works.
 In our Baltimore Center for Cosmetic Surgery and Medspa we have a fully accredited operating room suite in which we can also provide Twilight  IV sedation as an option for patients who prefer a light sleep. The combination procedure normally takes about 2 hours. 
---
Our Patient's Personal Experience with Combining the ThermiTight and Silhouette InstaLift Procedures
Look how Thermi Tight and Silhouette Instalift work together to get The Perfect Non-Surgical Facelift Combinations.
---

In the first set of before and after pictures, Marsha first had only the ThermiTight procedure using radio frequency energy to tighten the skin along her jowls and neck.
**Individual results may vary from patient to patient**
---

Three months post ThermiTight and Immediate Results Silhouette InstaLift (see purple markings)
**Individual results may vary from patient to patient**
---

Post 3 Months ThermiTight and Immediate Silhouette Instalift Procedure (with purple markings)
**Individual results may vary from patient to patient**
---
However due to the amount of facial laxity you can see she still needed further skin lifting and she chose to have the Silhouette Instalift three months later. In the above set of pictures you see Dr. Dean Kane inserting the Silhouette Instalift sutures along the purple markings on Marsha's face. She is awake with only a local numbing medication. She is in no pain and can sit up to make sure the sutures have adequately been placed and properly pulling up Marsha's skin laxity. Both sets of pictures show how Marsha looks immediately after getting her Silhouette Sutures giving her an INSTANT FACELIFT.
---
To find out about facial procedures in Maryland, call the Center for Cosmetic Surgery & MediSpa at (410) 602-3322 and ask for Lauri Kane. Schedule a Consultation Today
---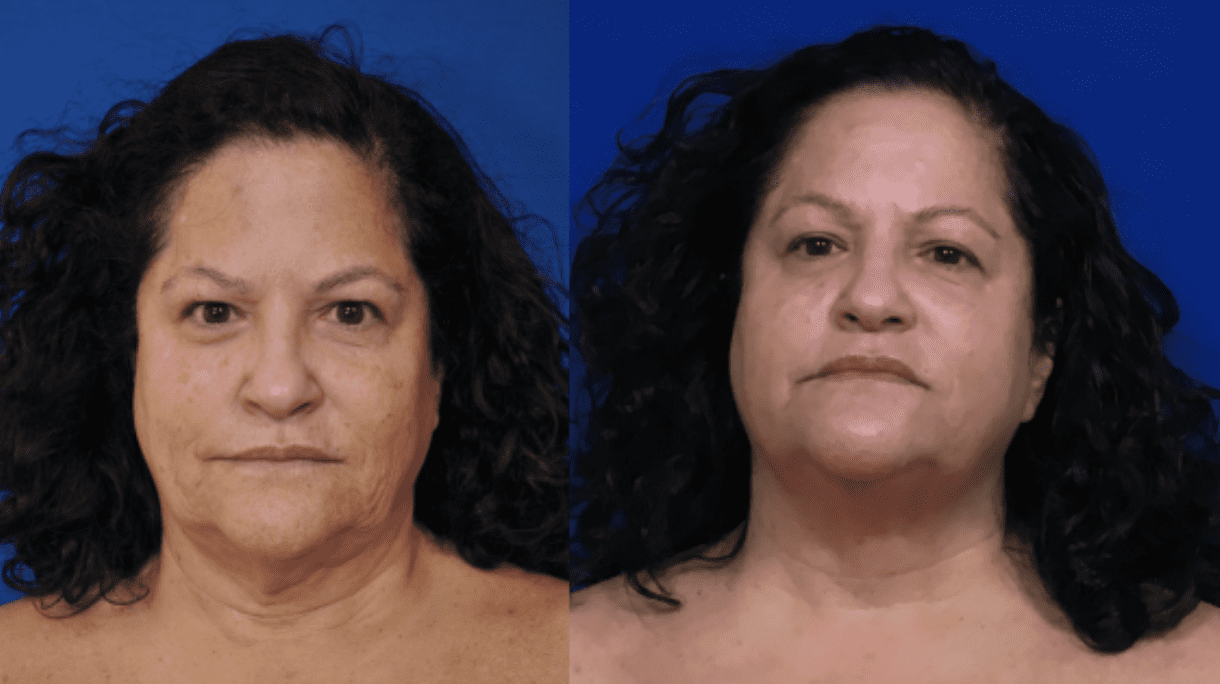 Three Months post Silhouette InstaLift Face and 6 months post ThermiTight of jowls and Neck.
**Individual results may vary from patient to patient**
---
These pictures now show Marsha 3 months post her Silhouette InstaLift and 6 months post her ThermiTight procedure. With time both procedures stimulate collagen and elastin to provide an ongoing tightening and firming of the face. Marsha is very pleased with her facelift like results.
For today's patient who truly doesn't feel a surgical facelift is for them, then the Duo: ThermiTight and InstaLift may be just what the doctor ordered!!! That is what Dr. Kane ordered.
---
Schedule a Consultation 
For more information about our practice and to learn more about  ThermiTight and the Silhouette InstaLift procedure, give us a call at (410) 602-3322.  Lauri Kane is always available to speak directly with you. You can also email Lauri@DrDeanKane.com  who will answer your questions about this minimally invasive facelift and give you an idea about the cost over the phone. Then request an appointment with Dr. Dean Kane to see if you're a good candidate.
They both look forward to welcoming you to the Center for Cosmetic Surgery & MediSpa on Reservoir Circle in Baltimore, serving Delaware, the Eastern Shore and Southern Pennsylvania as well as Maryland communities like Annapolis and Frederick.