Look how Thermi Tight and Silhouette work together to get The Perfect Non-Surgical Facelift Combinations
Patients today are looking for alternatives to a surgical facelift and ThermiTight and Silhouette Instalift is the ideal duo that accomplishes both tightening and lifting of the lax skin tissues of the face. This fantastic non-surgical combination produce facelift affects and can be done under local anesthesia. Our patient demonstrates the progression of both procedures over time.
ThermiTight
In the first set of before and after pictures, Marsha first had only the ThermiTight procedure using radio frequency energy to tighten the skin along her jowls and neck.
Silhouette InstaLift
However due to the amount of facial laxity you can see she still needed further skin lifting and she chose to have the Silhouette Instalift three months later.  In this set of pictures you see Dr. Dean Kane inserting the Silhouette Instalift sutures into Marsha's face. She is awake with only a local numbing medication. She is in no pain and can sit up to make sure the sutures have adequately been placed and properly pulling up Marsha's skin laxity.  Both sets of pictures show how Marsha looks immediately after getting her Silhouette Sutures giving her an INSTANT FACELIFT.
ThermiTight and Silhouette Instalift Combination
These pictures now show Marsha 3 months post her Silhouette InstaLift and 6 months post her ThermiTIght procedure. With time both procedures stimulate collagen and elastin to provide an ongoing tightening and firming of the face. Marsha is very pleased with her facelift like results.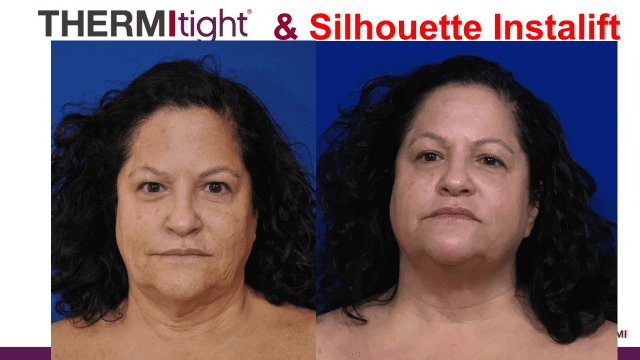 ---
To learn more about this Perfect Non-Surgical Facelift Duo: ThermiTight and InstaLift email: Lauri@DrDeanKane.com or call the office 410-602-3322.