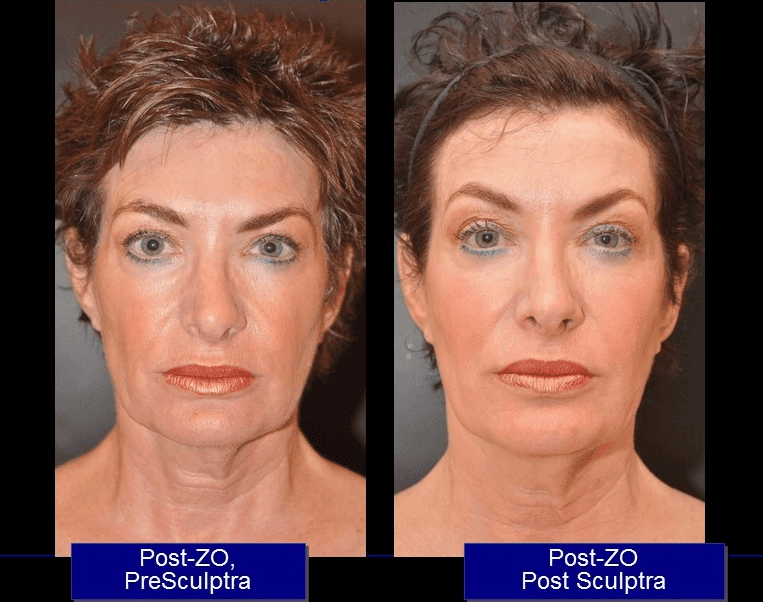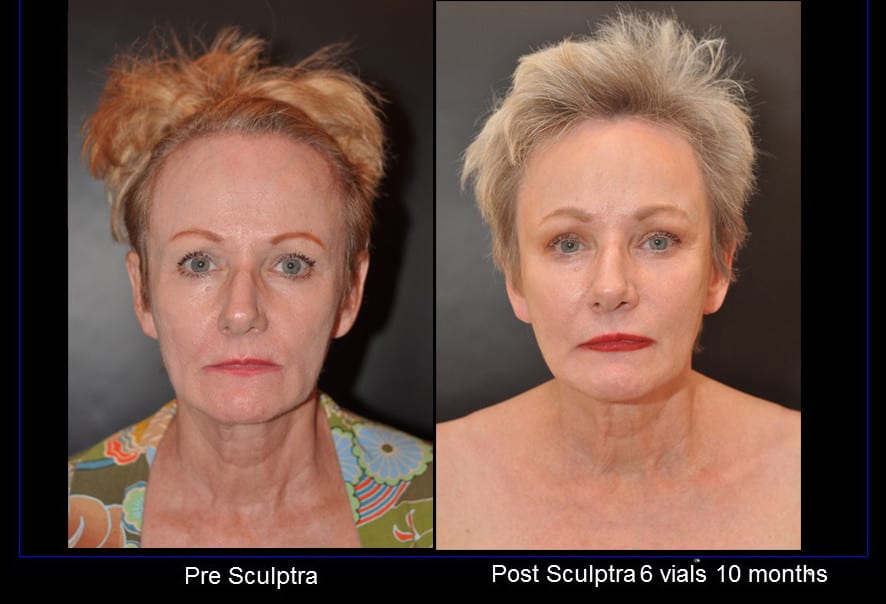 CLICK HERE FOR BEFORE AND AFTER GALLERY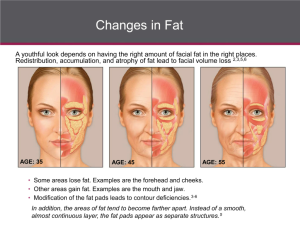 Dr. Dean Kane, board certified plastic surgeon is now introducing the Sculptra Secret for the long lasting Liquid Facelift in his Maryland Center for Cosmetic Surgery and Medi-Center in Pikesville. Dr. Dean Kane is a certified Sculptra® Training facility. The key to anti-aging is to appear naturally young without looking like you've had work done by a cosmetic surgeon. Dr. Kane finds Sculptra is the secret for his patients to look and stay naturally refreshed and rejuvenated with a slower, naturally rejuvenated onset. Dr. Kane uses Sculptra to replace the diminished collagen that occurs in the aging process of the deep and superficial lines, folds, hollows and sagging of the face. Sculptra is the ultimate collagen builder and plumper that gives Dr. Kane's patients over 2 years of subtle but natural anti-aging effects. Sculptra is the true non-surgical facelift!
Click here to learn more about targeted Sculptra for defined problem areas of the face.
---
What is Sculptra?
Sculptra is injectible filler made from poly-L-lactic acid. This is a biocompatible synthetic material in a microscopic form, used by doctors in dissolvable surgical sutures.
---
How does Sculptra differ from other fillers?
Fillers like Restylane, Perlane and Juvederm Ultra are made up hylauronic acid which is bio-identical to what is created in our bodies and what gives us our natural plumpness to the skin. These fillers are also ideal to plump and fill hollows, wrinkles and folds. While these fillers are excellent for very specific areas of the face like the hollows under the eyes, the marionette lines, nasal folds and the lips, Sculptra is used in larger plumping areas of the face within the entire upper and lower cheeks, temples near the eyes and the entire jaw line. Dr. Kane uses both types of fillers in properly selected patients to achieve the complimentary nature they perform on the face minimizing side-effects and complications in order to achieve the benefits of their particular properties.
Another big difference between these fillers is that Restylane, Perlane and Juvederm Ultra give Dr. Dean Kane's patients immediate plumping and volumizing results which will last up to 12 months. Sculptra is designed to stimulate your bodies own collagen which takes about 3 months to see the results, but then lasts up to 25 months.

---
How is Sculptra injected?
Sculptra requires multiple sessions done over a 12 week process. In the first session, Dr. Kane will inject 2 vials of Sculptra, one for each side of the face. Each vial is diluted with water and lidocaine that immediately numbs the face as soon as Dr Kane injects into the face. Sculptra will be injected into that area of the face from the temples into the cheeks and all the way down into the jaw line as required to achieve the desired results.
Following this first session, patients should not expect to see any changes in the face for 3 months. This first session is strictly meant to lay down the first foundation to initiate your face to begin stimulating your own collagen production. You will notice a very positive swelling of the tissues but this will quickly absorb.
In the second session, 6 weeks later, Dr. Kane will administer 1 to 2 more vials in the same temple, cheeks and jaw line. It is in this second session that your face will begin to increase its collagen production filling in the deep and superficial levels of the face. As the subtle changes begin, you will start to see the anti-aging effects appear in front of your eyes daily. In another 6 weeks later, you will return to see Dr. Kane for a re-evaluation to determine if another 1 to 2 vials are necessary to fulfill your desired results. Excitedly, you will continue to enjoy the plumping and filling of your wrinkles, folds and hollows of your face for up to 25 months. To see yourself anti-age vs age is truly the magic of the Sculptra Secret.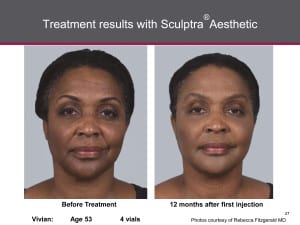 Click here to see more Before and After Sculptra® Photos in our Gallery.
---
Who are candidates for Sculptra?
Dr. Kane feels that Sculptra serves many purposes for many patients. Sculptra is ideal for white skin, all skin types and people of color. Dr. Kane finds fillers to be ideal for black skin of the African Americans as well as Asians and Middle Eastern individuals. Patients with various complaints such as sagging of the jowls, hollowness of the cheeks, deep and superficial nasal folds and marionette lines are ideal candidates for Sculptra.
For the aging patient who is not quite ready for a facelift, Dr. Kane feels Sculptra is maybe a perfect solution to lift and tighten the skin using this long lasting liquid facelift. For patients who have lost a lot of weight and feel hollow and gaunt in the cheek areas, Sculptra may also work well. Dr. Kane uses Sculptra to maintain the longevity of his facelift patients by keeping his patients collagen stimulated and plumping of the face. Dr. Dean Kane sees the facelift procedure as a way to reverse the clock, but Dr. Kane also acknowledges that people continue to age after the surgery. The best way to anti-age and keep turning back the clock is to keep the face plump and firm. With Sculptra the face is being continuously stimulated to produce collagen and thus keeping the face full and refreshed. Sculptra is the true secret to accomplish anti-aging of the face along with proper skin care, peels, Botox and Dysport.
Of course the patients who have already have had Sculptra continue to be the perfect patient to come back to Dr. Kane every year or two for a Sculptra touch up.
---
What problems can occur with Sculptra?
In the past, patients had occasionally complained of developing lumps or nodules in the face. In the early years, Sculptra had not been diluted to the extent to what is now considered the proper ratios. With the proper dilution of the Sculptra and the massage required, the risk of nodules or lumps have been greatly reduced.
---
Are There Instructions with Sculptra?
YES Very Important Ones!! Dr. Kane will require that you meet with our patient coordinator to learn what you will need to do before and after the procedure with Sculptra.
1. Because Sculptra requires multiple sessions, Dr. Kane will require you to set up the 2 sessions in advanced 6 weeks apart. This is done with Dr.Kane's patient coordinator in which she will review all the preparation and after-care of Sculptra.
2. Bruising can occur and patients must stop their aspirin products, ibuprofen, Aleve, fish oils and any other blood thinners that would increase the risk of bruising 1-2 weeks before the procedure.
3. The day of the procedure, Dr. Kane will want your face washed clean of all makeup. He will want you to stop any skin products like Retin A, strong Retinols and any fruit acid skin products that can cause any irritation. These products need to be stopped 5 days prior and no face peels or laser procedures or sun exposure for at least 2 weeks before.
4. After the procedure Dr. Kane will instruct you on how to massage your face 5 times a day for 5 days in a row. This is crucial to the success of Sculptra and to reduce the risk of forming any nodules.
5. Dr. Kane will see you back for follow-up 1-2 weeks later and again in 6 weeks when the second session takes place.
---
What does Sculptra Cost?
Dr. Dean Kane has created a package pricing for 1 session that includes 2 vials. This package pricing is $1700. Patients will need 2 or more session to achieve ideal results. For any future costs, Dr. Kane will charge by the vial which is $850 per vial as needed.  For patients wanting targeted areas of the face rather than full face treatments Dr. Kane performs Sculptra for just the following areas: Temples, Under Eyes, Nasal Folds, Lip Lines and marionette lines. Each of these areas would cost $400 an area. Whether it's a full face or targeted treatments, a minimum of 2 sessions done approximately 6 weeks apart is required to achieve optimal results.
---
How can you learn is Sculptra is right for you?
The best way to see if you are a candidate for Sculptra as well as the other fillers such as Restylane, Perlane, Juvederm Ultra or Radiesse, is to have a personal consultation with Dr. Kane. Often Dr. Kane holds seminars and live demonstration in his Baltimore Center for Cosmetic Surgery and Medi-Spa in Pikesville, Maryland. These seminars are very informative and patients learn a great deal about which cosmetic procedures are right for them. To learn when Dr. Kane holds his cosmetic surgery seminars join his newsletters and receive weekly updates on Dr. Kane's specials and events.