ThermiTightRF
Patients today are looking for a non-surgical rejuvenation of their jowls and neck that does not require down time or dramatic changes to their faces. Both men and women are looking for a very natural refreshed appearance that will allow them to get back to work quickly. ThermiTight  is the ideal procedure that rejuvenates the lower face and neck without any surgery or incisions on the face. Dr. Dean Kane is one of the first plastic surgeons in Baltimore to offer THERMItight®  a very innovative procedure.
---

---
 CLICK HERE FOR THERMITIGHT BEFORE AND AFTER GALLERY
---
What is ThermiTightRF?
ThermiTightRF uses Radio Frequency energy waves to stimulate and tighten the lower face, jowls and neck. After numbing the face with a local anesthetic, Dr. Dean Kane uses a needle-like probe under the skin that will emit the radio frequency waves to tighten and stimulate your own collagen and elastin to firm the face and neck. ThermiTight alone enhances patients' appearance who have mild skin laxity and need the stimulation from this level of energy waves that achieves very effective firming of their loose skin tissues. 
---
What is the Recovery of ThermiTight of the Lower Face and Neck?
Patients can expect to have mild swelling and bruising that can last for 1-2 weeks. Dr. Kane has his patient use a face and neck support garment to reduce the swelling. Patients who can work from home, can work immediately the next day. There is very little discomfort with the procedure and only Tylenol is recommended to relieve the discomfort.
---

52 year old female from Baltimore, MD had ThermiTight procedure of her lower face, jowls and neck.
---
When should I expect the results of the ThermiTight?
ThermiTight is stimulating your own collagen and elastin and most patients begin to see results in 3 weeks but takes up to 3 to 6 months to see the full tightening from the procedure.
---
How long will the results last?
ThermiTight results are lasting in our patients approximately 3 years. The procedure can be done again anytime the patient would like to regain a tightening of their jowls and necks.
---

---
Who are good candidates for the ThermiTight?
Anyone who is looking for a refreshed appearance that has mild to moderate skin laxity of their lower face and neck. Men and women of all diversity, age and ethnic backgrounds would be able to have the ThermiTight procedure. This non-surgical rejuvenation of the lower face and neck is ideal for people who absolutely do not want to undergo a face or neck lift or have medical conditions that would prevent them from having a surgery as well as  people who are seeking a fast and easy rejuvenation with little to no downtime.
---
What if I just don't want a facelift and I have a lot of skin laxity?
Combining ThermiTight with Silhouette InstaLift is an ideal option! Patients today are looking for alternatives to a surgical facelift and ThermiTight and Silhouette Instalift combination is the ideal duo that accomplishes both tightening and lifting of the lax skin tissues of the face and neck at the same time. This fantastic non-surgical combination produce facelift affects and can be done under local anesthesia. See more information on this dynamic duo (link to combo page).
See our patient's results of ThermiTight and Silhouette InstaLift Below:
---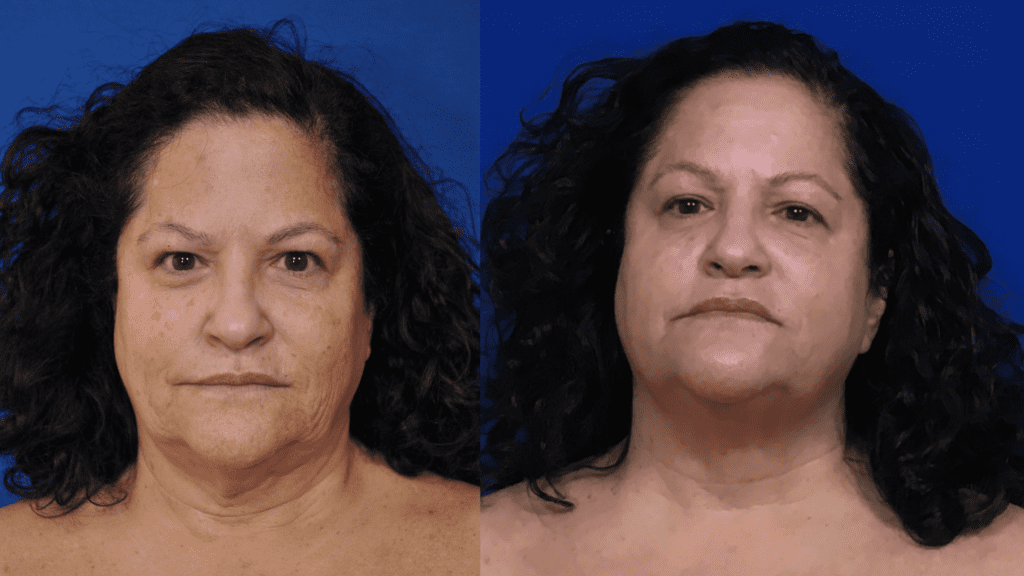 The Perfect Non-Surgical Facelift Combination of ThermiTight and Silhouette InstaLift
---
Schedule a Consultation 
For more information about our practice and to learn more about  ThermiTight and the Silhouette InstaLift procedure, give us a call at 410.602.3322.  Lauri Kane is always available to speak directly with you. You can also email Lauri@DrDeanKane.com  who will answer your questions about this minimally invasive facelift and give you an idea about the cost over the phone. Then request an appointment with Dr. Dean Kane to see if you're a good candidate.
They both look forward to welcoming you to the Center for Cosmetic Surgery & Medi-Spa on Reservoir Circle in Baltimore, serving Delaware, the Eastern Shore and Southern Pennsylvania as well as Maryland communities like Annapolis and Frederick.