Patient Safety and Accreditation of the Center for Cosmetic Surgery and Medspa
Safety is Dr. Dean Kane's first priority in patient care. To this end, Dr. Dean Kane is Board Certified by the American Board of Plastic Surgery and is licensed to practice in the State of Maryland. Dr. Kane's Ambulatory Surgery Center (ASC) is accredited by The American Association for Accreditation of Ambulatory Surgery Facilities, Inc (AAAASF).
Board Certification indicates to his patients that Dr. Dean Kane has achieved the highest levels of skills and education in his specialty as a Cosmetic and Reconstructive Surgeon. He is also Certified by the American Society of Aesthetic Plastic Surgery for Advanced Education in Cosmetic Surgery.
Quality improvement and the highest standards of care is a central focus of Dr. Kane's care and is practiced daily at his facility. His ASC is accredited yearly by the AAAASF. The accrediting process is used as platform to meet and surpass the level of care and safety we provide our patients. This Accreditation certifies that his ASC meets the nationally recognized standards and extends not only to the ASC but includes safety, privacy, conduct, education, protocols, surveillance, and appropriate licensing for all aspects of our entire Center involving:
Clinical Medicine
Medical Spa
Employment and employees
OSHA and employee safety
Quality Assurance and Quality Improvement
Physician and Nurse Licensing
Continuing Education, CPR, AED, ACLS
Plastic Surgery Resident Teaching
The AAAASF strives for the highest standards of excellence for its facilities by regularly revising and updating its requirements for patient safety and quality of care. Dr. Kane's facility has met these standards of care from its opening in 2000 and has been reviewed yearly with a physical inspection of the facility every 3 years. Dr. Kane's ASC achieves the highest Class C level rating or gold standard level at each of these reviews.
The AAAASF Accreditation Program requires 100% compliance with each standard to become and remain accredited. There are no exceptions. The Class C means that Dr. Kane is able to perform all his plastic surgery procedures under the following anesthesia: topical, local, sedation and general anesthesia. A licensed and certified registered nurse anesthetist (CRNA), administers the anesthesia and monitors the patients during his surgical procedures. Almost all his cosmetic surgeries (facelifts, breast surgeries, tummy tucks, liposuction, and others) are performed under sedation anesthesia with a minimum of risk and marked reduction in complications.
Dr. Kane wishes to assure all his patients that in the more than 25 years of practicing medicine and plastic surgery he upholds the standard of care and excellence in all procedures and surgeries he performs in his practice.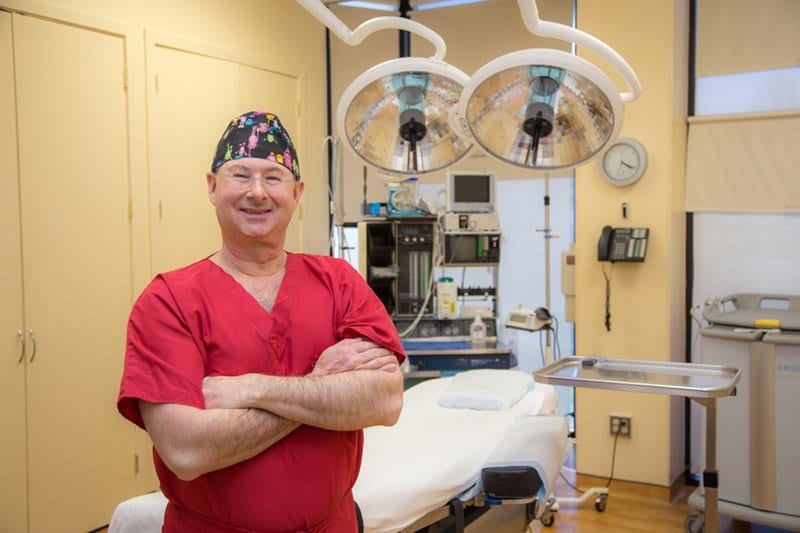 Our cosmetic surgery practice in Maryland is located in a modern, 3,000 square-foot office (complete with lots of free parking) just a block off the Baltimore beltway, making it easily accessible from just about anywhere. Our spacious office—as inviting as a living room—is not only beautiful, but also recognized as one of the top surgical facilities in the state of Maryland. Since opening in 1990, we have continually been recognized as plastic surgery leaders in Baltimore. We were recently designated the National BOTOX® Cosmetic Training Center in the state and were hand picked to be a Restylane® injection facility. Our center also features a state-of-the-art surgical suite for those who wish for a more comfortable, private setting. Whatever your needs, you may rest assured that here you will be in great hands. For those patients requiring extra care, Dr. Kane maintains active privileges at a nearby Baltimore Hospital. We have added 1800 square feet of clinical space including three new examination rooms, an expanded new operating suite, recovery and pre-op room and treatment room. Our Gallery d'Artes now offers an international exhibition of oils, glicees, watercolors, acrylics and other modern paintings in our updated Center for Cosmetic Surgery & MediSpa. Our MediSpa has expanded to offer services six days weekly in a "Zen-like" comfort setting.