One of the most common body reshaping procedures performed by Board Certified Plastic Surgeon, Dr. Dean Kane, is liposuction. That's because—thanks to pregnancy or simple genetics—most people have fat deposits in places diet and exercise just can't reach.
---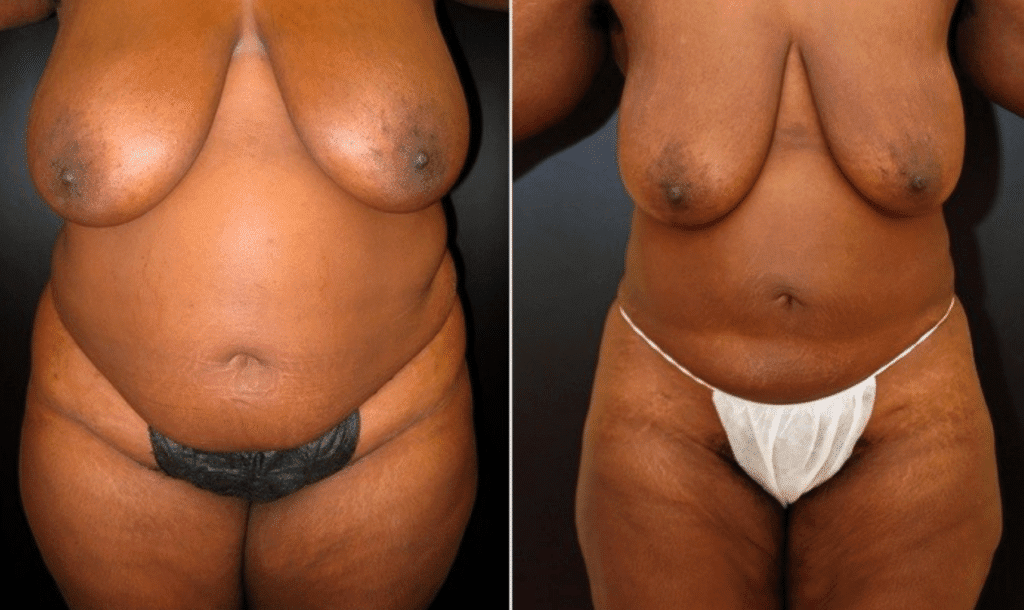 This African American woman from Baltimore had liposuction around her waist, abdomen and back.
**Individual results may vary from patient to patient**
---
CLICK HERE FOR BEFORE AND AFTER GALLERY
---
Removing Fat Cells With Liposuction
Liposuction can be used to remove fat cells and reshape many areas of the body, including:
•Jawline
•Neck
•Upper arms
•Breasts
•Abdomen
•Flanks
•Buttocks
•Hips
•Thighs
•Calves
•Knees
Lauri Kane Explains Dr. Dean Kane's Approach to Liposuction
---

This Annapolis woman had liposuction of abdomen, flanks, back and sides.
**Individual results may vary from patient to patient**
---
Baltimore Liposuction with Dr. Kane
Dr. Kane uses two state-of-the-art liposuction techniques. Both involve a small incision in the area to be treated. Next, a thin, hollow tube called a cannula is inserted into the incision and fat cells are vacuumed out and discarded. Liposuction is performed on an outpatient basis in our own private fully accredited surgery center under twilight sedation and can last two or more hours.
Baltimore patients undergo tumescent liposuction when large amounts of fat need to be removed. In this procedure, considered to be extremely safe, a salt-water solution (saline) is injected into the fat to make it easier to remove with the cannula.
---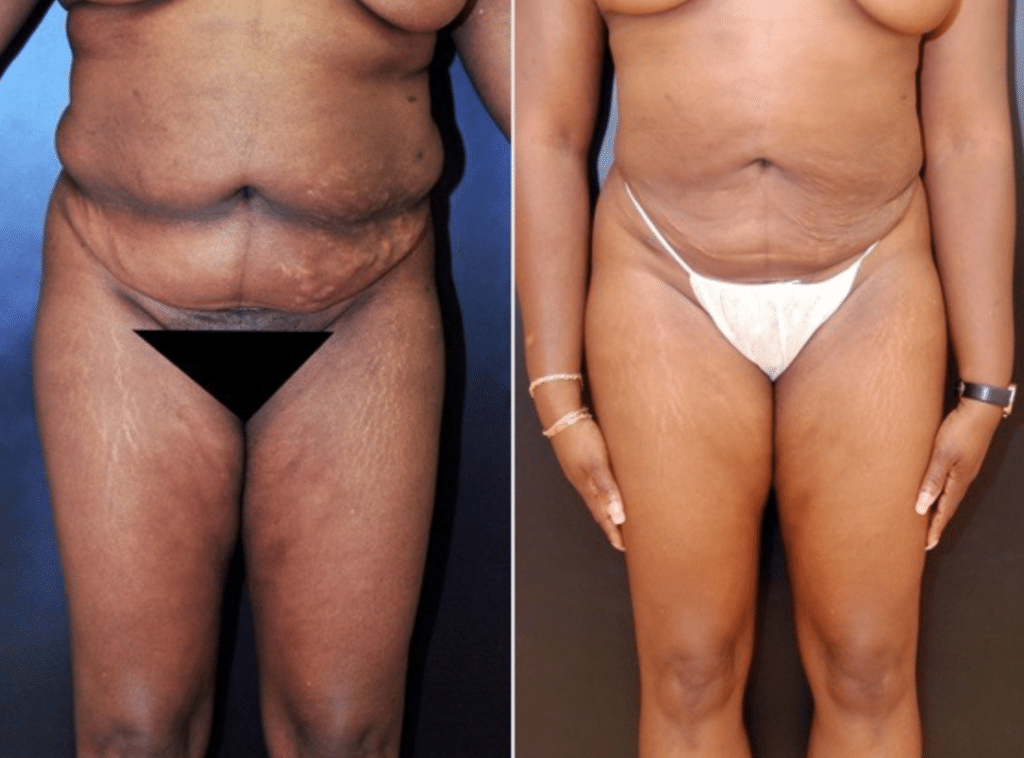 Liposuction of the abdomen, flanks, back and sides was performed on this Maryland woman.
**Individual results may vary from patient to patient**
---
Ultrasound-assisted Liposuction
Ultrasound-assisted liposuction (UAL) is one of the newest types of liposuction available today. Like the tumescent method offered by Dr. Kane in Baltimore, Maryland, ultrasonic liposuction allows for the removal of excess fat cells from problem areas on the body. However, this procedure is slightly different because it incorporates ultrasonic energy (sound waves) and saline injections to allow for maximum fat removal. The sound waves are emitted from the tip of the cannula, liquefying the fat and allowing for easier extraction. This method can result in less skin dimpling and puckering.
---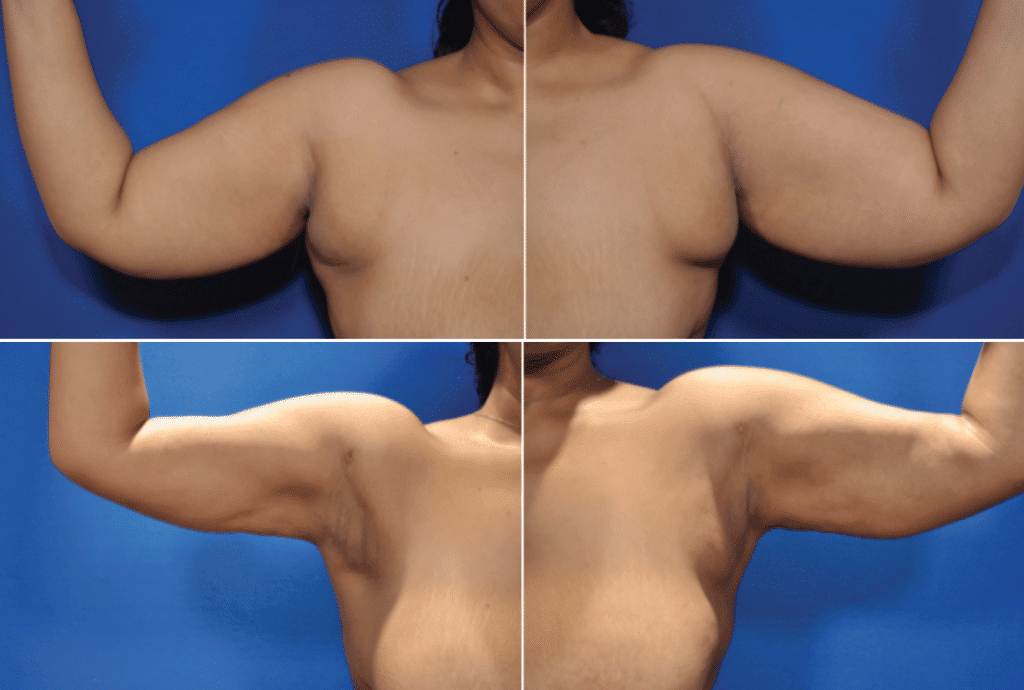 This 35-44 year old woman treated with liposuction of the arms, breast rolls and breast axilla.
**Individual results may vary from patient to patient**
---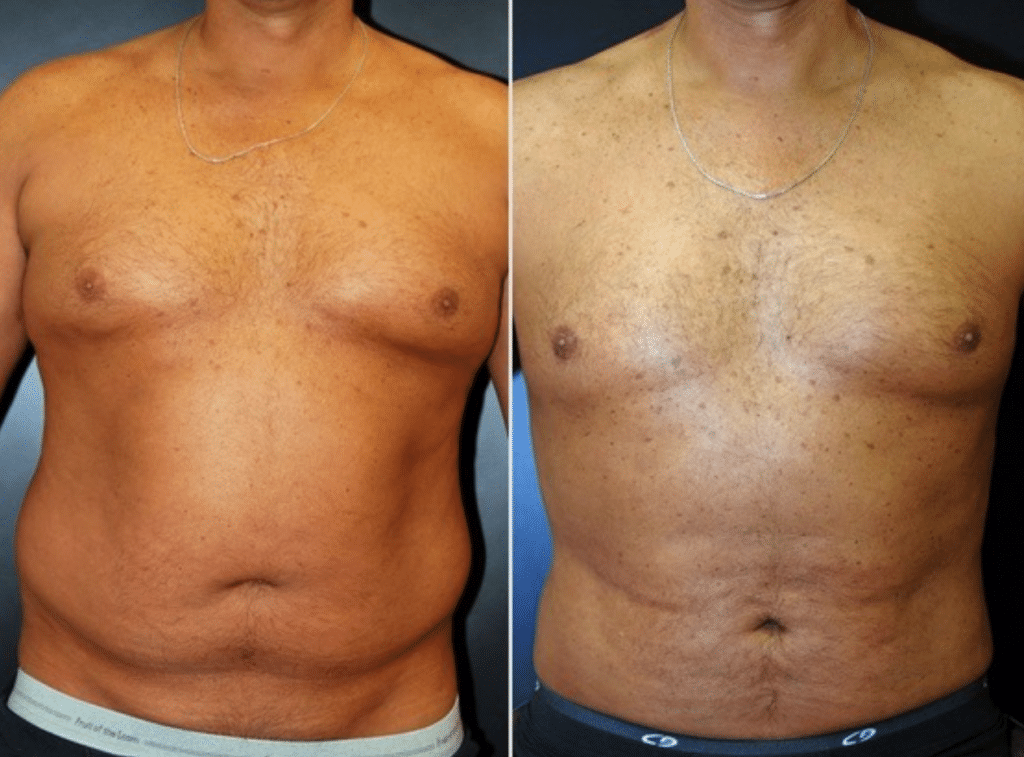 This 40 year old man from Annapolis man had liposuction of his chest, abdomen, back, sides and flanks.
**Individual results may vary from patient to patient**
---
Liposuction Recovery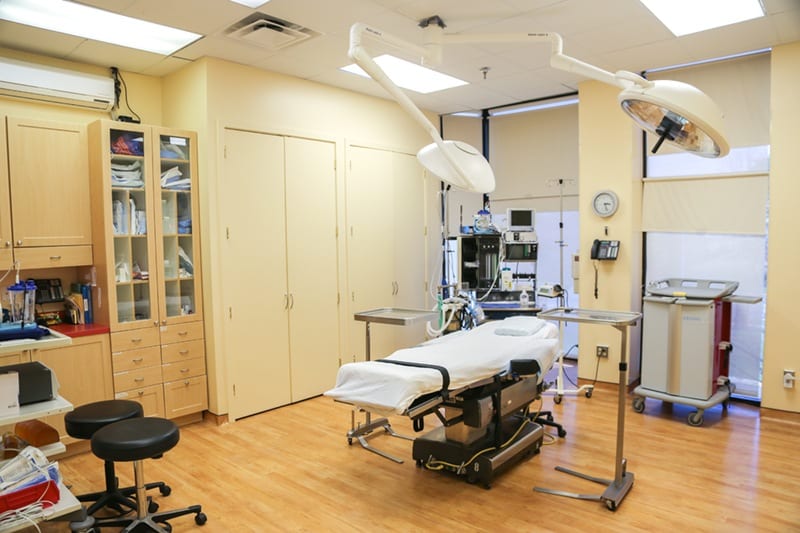 Of all the surgeries Dr. Dean Kane performs in his Baltimore Maryland Center for Cosmetic Surgery and Medi-Spa, Liposuction is one of the easiest to recover from. It is hard to hurt the results of liposuction. As long as the patients follow Dr. Kane's post-operative instructions and wear their special liposuction garment for 6-8 weeks 24 hours a day. The time off from work will depend on the extensive volume of fat that has been removed by Dr. Kane. If patients have liposuction of one to two areas only like just liposuction of the arms or just the inner and outer thighs or just the abdomen and love handles, patients feel good enough to return to work within 4-5 days.
---
What Happens If I'm Getting Multiple Liposuction Surgeries?
If multiple areas of liposuction are performed at the same time, like liposuction of the abdomen, back and inner and outer thighs then patients may need a little more time off from returning to their usual routines, but still not much more than 7-10 days. The amount of fat removed is also a factor, but if the procedure is performed in the private setting of Dr. Dean Kane's fully accredited operating room than only 5 liters of fat is permitted medically safe and most patients can go back to work within the 5-7 day period. To give patients an understanding of what 1 liter is, image a quart of milk as being a liter of fat. Now image taking 5 quarts of fat out of the body!!! That's a lot of fat that can be removed. Dr. Kane can reshape the body into a new body and allow a patient to reduce in multiple sizes. If however, patients want larger amounts of fat removed from 5-10 liters or more in multiple areas, these liposuction procedures would need to be performed in a hospital setting with an overnight stay.
---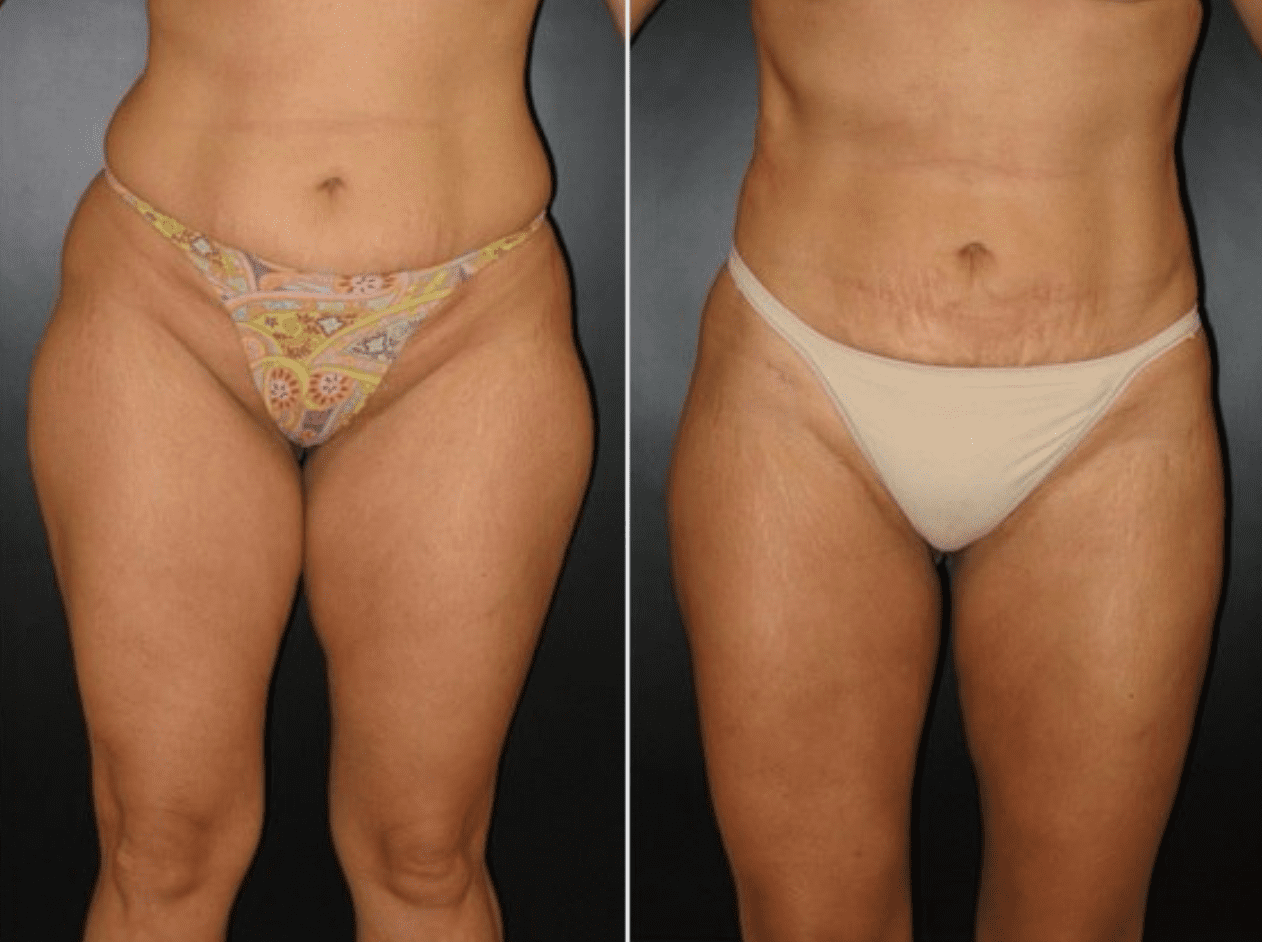 This 40 year old woman from Baltimore had tumescent liposuction to remove the fat from her inner and outer thighs.
**Individual results may vary from patient to patient**
---
Why Diet And Exercise Is Important After Your Liposuction
Dr. Kane believes in the South Beach type diet which is high protein, low fat, low carbohydrates, minimal to no sweets, no regular sodas and no snacking on chips, etc. He encourages his patients to exercise regularly increasing their cardiac output into an aerobic form of exercise daily. Without this change in lifestyle, both in diet and exercise all the fat will return back to the body in other places with a vengeance. Often fat returns inside the internal belly in which the fat surrounding the internal organs of the heart, intestines, kidneys where liposuction procedure cannot reach. This is a seriously dangerous fat that can cause people to have heart disease. The bottom line if anyone wants to consider liposuction with Dr. Dean Kane, it is not a weight-loss procedure. It is a body contouring procedure that requires a commitment to a life long lifestyle change of a healthy diet and solid aerobic form of exercise. Dr. Dean Kane places his post-op care as important as the surgery itself. Dr. Kane always sees his patients the very next day after surgery to make sure the patient is progressing.
---
Liposuction Can Be Paired With Other Procedures
Dr. Dean Kane often uses liposuction to complement other procedures,  Baltimore breast augmentation, tummy tuck, neck lift, or facelift in Baltimore. It's also commonly performed on its own.
---
Schedule A Consultation
Dr. Kane, one of the premier cosmetic surgeons in Baltimore, can help you love your tummy, legs or chest. To find out about liposuction in Maryland, call the Center for Cosmetic Surgery & MediSpa at 410.602.3322 and ask for Lauri Kane. She'll give you more information, answer most of your questions and even provide some price ranges over the phone. Or request an appointment online with Dr. Dean Kane. Both of them look forward to meeting you and introducing you to their practice on Reservoir Circle in Baltimore, serving Delaware, the Eastern Shore, and southern Pennsylvania as well as Maryland communities like Annapolis.