The benefits of substantial weight loss are seemingly endless—improved overall health, boosted confidence, a better outlook on life, a more fit and shapely body. Unfortunately, extreme weight loss, whether achieved through bariatric surgery or an aggressive weight loss program, can leave the skin stretched, sagging and loose.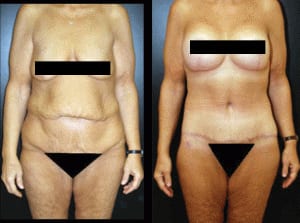 **Individual results may vary from patient to patient**
Dr. Dean Kane performs body lift surgery in Baltimore Maryland to trim away excess skin and tighten remaining tissue, leaving the body taut and contoured. For men and women who have succeeded in dropping dozens of pounds, plastic surgery after weight loss in Baltimore, Maryland can be the final step in a complete physical transformation.
If you made the commitment to shed excess weight and improve your health only to be disappointed with the look of your body after weight loss, Baltimore, Maryland plastic surgeon Dr. Kane would like to help you. Request a consultation with him at the Center for Cosmetic Surgery & MediSpa.
---
To find out about Body Lifts in Maryland, call the Center for Cosmetic Surgery & MediSpa at (410) 602-3322 and ask for Lauri Kane. Schedule a Consultation Today
---
Body Lift Plastic Surgery in Maryland with Dr. Kane
The leading plastic surgery procedure for most weight loss patients is a body lift. The surgery, depending on the exact technique used, can also be referred to as an extended abdominoplasty, circumferential abdominoplasty or torsoplasty. It is similar to abdominoplasty except that the incision normally travels completely around the torso. Dr. Kane can then tighten muscles and remove excess skin around the circumference of the body. The procedure has a lifting effect not only on the midsection but on the buttocks and thighs as well.
Panniculectomy
Some weight loss patients have excess skin confined mainly to the lower front of the abdomen. These men and women can be candidates for a procedure called a "panniculectomy" which removes this unsightly, uncomfortable flap of skin.
Arm and Thigh Lifts
Other patients experience sagging skin in many areas of the body. For these men and women, Dr. Kane can perform arm lifts and thigh lifts. It's also common for women in Baltimore, Maryland to request a facelift or breast surgery to complete their new look.
Out of Town Patients
With his credentials and years of experience in plastic surgery in Maryland, patients from outside the area routinely fly in for body contouring with Dr. Kane. To find out more, call the Center for Cosmetic Surgery & MediSpa at (410) 602-3322. Ask for Lauri Kane—she can answer many of your questions about plastic surgery after weight loss in Maryland. She can even give you an idea about the costs of some of the most common procedures post weight loss patients need. Or, simply request a consultation with Dr. Dean Kane for a personal assessment and informative discussion. Everyone at the Center for Cosmetic Surgery & MediSpa looks forward to meeting you and acquainting you with the practice on Reservoir Circle in Baltimore, serving Delaware, the Eastern Shore and southern Pennsylvania as well as Maryland communities like Annapolis.