Arms are the one part of the body that women across the board seem to have problems with. Two complaints are very common: women either complain of thick and shapeless arms or loose wavy skin called the "bat wings" or combination. Women are inhibited to show off their arms in sleeveless or short sleeve tops for fear their arms will flap in the air. Dr. Dean Kane has solutions that help with both these issues. Dr. Dean Kane performs all of these arm procedures in his private accredited operating room in his Maryland Center for Cosmetic Surgery and Medspa.
---

CLICK HERE FOR BEFORE AND AFTER GALLERY
**Individual results may vary from patient to patient**
---
To find out about Arm Lifts in Maryland, call the Center for Cosmetic Surgery & MediSpa at (410) 602-3322 and ask for Lauri Kane. Schedule a Consultation Today
---
Liposuction of the Arms
Often women with the full or thick arms, Liposuction is all that is needed to contour and give a slimming look to the arms. Dr. Dean Kane can sculpt the arms to look like you have been working out in the gym pumping the weights for 6 months. This simple tumescent liposuction procedure uses tiny ¼ inch incisions that are hidden around the elbow and under the arms. Liposuction of the arms is quite easy to recover with no more than 3-4 days of downtime before returning to a sedentary type of job. If women have a job requiring lifting than a longer recovery period needs to be considered.  Liposuction of the arms only requires wearing a garment around the arms for 6 week periods. Most women have this procedure in the cold months when they can hide their arms easily under clothes.
---
Arm Tucks & Liposuction Combination
For women who have a mild laxity under the arms and are still concerned with the thickness of their outer arms are recommended to have a combination Liposuction with an Arm Tuck. Dr. Dean Kane uses the same traditional tumescent liposuction technique described in the Arm Liposuction but uses a small incision under the arm pit. The under arm skin that is loose close to the arm pit can be pulled up and tucked into a small scar hidden deep inside the armpit. Dr. Kane feels this is an ideal solution for those women who have small amount of skin laxity and don't require a large amount of skin removal. The recovery for this type of procedure requires no lifting and minimal reaching of the arms in an upward direction to reduce the risk of the scar opening due to too much movement. Again a compression garment is needed to support the contoured arms. Recovery will take 6 weeks or longer until the underarm scar is healed.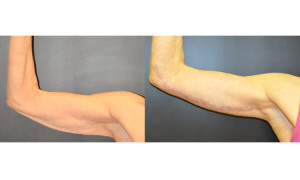 **Individual results may vary from patient to patient**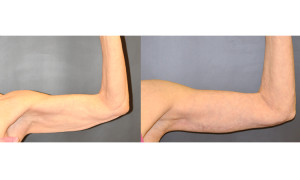 **Individual results may vary from patient to patient**
---
Brachioplasty or Arm Lift
Dr. Dean Kane will recommend the Brachioplasty or Arm Lift procedure when there is a large amount of skin laxity causing a "bat wing" deformity. Women who often lose massive amount of weight from gastric bypass surgery often require this surgery to reduce and redefine a woman's arms. Often older women also request this procedure from Dr. Dean Kane when the aging factor causes the arms to lose so much elasticity that the skin just "hangs" and women become very unhappy. The brachioplasty or arm lift is a much more extensive procedure requiring Dr. Dean Kane to perform an excision that runs from under the armpit down to the crease at the elbow. Dr. Kane removes the entire bat wing and the skin is draped up to give a nice tight defined arms.
The recovery for a brachioplasty requires women to use their arms at a minimum with little to no lifting or reaching above their head. A lot of movement can cause the incision to open and delay healing. The healing of the brachioplasty can take up to 2 months or more. Dr. Dean Kane is very committed to obtaining the best results for his patients and is very strict that women who smoke cigarettes stop completely at LEAST 4 weeks prior to the procedure and not start up again. The risk factors associated to cigarette smoking causes decreased circulation which in turn can cause the incisions to become weakened, infected or open up delaying the healing process dramatically.
Patients who follow Dr. Dean Kane's surgical instructions get a beautiful result and a wonderful surgical experience. The women are so pleased to be able to wear sleeveless blouses.
---
To find out about Arm Lifts in Maryland, call the Center for Cosmetic Surgery & MediSpa at (410) 602-3322 and ask for Lauri Kane. Schedule a Consultation Today
---
Combination of  Brachioplasty (Arm Lift) with Breast Lift, Breast Rolls and Back Rolls
Often women who suffer from excess skin of their arms also suffer from excess skin along their back, breast rolls and breasts. Dr. Dean Kane has created a unique combination procedure that removes all the excess skin in one surgery and reduces the amount of scarring all at the same time. Dr. Kane surgically does the traditional breast lift (with or without breast implants) and elongates the lower breast scar to go around the breast up through the armpit and down the arm. It is an extensive procedure, but the patients love the results they are getting within one surgery. Dr. Dean Kane's 25 years of working with massive weight loss patients give him the qualified experience to perform these incredibly out of the box procedures to meet the ever demanding needs of his massive weight loss patients.