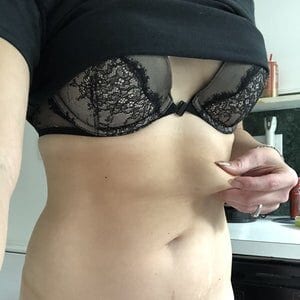 Q: Due to the loss of both parents recently, and my Fiancé has a rare stage3 sarcoma-cancer..I've gained weight. We have been together 7years, now that our youngest is five we are finally getting married next June. With that said, I am really sad about the way I look in wedding dresses. I don't even wanna try anymore on till I feel beautiful. Can they go through my old ovary-removal scar above my line? Will CoolSculpting help? Or will I just have to take the risk of scars or bad results:(? Thanks!
A: So sorry for your misfortunes but there is a silver-lining, your getting married and you seem very excited for this. 
Thanks for sharing your photos. You look awesome as you are following the 2 pregnancies.
Sorry but I just don't know the acronyms "MMO" and "BA".
CoolSculpting
, a non-invasive but limited form of fat reduction and liposuction which is a surgical fat reducing and contouring technique may help you in areas that weight loss won't adjust. In both cases, you still must reduce the calories eaten or expend more calories exercising to maintain the fat removed.
I recommend an in-person consultation with a Board Certified Plastic Surgeon to evaluate your desires, budget and recovery time and determine with you after an examination which is best for you.
---
Read more about similar topics:
This information is not meant as medical advice. It is provided solely for education. Our practice would be pleased to discuss your unique circumstances and needs as they relate to these topics.
Give us a call at (410) 602-3322 or email Lauri@DrDeanKane.com and make an appointment soon. We're located on Reservoir Circle just a block off the Baltimore beltway, convenient to greater Baltimore, Annapolis, the Eastern Shore, Southern Pennsylvania, Delaware and Carroll County.