Q. Would I benefit more from Cool Sculpting, Kybella, or filler injections to thin out my jawline and double chin? My face fat results from a combination of genetics and weight (even at my lowest weight, it's still there, and always has been). What would you recommend? And how many procedures would you expect to be necessary?
A. Thanks for sharing your photos! I recommend an in-person evaluation to determine what is best for you but I wish to provide my thoughts base on your pictures. Fullness and laxity (and possibly weight loss) have stretched your facial skin and underlying soft tissues down across the jawline losing definition, in toward the lips forming the folds and toward the center of the neck developing a "double chin".
You appear younger and youthful and may have enough elasticity to stimulate some tightening of the skin. Consider:
CoolSculpting as the easiest, least expensive and non-invasive of your options. Use a Certified CoolSculpting Team for best selection of the applicators and placement for optimal fat loss and definition of the neck, jawline and lower jowl areas. You may need a second session to obtain your best results. CoolSculpting primarily focuses on fat reduction. https://drdeankane.com/can-coolsculpting-used-neck-face/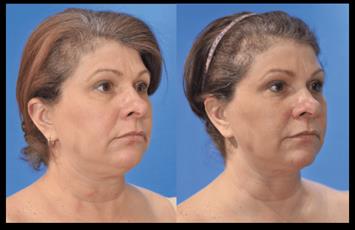 Next, I recommend a combination of 1) micro-lipo-contouring of the lower face, jowl-jawline and neck to shape the face followed at the same session with 2) ThermiTIGHT. ThermiTIGHT is a minimally invasive technique using a RF (radio-frequency) probe, through a puncture site to carefully heat and tighten the skin. If your surgeon is experienced, he / she may offer 3) fat grafting of the upper cheek with the fat removed from the lower face and neck. https://drdeankane.com/four-turkey-neck-options-available-at-the-center-for-cosmetic-surgery-and-medi-spa-with-dr-dean-kane/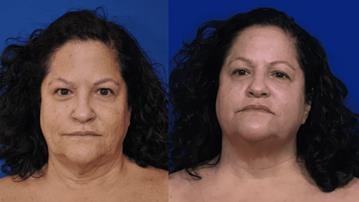 I am personally not a fan of Kybella. I find it to be inconsistent in fat injury, is painful and requires at least 2 sessions. It too requires significant experience.
Please consult with a Board Certified Plastic Surgeon for proper evaluation and recommendations for what is best for YOU! All the best!
---
This information is not meant as medical advice. It is provided solely for education. Our practice would be pleased to discuss your unique circumstances and needs as they relate to these topics.
Give us a call at  410.602.3322  or email Lauri@DrDeanKane.com and make an appointment soon. We're located on Reservoir Circle just a block off the Baltimore beltway, convenient to greater Baltimore, Annapolis, the Eastern Shore, Southern Pennsylvania, Delaware and Carroll County.