At the Center for Cosmetic Surgery & MediSpa in Maryland Dr. Dean Kane and his staff have a full range of treatments to battle wrinkles from BOTOX® Cosmetic in Baltimore to injectables like Restylane®, Restylane Lyft, Juvederm Ultra and Radiesse. Maryland residents like you trust us to help them look their best.
Dr. Kane is considered an expert in facial plastic surgeon and has the distinction of being chosen as a premier Dysport and Restylane injection facility. Dr. Kane has been selected as a national instructor for BOTOX Cosmetic, Restylane and JUVÉDERM® Injectable Gel. Arrange a personal appointment to find out more.
---
Lauri Kane Explains The Difference Between Fillers and Where Each Is Used
---
What Can I Do About My Forehead Wrinkles?
Wrinkles are an unfortunate part of life. Facial expressions, stress, the aging process, and the weather can speed up their development and make them much more obvious. Everyone gets wrinkles, but not everyone deals with them in the same way. In fact, with so many injectables available today, facial rejuvenation with Dr. Dean Kane in Baltimore Maryland with wrinkle fillers is an option more and more people are choosing and customizing to their own individual needs.
---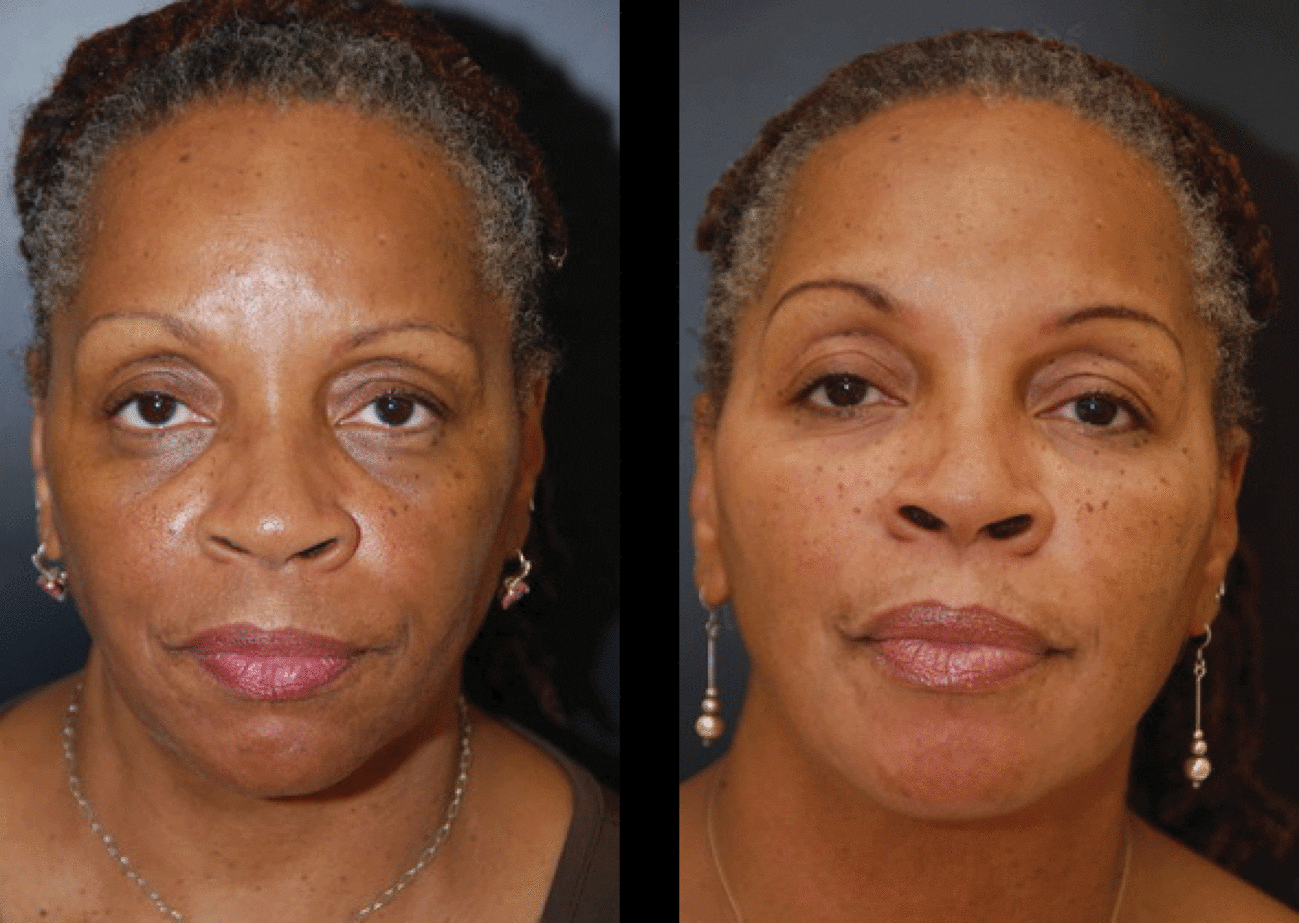 CLICK HERE FOR BEFORE AND AFTER GALLERY
**Individual results may vary from patient to patient**
---
What Are Dermal Fillers Made Of?
Some of the newest and most exciting injectable wrinkle treatments for Baltimore, Maryland residents are Restylane, Restylane Lyft, and JUVÉDERM (in three formulas). All are non-animal, stabilized hyaluronic acid, a substance occurs naturally in our bodies. They do not require testing prior to treatment and the products are eventually absorbed harmlessly by the human body.
Treatment Areas For Injectables
Restylane, Restylane Lyft, and JUVÉDERM are used to fill nasolabial folds, those lines called "parentheses" that run from your nose to your mouth. They can also be used to fill small wrinkles around the lips and to plump the lips themselves. Newer uses for the hyaluronic acid-based fillers include filling hollows under the eyes and lifting the eyebrows to create a more attractive arch. And the injectibles are also being used very successfully to contour the cheeks, nose, chin and jaw line without surgery.
---

**Individual results may vary from patient to patient**
---
How Long Do Injectable Fillers Last?
The fillers work by adding immediate volume in the skin or deep under the skin, smoothing wrinkles from underneath. They also attract and bind to moisture molecules under the skin's surface for a hydrating effect. All are FDA-approved. JUVÉDERM has additional FDA clearance for use with all skin types and colors, making it an ideal choice for many African-American and Hispanic patients. There are other subtle differences between the products that influence which is best for a particular application. At the Center for Cosmetic Surgery & MediSpa in Baltimore, Dr. Kane will help you make the right choice. No matter which filler you select, you can expect your new look to last 8 to 12 months.
What Is The Difference Between Fillers Today and the Old Collagen Fillers?
Skin fillers have come a long way from when they first were used to replace collagen loss from aging over 30 years ago. They were used for fine lip lines and quickly grew to replace volume loss along the facial folds. Collagen replacement had only weeks of longevity and potential allergy. New fillers came along to replace collagen's weaknesses.
Today's technology has advanced the way we think about and use fillers. While we look at our faces and see wrinkles, hollows and folds, the filler companies are recognizing that our facial expressions and the differences in the way our faces age requires much more specificity in the manufacturing of the filler support, camouflage and blending.
---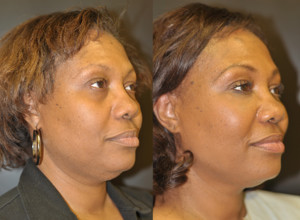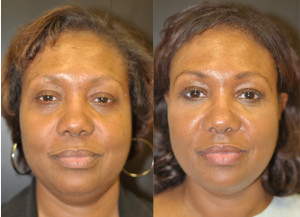 **Individual results may vary from patient to patient**
---
How Do I Know Which Filler Is Best?
In our Center for Cosmetic Surgery and Medi-Spa in Baltimore, Maryland, Dr. Dean Kane is an expert injector and has incorporated many of these new fillers to truly reverse the aging effects for his patients. For the patients it can be very confusing to know which fillers to pick, but in our office Dr. Dean and Lauri Kane are there to evaluate your anti-aging needs and determine which fillers are best for you.
Dr. Kane uses Sculptra, the Restylane family, the Juvederm family and Radiesse fillers.  Each of these fillers provide different attributes and limitations.  To help you understand the array of options, I will focus on the Restylane family of fillers produced by the manufacturer Galderma. Juvederm provides a similar array of hyaluronic gel alternatives including the newest Voluma and Vobella fillers.  Radiesse provides a firm bone-like foundation and  Sculptra is the first of the bio-active fibroblast stimulus injectibles.
What Filler Do I Use To Plump My Cheeks and Lips?
Restylane Lyft and Juvderm Ultra Plus and Voluma are excellent fillers for Cheeks and Lips that provide volume and projection. So if you have hollowing or loss of fat in the upper cheeks just under the lower eyelids this is the perfect filler to restore your lost volume and give you back the "apple" like cheek mound. The cheek projection finishes in a comet-tail projection along the cheek bone which Dr. Kane creates as a "Nike Woosh".
Dr. Kane uses a unique canula technique to inject the Restylane Lyft or Juvederm Ultra Plus deep under the skin to plump your own tissues forward and therefore no lumps or bumps occur on the skin surface. Restylane Lyft and Juvederm Ultra Plus will last for 12 months and longer in the cheek. Restylane Lyft and Juvederm Ultra Plus are also excellent lip fillers when patients have lost large volumes of their own lip tissues and want to bring back their youthful luscious lips.
---
---
What Filler Do I Use To Fill In Deep Lines and Smoker Lines On My Lips?
Restylane Classic and Juvederm: For Deep Lines, Wrinkles and Lips
Restylane and Juvederm are excellent to reduce deep lines and wrinkles. They can also be used to restore lost volume, but with lesser projection than Restylane Lyft and Juvederm Ultra Plus. Classic Restylane and Juvederm are excellent as a lip filler, when patients want to restore their lips but don't want to look overdone.
---

---
Restylane Silk: For Forehead and Mouth Wrinkles
Restylane Silk is a smoothing filler. Dr. Kane really loves to use this filler when patients have many fine lines and wrinkles around the mouth ("smoker lines") and within the forehead and between the eye brows (the "11's"). Restylane Silk was created to absorb so much fluid when injected that it creates a very smooth and silky effect without creating a bulky appearance.
Restylane Refyne and Defyne: For Expression Lines
Restylane Refyne and Defyne are Galderma's 2 newest addition to the Restylane family of fillers. These are similar to Juvederm Volebella. When wrinkles are due to the way we express are faces, these fillers are the perfect option. For example our nasal folds are constantly affected by the way we smile and frown. These fillers were created to move with facial expression and not cause a bulky buildup of the filler.
While we used to use Restylane to fill in the nasal folds, Dr. Kane recognized many years ago, that a patient's smile would push the injected Restylane above the nasal fold creating an even deeper fold and an unhappy patient. He cautioned against filling nasal folds because of this and focused using Restylane Lyft or Juvederm Ultra Plus in the upper cheeks to try to lift the nasal fold instead of filling it.
Now with Restylane Refyne and Defyne, Dr. Kane has been very pleased with the way these two fillers are staying exactly where it is injected regardless of any facial expression. Restylane Defyne is used in the nasal folds while Restylane Refyne is used for the finer expression lines around the mouth. For example many patients when they smile create a small dimple or curved line on the outside of the corners of their mouth and along the lower cheek, Restylane Refyne is excellent to fill and smooth out these fine expression lines.
---
---
What Can I Do About The Dark Circles Under My Eyes?
Dr. Kane's go to filler for Dark Circles Under the Eyes is Radiesse. 
Radiesse is unique in that it is made out of bone calcium and is not a clear gel like the hyaluronic acids in Restylane and Juvederm fillers. Radiesse is white and thick and looks like Elmer's glue.  Dr. Kane will chose Radiesse when patients have dark circles under their eyes. The white density gives a lighter hue under skin and works like an eye concealer to brighten and lighten the lower lids as well plump the hollow under the lower lids.
---

**Individual results may vary from patient to patient**
---
Can I Use Filler To Reshape My Nose?
Radiesse's unique white dense qualities make it the perfect filler to reshape the top of your nose to smooth out a dent or camouflage a bump on the nose. Dr. Kane can use Radiesse to build up an area on the nose to give it a more straight line and smoother appearance.
Can I Use Filler To Help My Chin Be More Projected?
Dr. Kane injects Radiesse and/or Restylane  along the jawline as well as the chin to give the chin more projection. Many patients desire a chin implant but don't want to go through the surgery or the potential complications of a chin implant. Fillers work incredibly well to provide this instant projection without any surgery.
Is It Too Close To Have Fillers Two Weeks Before My Wedding?
Fillers give us Instant Gratification and Rejuvenation and doing fillers at least 2 weeks before a special event should be enough time for the bruising and swelling to subside and give instant results. But it would always be safer to do your fillers 4 to 6 weeks before a special occasion to allow the fillers to settle properly and that gives you time for a touch up if needed.
---

**Individual results may vary from patient to patient**
---
What Is The Recovery Of Filler Injections?
Whether for business purposes where older people are competing in a younger society, looking to enhance your appearance for your child's wedding, being single and dating again or just feeling like you suddenly look drawn and tired, fillers are the ideal pick me up and instant rejuvenation. Fillers can cause both swelling and bruising so expect a minimum of 1-2 week time frame to have the filler treatment settle. Fillers absorb a lot of water from the surrounding areas which causes the extra swelling. Using ice and ibuprofen helps to reduce the swelling. In case of true extraordinary swelling like in the lips, a Medrol dose pack can help with immediate reduction of the swelling.
What Is Sculptra?
Sculptra is not a filler, but stimulates your own collagen and elastin and the youthful properties of your skin. Sculptra is ideal to reduce skin laxity and achieve full face firming and tightening. For Women with thinner type skin and crepey skin, Sculptra helps to thicken the quality of the skin. Sculptra is one of Dr. Kane's favorite injectable that offers patients the ability to reduce the rate of aging of the skin and offers an alternative to facial surgery.
---
**Individual results may vary from patient to patient**
---
Dr. Dean and Lauri Kane will advise you to your best fillers based on your needs and your budget. Lauri is very sensitive to people's budgets and works closely to determine the most cost-effective approach. "When a woman can only afford 1 filler and I see that their lips have severely lost volume, I will always make the recommendations to restore the lips as the number one priority. I think restoring a woman's lips truly has an amazing impact on a woman's face. Being able to put lipstick on beautiful lips makes a woman feel younger and sexier."
Schedule A Consultation
To see many of Dr. Dean Kane's before and after photos of his filler patients please see www.DrDeanKane.com/gallery. For scheduling an appointment with Dr. Dean and Lauri Kane please call 410-602-3322. Lauri is always available for questions: Lauri@DrDeanKane.com.  We're located on Reservoir Circle just a block off the Baltimore beltway, convenient to greater Baltimore, Annapolis, the Eastern Shore, Eldersburg, Carroll County, Delaware, and Frederick.