Do you want to have the effects of a facelift, but not ready for surgery?  EuroThreads might be the right non-surgical solution for you.
---
Dr. Dean and Lauri Kane Explain EuroThreads
---
Contour Thread Lift
The first set of threads approved by FDA was in 2004 and these were produced by Contour Threads. These were permanent sutures so they remained in the skin permanently and did not dissolve. Dr. Dean Kane's had great success and very good  results using these threads to achieve a non-surgical facelift. However, the company lost favor when they allowed non-surgical physicians to place these threads without proper training. Due to complaints lounged at the company, Contour went out of business.
InstaLift Thread Lift
InstaLift Threads were the next set of threads that came to market and were approved June 2017 by the FDA. These were created to be dissolvable. They are coated with PLLA which is Sculptra that stimulates collagen and elastin to create firming and tightening. They are created with cones which when placed under the skin with a very thin needle it catches and pulls the skin laxity up leaving a firmer tighter affect. These sutures have been effective, however, they are limited in that they only come in 3 sizes and are strictly used for lifting facial skin laxity.
---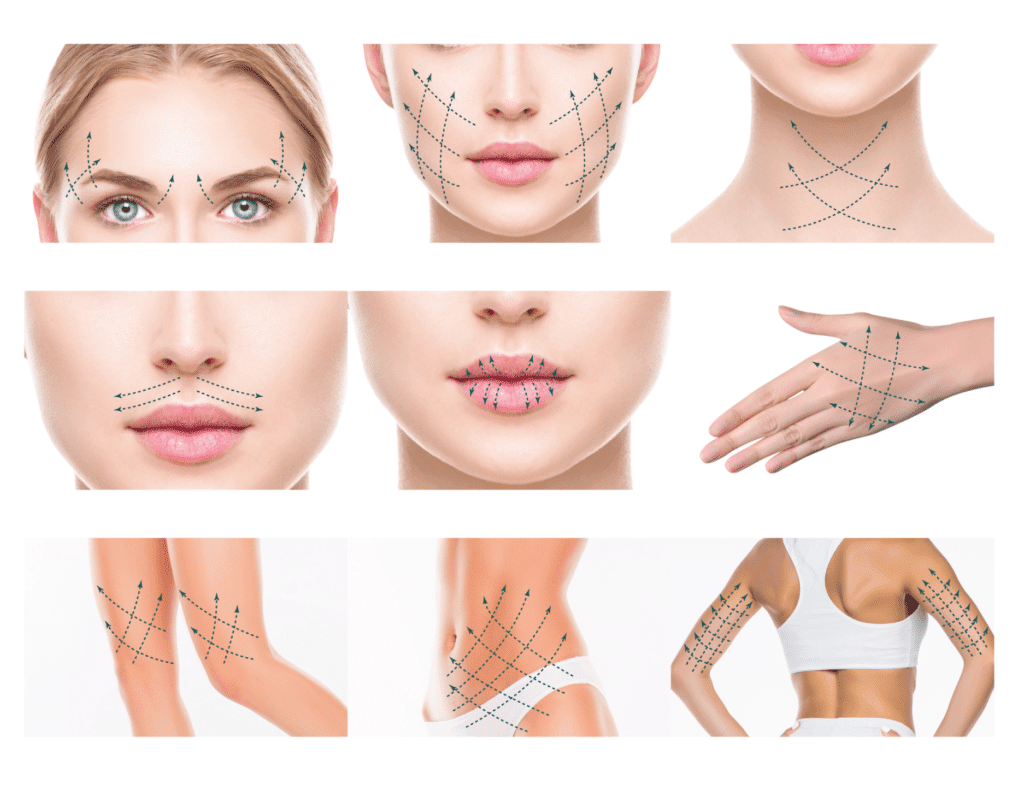 ---
Injectable PDO and PLLA Threads by EuroThreads Baltimore with Dr. Dean Kane
The newest and most effective threads are called PDO EuroThreads also FDA approved in 2017.  What makes these threads so effective is the brilliant developer of these threads, Laurie Wall created a system of threads that are also dissolvable, but come in different forms, thickness and lengths. They also come in an injectable format so that no anesthesia is required to insert them. They are as easy to inject just like a filler injection.  Also instead of one type of suture fits all problems, Laurie Wall created an array of unique threads that perform multi-functions. On the chart below are examples of the diversity of how the PDO and PLLA Threads can be used:
Exciting Technology of PDO and PLLA EuroThreads
It is very exciting technology in which these PDO Threads and PLLA Threads create a scaffolding within the skin as you see by the cross hatching of the sutures. As the PDO and PLLA Threads dissolve they are stimulating your collage and elastin within your skin to give a greater structure and support to thin and lax tissues. These sutures are made to be smooth, twisted and barbed so that when they are used in combination you not only get a firming and tightening of the skin but a lifting as well. The PDO and PLLA Threads are used in both the face and body as described below.
EuroThreads for Face and Neck Procedures
The diversity of Eurothread can be used in the following ways to provide
Instant Non-Surgical Face and Neck Lift
Non-Surgical Brow Lift
Plump wrinkles lines in and around the lips, the deep neck circular wrinkles and the forehead furrows.
Smoothes and Plumps Crepey Décolleté Skin
EuroThreads for Body Procedures
Smoothing, Plumping and Lifting of the Crepey Aging Arm Skin
Smoothing and tightening irregularities of skin above the knees, inner thighs, tope of thighs, banana rolls and buttocks
Tightens and firms skin irregularities of the abdomen
Small Breast Lifting
Lifting of the breast nipples in the breast augmented breast that fall below the crease of the breasts
Dr. Dean Kane's Personal Experience with Thread Lifting
Dr. Kane has been using thread to lift faces since 2005 when they were first FDA approved. He has tremendous experience and success with using thread lifting for his patients. He continues to seek the best options for his patients who are seeing non-surgical solutions for face and neck lifts.
He understands that people do not have the downtime for a surgical facelift and are looking for a minimally invasive approach that does not require anesthesia and limited downtime. The Injectable PDO and PLLA Threads created by Eurothread provide the most advanced options that Dr. Kane now offers to his patients. Patients can drive themselves to the treatment and with the use of local anesthetic and also ProNox (a laughing gas), Dr. Kane provides a very comfortable and easy solution for all his patients.
Contact Us Today
Call today 410-602-3322 to set up your consultation for PDO Thread Lift with Dr. Dean and Lauri Kane who will provide a complete understanding of all your options, including both a surgical Face Lift as well as a Non-Surgical Facelift. You are welcome to email: Lauri@DrDeanKane.com who is always available to answer your questions personally.