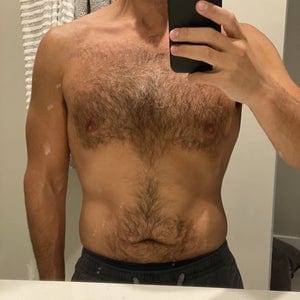 Q: Am I a good candidate for laser lip/ lipo sculpturing? I'm 33, 5'7, 150lbs with a BMI of 24. I've lost over 50lbs in the last 5 years. I work out regularly and have decent muscle mass. My problem is that I can seem to get rid of this last bit of stomach fat. I was a fat kid and fat teen. I wonder if I just have a lot more fat cells that make it difficult to achieve a flat stomach.
A: Dear perpetuallyfat,
Congratulations on your weight loss and buffing up those muscles too. Thanks for sharing your photos.
You may have a bit of residual fat but mostly it appears to be skin laxity. The following are your options with better and lesser results but with significant differences in cost, downtime, pain, scars and results.
Tummy tuck: surgical skin removal
CoolSculpting: non-surgical fat reduction (maybe mild skin firming but not guaranteed)
ThermiTIGHT  or BodyTite: minimally invasive skin tightening
Please consult with a Board Certified Plastic Surgeon specializing in non-surgical, minimally invasive and surgical options for your consideration.
Congrats again, you look awesome. All the best!
---
Read more about similar topics:
This information is not meant as medical advice. It is provided solely for education. Our practice would be pleased to discuss your unique circumstances and needs as they relate to these topics.
Give us a call at (410) 602-3322 or email Lauri@DrDeanKane.com and make an appointment soon. We're located on Reservoir Circle just a block off the Baltimore beltway, convenient to greater Baltimore, Annapolis, the Eastern Shore, Southern Pennsylvania, Delaware and Carroll County.