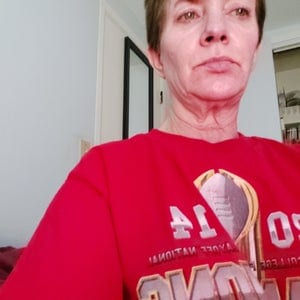 Q: I want to know if there are any procedures to help my neck? Will ThermaTight help? Microneedling? Tried ThermaSmooth but nothing resulted. I am 52 and would prefer something not as invasive as a neck lift. The creepiness is just awful. Please advise. Thank you.
A: Thanks for sharing your photos.
The beginnings of facial skin laxity start at 30 years old when collagen skin repair diminishes and passive skin aging relaxes downward. The web of fibrous compartments under the skin loses fat, stretches, separates, and elongates forming 5 growing "waves" of skin at points of attachment, developing:
hooding along the eyes,
lower eyelid / cheek junction or tear trough / nasojugal fold
nasolabial fold,
lateral mouth commissure and marionette folds,
jowls and neck.
If it applies to you, weight gain and then loss will reduce the volume of the face and similarly create these folds. Allowed to progress and the fold wrinkles the skin.  The reversal of natural collagen reduction, skin redistribution and volume replacement of the face are the initial foundations of anti-aging.
Reviewing your photos and without the opportunity for an in-person consultation, you appear to have hereditary "thin skin" and loss of volume particularly of the upper cheek area and moderate skin laxity of these 5 areas noted above.
I would recommend that you:
Consult with a talented, Board Certified Plastic Surgeon and his team regarding non-surgical and minimally invasive options.
Consider a face and neck lift as the foundation of an on-going anti-aging program. Remember that gravity "pulls" the folds downward so the excess skin you see along the jowl and neck is simply an extension of skin laxity above. To maintain and improve your rejuvenated appearance, then use:
A Zein Obagi, MD, ZO Skin Health retinoid program and peels for external stimulation and skin tightening. This is of greater value but may include micro-needling if in the budget.
Well skilled filler injector or fat grafting of the cheeks and beginning folds
Botox for brow elevation if you wish
Sculptra is a minimally invasive injection series of bio-stimulatory filler for face and neck skin tightening
For the money, your best value will be a face and neck lift.
I hope this is helpful. All the best!
---
Read more about similar topics:
Making the Decision to Get a Facelift
Skin ZO Obagi Facials and Peels
This information is not meant as medical advice. It is provided solely for education. Our practice would be pleased to discuss your unique circumstances and needs as they relate to these topics.
Give us a call at (410) 602-3322 or email Lauri@DrDeanKane.com and make an appointment soon. We're located on Reservoir Circle just a block off the Baltimore beltway, convenient to greater Baltimore, Annapolis, the Eastern Shore, Southern Pennsylvania, Delaware and Carroll County.