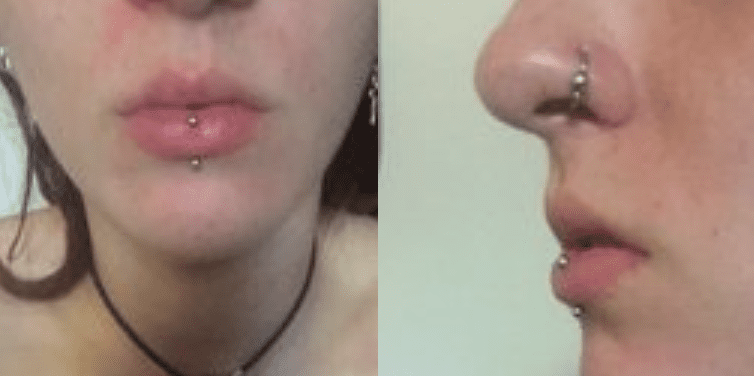 Q. Will my lip piercing (vertical labret) be an issue when I get lip fillers? I am planning on getting 1-2ml of restalyne in my lips but was told by one nurse that the filler would leak out of my pierced lip if injected in that area. The piecing goes through the middle of my bottom lip and is fully healed. I don't know how deep the fillers are injected so am unsure whether what the nurse I spoke to said is accurate. Will the pierced hole be an issue when I get the fillers done?
A. Thanks for sharing your photo. I would not expect the filler to leak from a healed piercing scar. You can expect mild deformity as the filler fills across the natural fibrous compartments and any other scar within the lip. In your case, the central tubular scar from the piercing may "pull together" creating a tuft on either side of the lower lip, but that is natural as well. Obviously then, the more scar, the more the filler does not fill evenly. Following the single piercing I would anticipate minimal if any deformity. 
Read more about similar topics:
This information is not meant as medical advice. It is provided solely for education. Our practice would be pleased to discuss your unique circumstances and needs as they relate to these topics.
Give us a call at  410.602.3322  or email Lauri@DrDeanKane.com and make an appointment soon. We're located on Reservoir Circle just a block off the Baltimore beltway, convenient to greater Baltimore, Annapolis, the Eastern Shore, Southern Pennsylvania, Delaware and Carroll County.