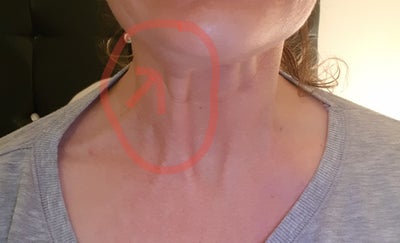 Q. Will BOTOX help with my problem area in my neck? When my neck is relaxed from the righthand side profile I look like I have a turkey neck. From the left it doesn't. Please see diagram when neck is stretched to show area I mean and platsyma bands. Will BOTOX in these bands help tighten them? If so how many units?
A. Yes, Botox will soften the tight medial platysmal bands. 
BUT, it may allow further relaxation of neck skin and ptosis or sagging of the sub-mandibular glands. 
It's worth a try. I would use 20-25 units of Botox per band. Select your injector carefully so there are no side-effects. I would recommend a Board Certified Plastic Surgeon so he/she may review your future needs and options such as: 
Surgical Platysmaplasty and neck skin lift or 
ThermiTIGHT for minimally invasive skin tightening or
Silhouette InstaLift for minimally invasive platysma suspension and skin lift. 
Read more about similar topics:
This information is not meant as medical advice. It is provided solely for education. Our practice would be pleased to discuss your unique circumstances and needs as they relate to these topics.
Give us a call at  410.602.3322  or email Lauri@DrDeanKane.com and make an appointment soon. We're located on Reservoir Circle just a block off the Baltimore beltway, convenient to greater Baltimore, Annapolis, the Eastern Shore, Southern Pennsylvania, Delaware and Carroll County.