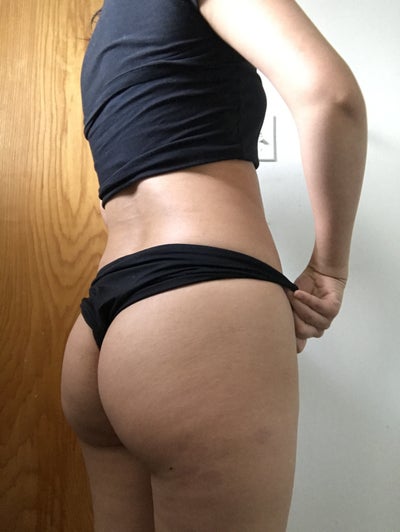 Q. CoolSculpting, Lipo, or BBL? Am I a good candidate? I am looking to eliminate my belly fat through either CoolSculpting, Lipo, or the BBL procedure. My most desired result is to have a flat belly (which has increased in size over time) to accentuate my natural curve and to be more proportionate to my legs which aren't that thick. A BBL would be my ultimate dream to add projection to my butt and put my excess fat to use if I could find the right financing option as cost is a concern of mine.
A. Thanks for sharing your photos. Sorry for your misgivings! You look pretty awesome. Your will need a in-person examination to determine how much subcutaneous fat you have along your tummy, flanks and back. This will determine whether a BBL (Brazilian Butt Lift) is reasonable. If not, CoolSculpting (CS) may be your answer. Some caveats:
Please find a artful and talented, Board Certified Plastic Surgeon with great lipocontouring and BBL experience.
You may find that CoolSculpting may be too limiting to achieve your desires.
Circumferential lipocontouring may provide the thinning, shape and accentuation of your "butt" without the added cost, recovery, side-effects (particularly lack of fat graft survival) you are looking for in BBL.  Without a change in your lifestyle (diet and exercise) you should anticipate a "calorie" redistribution to other outer fat cells…like your butt or breasts if you are lucky and to the visceral (internal abdominal) fat if you are not so lucky. 
BBL, as is lipocontouring is an advanced and artful talent. Find the best! Look into the surgeons complications history. There are 2 general forms of fat grafting to discuss with your surgeons:
a. use of small cannula, (Coleman cannula technique), less risk,  and 
b. use of large cannula technique, more risk. 
I hope this has been helpful. I wish you the best!
Read more about similar topics:
Brazillian Butt Lift for Fat Deformity
This information is not meant as medical advice. It is provided solely for education. Our practice would be pleased to discuss your unique circumstances and needs as they relate to these topics.
Give us a call at  410.602.3322  or email Lauri@DrDeanKane.com and make an appointment soon. We're located on Reservoir Circle just a block off the Baltimore beltway, convenient to greater Baltimore, Annapolis, the Eastern Shore, Southern Pennsylvania, Delaware and Carroll County.