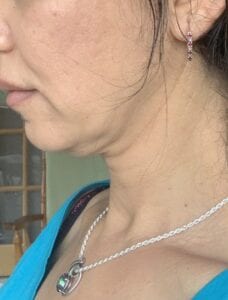 Q: I am 48 years old. I am considering a facelift. I am getting saggy under my neck & face. I am Persian with olive tone skin. Will a facelift leave me visible scars? A lump was removed from my breast 16 years ago, it healed nicely, but I had a gull bladder surgery 3 years ago, left me a raised scar on of my stomach, but the incisions on the side of it healed fine. I hear face heals differently, but would like some advice. Thank you!
A: Thank you for sharing your photo and your history, it is helpful.
Heredity and the placement of incisions will best determine the final quality of your scar. Any incision will leave a visible scar but when placed along hidden creases, they become less noticeable and at times imperceptible.
Hypertrophic or thick scars and keloid or tumorous scars can occur in a low percentage of Scottish-Irish, American Indian and African patients.
Pigmentation differences between the scar and the adjacent skin would be my concern for you as with other "patients of color". The "PIH" (post-inflammatory pigmentation) may be diminished with the pre-injury use of a medically managed preparation of retinoids such as tretinoin and hydroquinone.
Your photo notes skin excess and laxity. You should consider facelift as an option and pre-or post-surgical collagen rebuilding therapies such as retinoids and / or Sculptra to maintain your investment.
Please consult with a well experienced, Board Certified Plastic Surgeon and his / her Skin Health team. I wish you the best!
---
Read more about similar topics:
Making the Decision to Get a Facelift
Skin ZO Obagi Facials and Peels
This information is not meant as medical advice. It is provided solely for education. Our practice would be pleased to discuss your unique circumstances and needs as they relate to these topics.
Give us a call at (410) 602-3322 or email Lauri@DrDeanKane.com and make an appointment soon. We're located on Reservoir Circle just a block off the Baltimore beltway, convenient to greater Baltimore, Annapolis, the Eastern Shore, Southern Pennsylvania, Delaware and Carroll County.