When your skin is looking dull and the skin tone is uneven, littered with dark spots, fine lines and sun damage, it must seem like there is no way to instantly revitalize it. Fortunately, Topix Pharmaceuticals has introduced the Replenix Perfecting 10 Peel and it is available at Dr. Dean Kane's Center for Cosmetic Surgery & Medspa.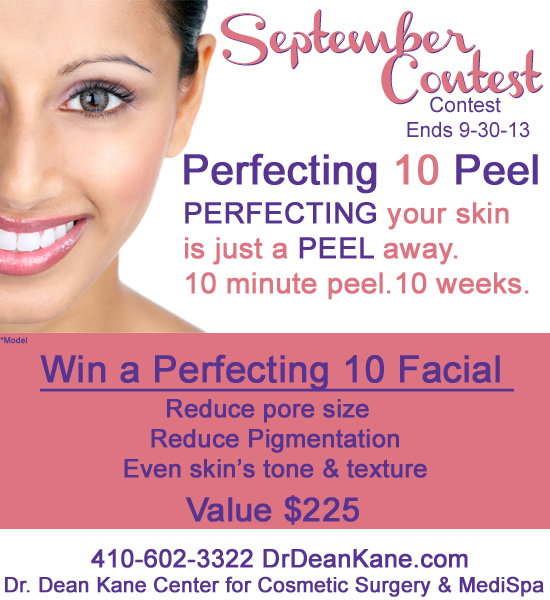 The Perfecting 10 Peel is a chemical peel that will maximize exfoliation and gentle peeling away layers of dead skin and aging cells. This skin peel will help support collagen production and strengthen the skin.  While one peel is very effective, a series of three Peels is recommended for a greater impact to reduce the signs of aging.  Darker spots will be lightened and you will be visibly more radiant. The Perfecting10 Peel is perfect for patients of all skin types who are looking for instant anti-aging results with no downtime and minimal discomfort. This peel is delivered in a series of installments and after each peel your skin will look better than before.  The Perfecting 10 Peel also comes in two strengths, intermediate or advanced. The one that is best for you depends on how aggressive of a peel your skin requires. Regardless of which strength you need, your skin will look beautiful and younger afterwards.
About Dr. Dean Kane& the Center for Cosmetic Surgery & Medspa
Dr. Dean Kane is a board certified Plastic Surgeon well known expert in Baltimore, Annapolis, D.C. and the surrounding communities of Maryland, Delaware, upper Virginia and the Eastern Shore. In practice for over 25 years at his Maryland Center for Cosmetic Surgery and Medspa, he has been identified with unique abilities and creative surgical and non-surgical modifications necessary to achieve those differences between his male patients and his female patients. Dr. Kane's extensive experiences and his strong plastic surgery education has made him the ideal cosmetic surgeon for men in the Baltimore and Washington D.C. area.
Your health, wellness, satisfaction, and safety are our top priorities!
To learn more about what we do, please visit our website or call 
410-602-3322
. Also, be sure to check our 
Facebook 
page periodically for new next monthly contests and follow us on 
Twitter
.