Many people know of Dr. Dean Kane as the go-to plastic surgeon in the Baltimore area. He has been enhancing the lives of his patients for years with the safe, high-quality care he provides. He specializes in a range of surgical procedures to help his patients achieve the ideal body they want. Not only is Dr. Dean Kane an artist with the human body, he is also an artist in regards to photography and mixed-media.
About thirteen years ago, Dr. Kane began to experiment with acrylic paints on small canvases. He quickly wanted to broaden his horizons beyond the confines of his canvas and started to dream bigger. His paintings turned into something much bigger, and bolder. Larger canvases with plaster images and acrylic images that have been up to 9 feet tall. This brought Dr. Kane's art to a whole new level. He uses his skills with computer layout, graphic arts and the new qualities of Adobe Photoshop into matrix wall art. Using a 10 inch by 10 inch canvas block of varying heights, his digital display is embellished with acrylic overlays, popped-out further elevating his relief and adding a character unique to Dr. Kane. According to Dr. Kane: "We cherish our photos as memories of past places, family and experiences. My expression provides a visual celebration customized to the whims and enjoyment of the individual by creating a personalized wall of individual photo embellished art; whimsically, edgy and bold to display ones life.  Each photo-art is unique as is each column, row, matrix or wall. I have had lots of fun with this creative outlet as it unifies so many of my experiences and skills developed over my 55 years. I hope you enjoy it too!"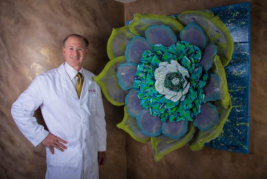 Now the Ritz-Carlton will be graced with the presence of Dr. Dean Kane's beautiful artwork. On Wednesday, October 16th, Drs. Dean and Lauri Kane will host the Grand Opening of DeanKaneART Gallery. The gallery opening will serve as a fundraiser for The Red Devils, a Maryland-based, nonprofit whose mission is to fund support services that improve the quality of life for breast cancer patients and their families. A portion of the proceeds from purchases of Dr. Kane's artwork and all monies from the auctions and raffles will be donated to The Red Devils Horns of Hope Campaign so that they can remain a source of hope to breast cancer families living in Maryland.
To see some of Dr. Kane's beautiful artwork, they can be viewed and purchased here
http://deankaneart.com/
.
About Dr. Dean Kane & the
Center for Cosmetic Surgery & Medspa
Dean Kane, MD and the rest of us at the Center for Cosmetic Surgery & Medspa are dedicated to providing the highest level of quality cosmetic treatments and plastic surgery. Dr. Dean Kane is highly trained and has years of experience achieving exquisite results for his patients.
Your health, wellness, satisfaction, and safety are our top priorities!
To learn more about what we do, please visit our website or call 
410-602-3322
. Also, be sure to check our 
Facebook 
page periodically for new next monthly contests and follow us on 
Twitter
.