When it comes to slimming down your body, diet and exercise seem to take forever. Then, just because you are a few pounds lighter, are you thinner in the areas you want to be?  CoolSculpting can help target problem areas of fat, and help slim down, and tone those stubborn bulges to help you achieve the body of your dreams.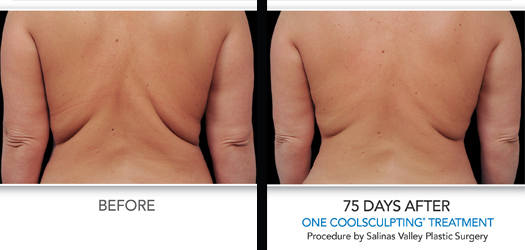 CoolSculpting will transform your body into the one you have always dreamed of having. CoolSculpting targets the fat areas that are difficult to trim away; it is the non-surgical, painless way of re-shaping your body by freezing away stubborn fat. When combined with proper diet and exercise, CoolSculpting will rapidly freeze away the fat you have been trying to get rid of for years, especially in those stubborn areas such as your love handles, back fat, muffin top, arms and inner thighs. There is a new concept called "complete transformation" with Coolsculpting. Using a package treatment approach that overlaps the treatments in the entire abdomen, sides and back, you can effectively reduce the entire trunk area and see a complete size difference. With CoolSculpting, you will be able to feel comfortable in your own body again, naturally. Combining a healthy diet and exercise with CoolSculpting, creates a synergic effect speeding up the weight loss process in the targeted areas you have those stubborn fat pockets, delivering the results you want much quicker. The ideal CoolSculpting patient is someone who has fat they want to lose in a particular area or areas of the body where diet and exercise alone just will not do the trick. To learn more about CoolSculpting in Baltimore, contact the Center for Cosmetic Surgery & Medspa. Call us at 
410.602.3322
 or 
request an appointment
 online with Dr. Dean Kane. He and Lauri Kane look forward to welcoming you to their office on Reservoir Circle in Baltimore, serving Delaware, the Eastern Shore and southern Pennsylvania as well as Maryland communities like Annapolis.
About Dr. Dean Kane& the
Center for Cosmetic Surgery & Medspa
Dean Kane, MD and the rest of us at the Center for Cosmetic Surgery & Medspa are dedicated to providing the highest level of quality cosmetic treatments and plastic surgery. Dr. Dean Kane is highly trained and has years of experience achieving exquisite results for his patients.
Your health, wellness, satisfaction, and safety are our top priorities!
To learn more about what we do, please visit our website or call 
410-602-3322
. Also, be sure to check our 
Facebook 
page periodically for new next monthly contests and follow us on 
Twitter
.