Today's era in the cosmetic world offers new and exciting developments and technologies that seem to keep improving on existing advancements. At our Center for Cosmetic Surgery and Medspa, Dr. Dean Kane continues to follow these new developments and stays current with the most advanced procedures. So what's new in our office? Using the combination of a Threadlift with either Silhouette InstaLift or PDO Threads to lift the face and ThermiTight that uses RadioFrequency energy to tighten and firm the neck and jowls. One procedure lifts while the other procedure tightens.
Silhouette InstaLift ™ and EuroThreads
The thread lift is back using Silhouette InstaLift (SIL) sutures or Eurothreads! Dr. Dean Kane's experience with prior Contour Threads for a minimally invasive face lift was unparalleled over 10 years ago when this option was removed from the marketplace. Today's SIL absorbable sutures and anchoring cones lift the tissues of the face, neck and brow using simple puncture sites. The sutures themselves are made of absorbable poly-L-lactic acid and poly-glycolic acid which is the foundation of Sculptra and Vicryl molecules stimulating formation of collagen and elastin to maintain the lift in place up to 18 months as well as tighten, firm and improve the skin texture of surrounding skin and soft tissues. Here is the link to more information about the Eurothreads on our website.
ThermiTight
ThermiTight uses Radio Frequency energy to tighten the skin of the lower face and neck using a very thin probe that is inserted under the skin of the lower face and neck to stimulate collagen and elastin.
ThermiTIGHT™ is a non-surgical , minimally invasive procedure. As it is the first aesthetic procedure that delivers controlled thermal energy under the skin, it reverses many of the effects of aging including loose and sagging skin.  ThermiTight is ideal for patients who want more results than superficial skin-only non-invasive treatments but do not want surgery.
ThermiTight uses local anesthetic to achieve a painless, micro-invasive procedure that usually takes less than one hour with little downtime. A tiny probe is inserted under the skin and radiofrequency energy is applied directly to the target tissues causing immediate shrinkage and longer term collagen formation. Results are immediate and improve over time.
Why consider both procedures?
ThermiTight provides tightening of the skin while the Silhouette Sutures or EuroThreads lifts the skin. When you have a consultation with Dr. Dean Kane we will determine if one or both would be best to achieve the face lift like results you are desiring. Link to more information on our website: https://drdeankane.com/thermitight/. The patient below had both procedures and she got a great facelift like result.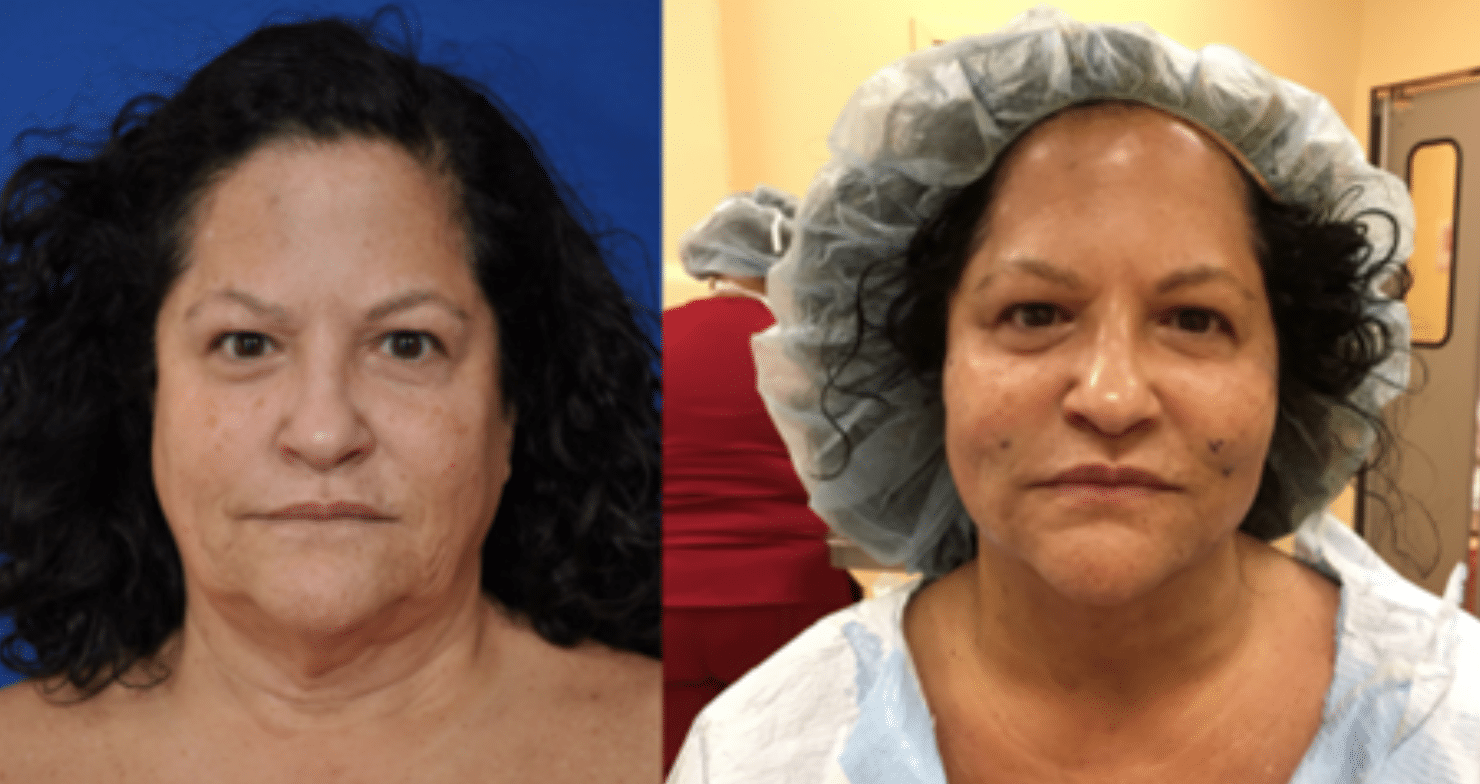 Post 3 Months ThermiTight and Immediate Silhouette Instalift Procedure (with purple markings)
Should you need it, financing options with 0% interest are available through Care Credit or Alphaeon on our website.
Call us today 410-602-3322 or email Lauri@DrDeanKane.com to schedule your consultation.