Did you know that your skin is the largest organ in your body? With that said, it is important to make sure that you protect your skin from the sun's harmful radiation. In the summer, it is easy to forget the little things like applying sunscreen before your morning run or reapplying it after a dip in the pool. Things like that could turn out to have negative effects for you in the long run. There are two simple ways to protect your skin from damage. There is sunscreen, which can protect your skin from harmful UV rays, and vitamin C can replenish nutrients that have been lost due to aging. At the office of Dr. Dean Kane in Baltimore, Maryland, he offers an array of summer skin care products to meet the needs of all skin types and colors. In particular, Dr. Kane offers special sunscreen for African Americans; the product offers fantastic protection with no white residue left on the skin. These special sun care products go on clear and remain clear on your skin keeping you protected from the harmful UV rays.
Benefits of Vitamin C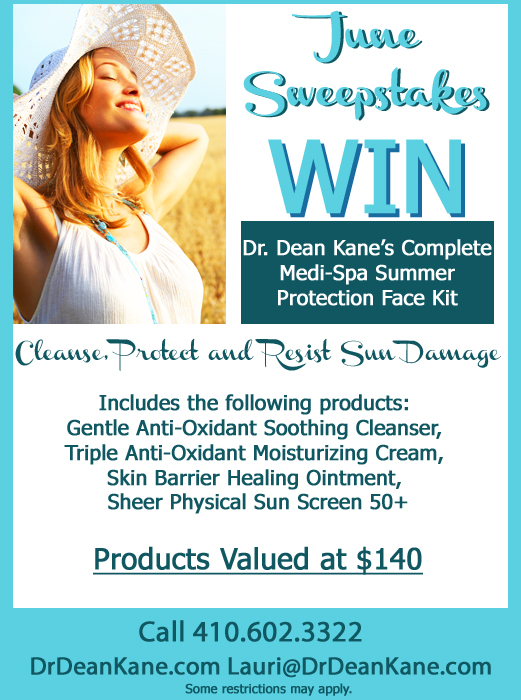 Vitamin C plays an important role in preserving healthy, beautiful looking skin. As time goes on, things such as the sun's radiation, pollutants in the air and cigarette smoke contribute to signs of aging and the loss of nutrients. Vitamin C can also benefit your skin by producing collagen; collagen is a protein that gives your skin elasticity. By producing more collagen, this will counteract the formation of wrinkles. Additionally, vitamin C can replenish some of your skin that has age spots. Age spots are essentially sunburned cells; vitamin C is an antioxidant that may be able to repair some sun-damaged cells.
Now that you know how beneficial vitamin C can be for your skin, the next step is to get some and watch the magic happen. While a vitamin C supplement will provide overall health benefits, a vitamin C topical gel will be more effective for your skin. Studies show that a vitamin C lotion can be up to twenty times more effective than a supplement for your skin. After six months of use, your will reach maximum benefits from the cream.
Benefits of Sunscreen
Sunscreen is a lotion that can be applied to the skin to protect yourself from harmful UV rays. Applying sunscreen daily will help shield the important proteins in your skin (collagen, keratin and elastin) which keeps skin smooth and firm. In addition to protecting important proteins, blocking UV rays will reduce the risk of skin cancer. These tips are not exclusive to the summer months. Sunburns are still prevalent in the winter months, in fact, the northern hemisphere is actually closer to the sun during the winter but clothes are generally heavier which helps block the sun's rays. It is very important to protect your skin, which is why here at Dr. Dean Kane's Center for Cosmetic Surgery & MediSpa, we have put together a Facebook contest to win free sunscreens and Vitamin C skin care products. To enter you must like our
Facebook
page and fill out this form. The contest begins on June 1
st
and runs until the end of the month. To learn more about all your skin protection options in Baltimore, contact the Center for Cosmetic Surgery & MediSpa. Call us at 410.602.3322 or request an appointment online with Dr. Dean Kane. He and Lauri Kane look forward to welcoming you to their office on Reservoir Circle in Baltimore, serving Delaware, the Eastern Shore and southern Pennsylvania as well as Maryland communities like Annapolis.
About Dr. Dean Kane& the
Center for Cosmetic Surgery & MediSpa
Dean Kane, MD and the rest of us at the Center for Cosmetic Surgery & MediSpa are dedicated to providing the highest level of quality cosmetic treatments and plastic surgery. Dr. Dean Kane is highly trained and has years of experience achieving exquisite results for his patients.
Your health, wellness, satisfaction, and safety are our top priorities!
To learn more about what we do, please visit our website or call 410-602-3322. Also be sure to check our 
Facebook
 page periodically for new next monthly contests and follow us on 
Twitter
. Source: http://www.doctoroz.com/videos/drop-decade-your-face