Your skin protects all of your internal organs and everything in your body. Isn't it best that you protect it as well? While everyone is concerned about sunscreen and how to care for his or her skin, the actual practice of protecting your skin can be confusing. Regardless of your race, your skin deserves the proper care and attention. From people with very pale skin to very dark skin, sunburns are a side effect from too much direct exposure to sunlight.
Dr. Kane is proud to offer skin care for people of color and all diversities. Dr. Kane has attracted patients from all cultures of people, such as: Hispanic, Asian, Middle Eastern, African American, Mediterranean, Turkish and Southeast Asia.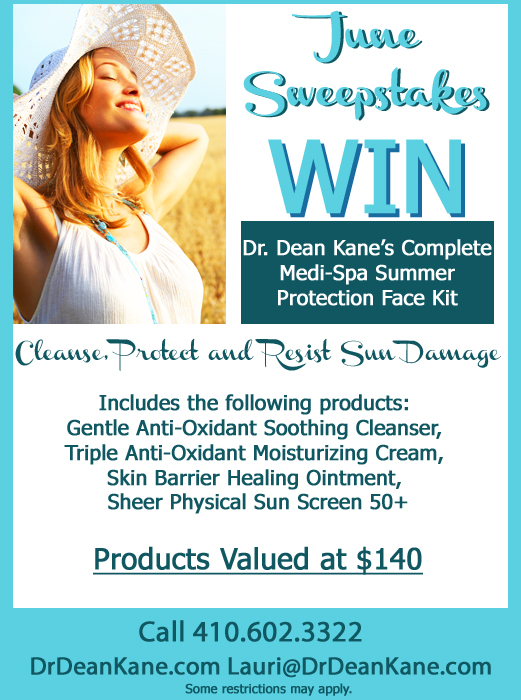 Applying sunscreen and caring for your skin is not exclusive to the summer months. Sunburns are still prevalent in the winter months, in fact, the northern hemisphere is actually closer to the sun during the winter but clothes are generally heavier which helps block the sun's rays.
It is very important to protect your skin, which is why here at Dr. Dean Kane's Center for Cosmetic Surgery & MediSpa, we have put together a Facebook contest to win free sunscreens and Vitamin C skin care products. To enter you must like our Facebook page and fill out a form. The contest begins on June 1st and runs until the end of the month.
To learn more about all your skin protection options in Baltimore, contact the Center for Cosmetic Surgery & MediSpa. Call us at 410.602.3322 or request an appointment online with Dr. Dean Kane. He and Lauri Kane look forward to welcoming you to their office on Reservoir Circle in Baltimore, serving Delaware, the Eastern Shore and southern Pennsylvania as well as Maryland communities like Annapolis.
About Dr. Dean Kane& the Center for Cosmetic Surgery & MediSpa
Dean Kane, MD and the rest of us at the Center for Cosmetic Surgery & MediSpa are dedicated to providing the highest level of quality cosmetic treatments and plastic surgery. Dr. Dean Kane is highly trained and has years of experience achieving exquisite results for his patients.
Your health, wellness, satisfaction, and safety are our top priorities!
To learn more about what we do, please visit our website or call 410-602-3322. Also be sure to check our Facebook  page periodically for new next monthly contests and follow us on Twitter.
Source:
http://health.howstuffworks.com/skin-care/information/skin-types/black-skin.htm