Take it from someone who knows best, women like to be pampered. Just because Mother's Day is behind us, that does not mean we love our mothers any less. Why not continue to show the most important woman in your life how much you love and appreciate her, than with a good pampering.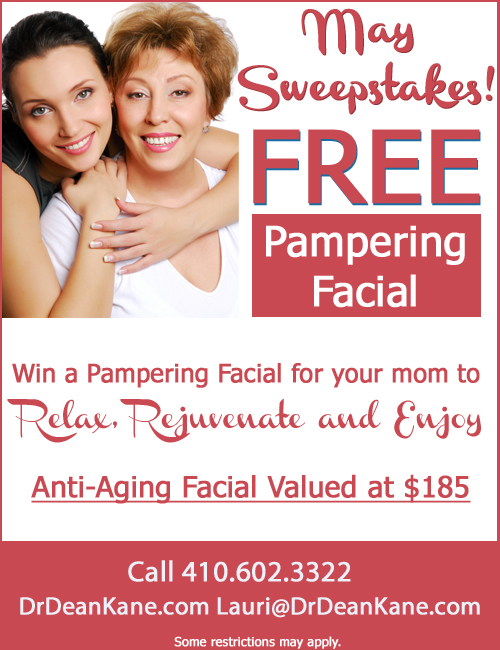 What is pampering exactly? To be clear we are not referring to the diapers your Mom may have put you in when you are a baby. Pampering can range from a manicure or a pedicure, to a massage, facials, taking her out to dinner or anything that relaxes her. A perfect way to pamper Mom this any day of the year and show her how much she means to you is with one of the many relaxing options listed above. Depending on her style and preferences, the ideal pampering for her may vary. To some, there is nothing more relaxing than a nice jog in the woods; for others, a facial is the ultimate relaxation tool. Once you are aware of the best way to pamper your Mother, go out and surprise her with the perfect, unexpected gift. One of the best pampering methods is a facial. Your mom will leave feeling rejuvenated and relaxed with better-looking skin than before. For information about all the different kinds of facials there are, the office of Dr. Dean Kane in Baltimore, Maryland can help. At the office, there are two highly experienced estheticians will help guide you to finding the right facial that is perfect for her skin. To learn more about all your facial and skin peel options in Baltimore, contact the Center for Cosmetic Surgery & MediSpa. Call us at 410.602.3322 or 
request an appointment
online with Dr. Dean Kane. He and Lauri Kane look forward to welcoming you to their office on Reservoir Circle in Baltimore, serving Delaware, the Eastern Shore and southern Pennsylvania as well as Maryland communities like Annapolis.