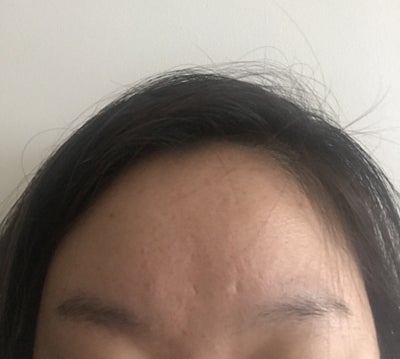 Q. What should be recommended for smoothing out my forehead? Botox, fillers, etc? Aside from the acne and acne scars, I seem to have a dent in the middle of my forehead, causing me to look angry even at a relaxed state. I've heard Botox or fillers could do the trick, but I'm only 21 and not sure if these are even wrinkles. Thanks!
A. Thanks for sharing your photos! Consult with a Board Certified Plastic Surgeon or Dermatologist experienced in filling these concerns.
Acne can and acne scars will produce thinning in the epidermal and dermal skin layers. These can be improved with the use of "thinner" hyaluronic acid (HA) fillers such as Restylane and Juvederm.
If the acne or scars were softened with a steroid injection, this could cause thinning of the underlying fat. This may be filled with "thicker" HA fillers as well.
I find that some patients develop and indentation between the muscles of the forehead as the muscles thicken or hypertrophy. Botox may help here.
Over time, the fat between the forehead muscles will soften exposing a normal soft dip in the bone. I have used Radiesse with success here.
It takes a in-person consultation with proper selection of soft tissue fillers to help the concern you have. Select your injector carefully for proper evaluation and choice of filler.
Generally, fillers last an average of a year so your best long-term solution maybe the cheek implants and / or serial fat grafting.
Read more about similar topics:
This information is not meant as medical advice. It is provided solely for education. Our practice would be pleased to discuss your unique circumstances and needs as they relate to these topics.
Give us a call at  410.602.3322  or email Lauri@DrDeanKane.com and make an appointment soon. We're located on Reservoir Circle just a block off the Baltimore beltway, convenient to greater Baltimore, Annapolis, the Eastern Shore, Southern Pennsylvania, Delaware and Carroll County.