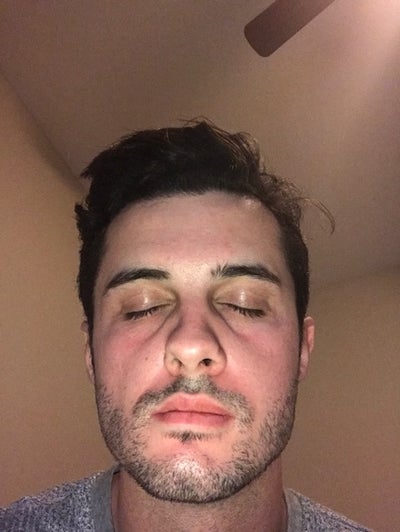 Q. How to fix dark tear trough lines? Have fillers like Restylane worked well on tear troughs like mine? Are there any fillers that are more efficient than others for a case like mine? What percentage of improvement can I expect?
A. Thanks for sharing your photos. The darkness of the tear trough is due to:
Lack of fat. The yellow color of fat masks the bluish hue of the underlying eye and cheek muscles.
Shadowing from the depth of the trough and the angle at which light hits.
Please consult an advanced, Board Certified Plastic Surgeon for facial enhancements. You will need a proper examination and consideration of the following:
Elevation of the flatter and deeper, inferior orbital / maxillary bone with the use of:

 Layered Radiesse, a white bone mineral filler which will also help mask the darkness
Cheek implants

Additional soft tissue fill with:

Fat grafting
Volumizing gel filler
Generally, fillers last an average of a year so your best long-term solution maybe the cheek implants and / or serial fat grafting.
Read more about similar topics:
This information is not meant as medical advice. It is provided solely for education. Our practice would be pleased to discuss your unique circumstances and needs as they relate to these topics.
Give us a call at  410.602.3322  or email Lauri@DrDeanKane.com and make an appointment soon. We're located on Reservoir Circle just a block off the Baltimore beltway, convenient to greater Baltimore, Annapolis, the Eastern Shore, Southern Pennsylvania, Delaware and Carroll County.