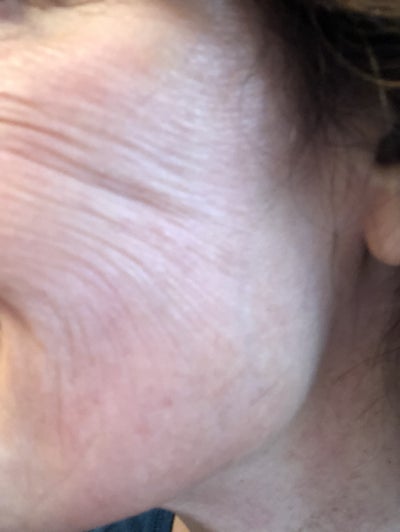 Q. What options are out there can help with mid face/smile wrinkles? I am 54 and when I smile i have terrible lines across my cheeks from my cheek bone down to my lip area. I have had Botox, fillers and microneedling with no success. I'm not sure if the aesthetician was to aggressive since my pain level is high, but I was down for over a week, which I was not expecting. Several years ago I tried Ultherapy with no results. My "resting face" is fine.
A. Thanks for sharing your photos! Without a in-person consultation, I would like to leave you with some general thoughts. We are all aging and weathering. Our heredity and medical history impact on the aging process. After the age of 30, loss of collagen repair and replacement are causing our skin to relax, wrinkle and fold. Anti-aging is based on collagen induction and skin redraping. 
Obtain a talented, Board Certified Plastic Surgeon and Obagi, ZO Skin Health Team consultation to review:
Epidermal exfoliation: enzymes, mechanical and gentle acid skin care
Dermal stimulation: retinoids or subdermal injectable stimulation; eg., Sculptra, PDO/PLLA threads
Hyaluronic acid gel fillers
Lifting and redraping: facelift
Please take some time to reflect on other experiences by linking to our web reference.
All the best.
---
Read more about similar topics:
This information is not meant as medical advice. It is provided solely for education. Our practice would be pleased to discuss your unique circumstances and needs as they relate to these topics.
Give us a call at  410.602.3322  or email Lauri@DrDeanKane.com and make an appointment soon. We're located on Reservoir Circle just a block off the Baltimore beltway, convenient to greater Baltimore, Annapolis, the Eastern Shore, Southern Pennsylvania, Delaware and Carroll County.