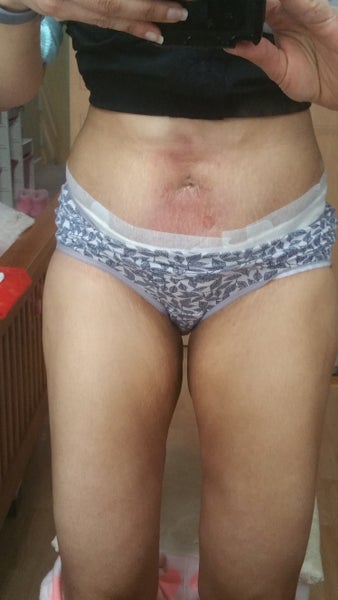 Q. 10 days post. The area around my belly button is red and very hard to the touch. Is the redness around my belly button normal?  I had a tummy tuck 10 days ago. The area around my belly button is red and very hard to the touch. There is also a lot of seepage from my belly button. I'm changing the dressing 3 time a day on advice from my PS. Is this redness normal? Will it go away soon? I still can't stand straight and I think this is the reason why.
A. Thanks for sharing your photos. 
The general principles in a tummy tuck include:
panniculectomy: raise the skin to the rib margin and remove its excess near the pubic region
diastasis / facial laxity tightening: the separation of the 2 muscles due to weight gain or pregnancy are pulled together. Further, any excess fascia (the ligamentous corset around the trunk is imbricated tighter
umbilicoplasty: repositioning or recreation of a belly button. The umbilical stalk maybe:
maintained and attached to the skin, or
the skin maybe pulled down to the base of the stalk and fascia
The concerns you have including the redness may be signs of hyperemia or increased blood flow to the skin due to liposuction under the panniculectomy skin flap or an infection.
The inability to stand up is due to the removal of skin to end-up with a tightened front belly. Pulling on the skin should cause blanching from lack of blood flow and not redness. 
Please re-consult as soon as possible with your surgeon or obtain a second opinion from a Board Certified Plastic Surgeon to reduce any complications which may occur associated with this redness.   
Good luck with this!
Read more about similar topics:
This information is not meant as medical advice. It is provided solely for education. Our practice would be pleased to discuss your unique circumstances and needs as they relate to these topics.
Give us a call at  410.602.3322  or email Lauri@DrDeanKane.com and make an appointment soon. We're located on Reservoir Circle just a block off the Baltimore beltway, convenient to greater Baltimore, Annapolis, the Eastern Shore, Southern Pennsylvania, Delaware and Carroll County.