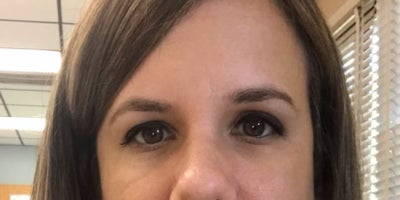 Q. What do I need to fix this eye asymmetry? Would a Botox brow lift help me? Or a brow lift surgery? Blepharoplasty? I had an upper blepharoplasty in 2012. After it was done my eyes have been a little asymmetrical but it didn't bother me too much. I understand nothing is perfect and I fix it with how i put my makeup on. I feel that one eye is more round and the other is more almond shaped. Anyway, now I see some droopyness not only in my right eyelid but in my eyebrow too. My right brow is so much lower than my left. What should I do with my situation with my droopy right eye/eye brow?
A. Thank you for sharing your photos. While very limited, I do identify some issues for which a in-person consultation with a talented, Board Certified Plastic Surgeon should evaluate and make recommendations. 
From beginning to the end of your photo sequence, I notice:
Brow ptosis or drooping on the right more than the left.
Facial asymmetry of the upper orbital rim lower on the right than on the left.
Hollowing and nasojugal fold development of the lower eyelid – cheek junction. 
The lateral canthal ligament on the right is positioned lower on the orbital rim than the left.
These are all issues to be assessed by a experienced facial surgeon to offer the non- to minimally- to invasive surgical options for correction.
You may consider:
Botox to assist in asymmetric brow elevation but dependent on muscle and skin mobility and muscle position on the forehead.
Silhouette InstaLift or EuroThreads for repositioning the brow with longer term skin tightening and lifting
Asymmetric brow lift. 
Craniofacial or Oculoplastic surgery specialist
This can get complicated. Please search for and choose your consultants carefully. 
I wish you the best. 
Read more about similar topics:
Asymmetry after Blepharoplasty
This information is not meant as medical advice. It is provided solely for education. Our practice would be pleased to discuss your unique circumstances and needs as they relate to these topics.
Give us a call at  410.602.3322  or email Lauri@DrDeanKane.com and make an appointment soon. We're located on Reservoir Circle just a block off the Baltimore beltway, convenient to greater Baltimore, Annapolis, the Eastern Shore, Southern Pennsylvania, Delaware and Carroll County.