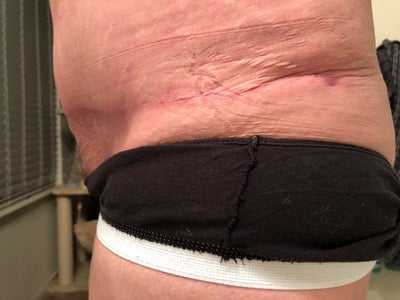 Q. Is general anesthesia required for a revision?  I had a tummy tuck almost 6 months ago with Lipo to mons. I have had this bulge on the right side of my incision since the first time I took off my binder. I am wonder if a local can be done to revise? It seems to have caused drooping in my mind as well. Unfortunately I had a PE a week after surgery and though I tested not genetically predisposed.. I know my doctor is hesitant to touch me again. The original surgery was pretty easy for me. Is a local possible for my scar revision?
A. Thanks for sharing your photos. It is difficult on these images to visualize a underlying bulging deformity. You may wish to obtain a ultrasound or CT image to better evaluate your concerns and whether surgery is required to fix it.  A scar revision may be performed under local anesthetic if needed. 
I can appreciate the hesitancy on your surgeons part following a PE a day after surgery. You will need medical and vascular clearances prior to any electively scheduled procedure which will to you and your surgeon recommended steps to diminish the risk of VTE (venous thromboembolism) and other preventable risks of surgery.
If you require surgery, and your surgeon remains distant, consider a second opinion consultation by a Board Certified Plastic Surgeon. I wish you well. 
---
Read more about similar topics:
This information is not meant as medical advice. It is provided solely for education. Our practice would be pleased to discuss your unique circumstances and needs as they relate to these topics.
Give us a call at  410.602.3322  or email Lauri@DrDeanKane.com and make an appointment soon. We're located on Reservoir Circle just a block off the Baltimore beltway, convenient to greater Baltimore, Annapolis, the Eastern Shore, Southern Pennsylvania, Delaware and Carroll County.