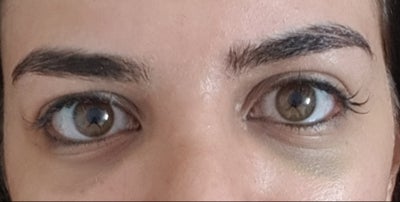 Q. What are my non surgical options to get rid of my dark circles under my eye? I got under eye filler "restylane type" to get rid of my dark circles 4 days ago. I didn't get a satisfying result and the darkness is still the same with my previous wrinkles(becomes worse with the bruises). My doctor said there is no possible way to change the color as the usage of the filler is only to fill the holes. I'm so much concerned about my dark circles that i had most of my life besides the wrinkles under my eyes, so i'm asking about anything that might help with my case?
A. Thanks for sharing your photos. While they are limited and a proper examination is needed, I do find some areas to comment on.
Your skin appears smooth but this may be due to concealer.
There appears to be a bruise under the left eye and possibly pigmentation of the skin under the right eye.
Your right eye opening is slightly different than the left.
There is rounding of the lower lid
I suspect there is a cheek/eyelid fold that was filled with the restylane.
All facial and body features are contained within a lattice of fibrous tissues in different sized compartments. Congenitally and as we age, these compartments begin to sag separating different areas from each other such as the lid from the cheek. A trough develops in between; in this case called the naso-jugal fold. Fat volume also redistributes or becomes thinner as does skin thickness. The yellow covering of the lower eyelid fat once masked the bluish discoloration of the deeper muscles.
There are non-invasive, minimally invasive and surgical options to discuss with a Board Certified and experienced Plastic Surgeon or Oculoplastic (eye specialist) Surgeon.
o   Obagi, ZO Skin Health, retinoids and chemical peels to tighten the eyelid skin
o   Sculptra
o   Radiesse filler
o   Fat filler
o   Lower eyelid blepharoplasty with Canthoplasty and Mid-face lift
Read more about similar topics:
This information is not meant as medical advice. It is provided solely for education. Our practice would be pleased to discuss your unique circumstances and needs as they relate to these topics.
Give us a call at  410.602.3322  or email Lauri@DrDeanKane.com and make an appointment soon. We're located on Reservoir Circle just a block off the Baltimore beltway, convenient to greater Baltimore, Annapolis, the Eastern Shore, Southern Pennsylvania, Delaware and Carroll County.