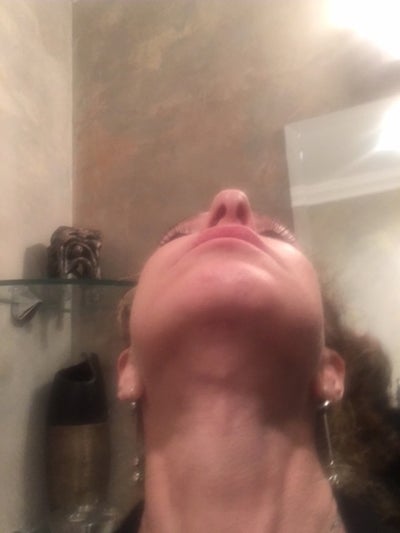 Q. Bump/lump on my neck 2 months after face/neck lift, is this normal?  I had a face and neck lift 2 months ago. Since that time I noticed two things that bother me: a pea-sized lump on the top of my neck (right under my chin – and no- that's not my Adam Apple). Also, one side of the scar under my chin has raised white line that is very lumpy. Is it normal?
A. Thanks for sharing your useful photo. The healing process takes a year or longer. During the first 3 months, swelling diminishes and scar formation develops. Suture knots may stand out during their process of resolving due to the extra bulk of the knot. Thereafter, remodeling occurs where the lumpy collagen is replaced with a sheet of thinner and tougher collagen.
The banding, tightening and lumps you feel are all part of this process. Some lumps may be other concerns such as a lymph node or collection. 
It is important to review these issues with your surgeon. He / she may make recommendations including:
massage,
ultrasound
steroid injection, and others,
or simply to leave things alone and allow the body to improve its miraculous results. 
I wish you the very best!
Read more about similar topics:
This information is not meant as medical advice. It is provided solely for education. Our practice would be pleased to discuss your unique circumstances and needs as they relate to these topics.
Give us a call at  410.602.3322  or email Lauri@DrDeanKane.com and make an appointment soon. We're located on Reservoir Circle just a block off the Baltimore beltway, convenient to greater Baltimore, Annapolis, the Eastern Shore, Southern Pennsylvania, Delaware and Carroll County.