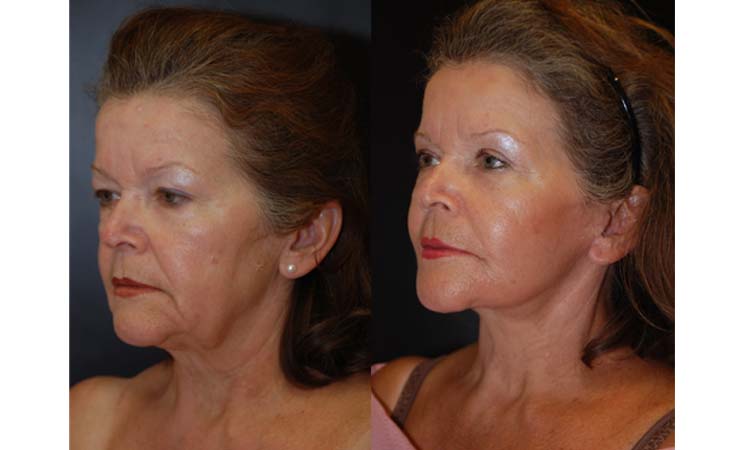 Q. I am 54 old, a year ago I have done a facelift and later fate transfer to my cheeks. I noticed that there is a bump on my cheek and some timesa I get pain on different places of my face. My doctor said that this a relaxed tissue. Which treatment would help to get rid of the soft lumps and tighten my face?

A. So sorry for your concerns. Without further information and examination, I will only review some generalities.
In the most optimal case, it takes: 3 to 7 days for circulation to stabilize;
7 to14 days for healing cells called fibroblasts to begin to make scar;
3 weeks to develop enough scar strength for return to non-exertional activities of daily living;
3 to 6 weeks for swelling to diminish (although it roller coasters with increased activities until 6 months or longer);
3 months to maximal scar thickening and lumpiness; and
3 to 12 months or longer for the healing to "remodel", ie thin and stabilize to its best.
Your surgeon will guide you in the ways to optimize your healing including:
Massage
Obagi, ZO Skin Health for enhanced healing, even skin color and tightening.
Accupuncture
Sorry your expectations are not met but nature does not follow our best desires. I hope this has been helpful! All the best!
Read more about similar topics:
Long Healing Time Post Facelift
Long Lasting, Natural and Youthful Appearance
This information is not meant as medical advice. It is provided solely for education. Our practice would be pleased to discuss your unique circumstances and needs as they relate to these topics.
Give us a call at  410.602.3322  or email Lauri@DrDeanKane.com and make an appointment soon. We're located on Reservoir Circle just a block off the Baltimore beltway, convenient to greater Baltimore, Annapolis, the Eastern Shore, Southern Pennsylvania, Delaware and Carroll County.