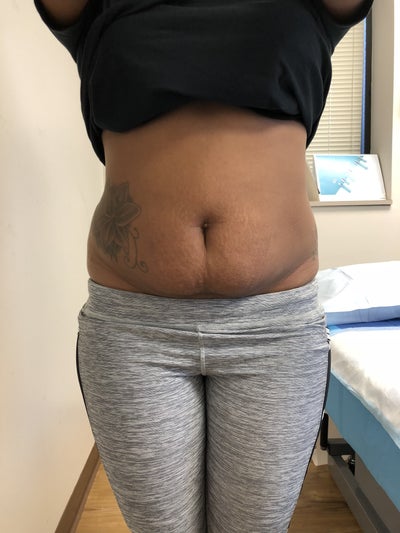 Q. 2 weeks post ThermiTight (and Lipo) should my skin be tightening more? I am 2 weeks post ThermiTight (with Lipo) of the upper/lower abdomen, I am seeing the results from the lipo, as my stomach is going down significantly, however I'm getting nervous that my skin is not tightening as it should be. Am I being too impatient?!
A. Thanks for sharing your photos! 
In general, it takes: 3 to 6 weeks for swelling to diminish; 3 months to maximal scar thickening and lumpiness; and 3 to 12 months or longer for the healing to "remodel", ie thin and firm. 
Liposuction primarily removes the fat and diminishes volume. ThermiTight is oriented toward maximal skin tightening. Both, stimulate the inflammatory process to produce collagen (scar) and tighten at the fat and skin levels. 
You are too early in the process to realize optimal reduction and tightening. Ask your surgeon about the process so you may better understand when to expect your best results. I wish you the best!
Read more about similar topics:
This information is not meant as medical advice. It is provided solely for education. Our practice would be pleased to discuss your unique circumstances and needs as they relate to these topics.
Give us a call at  410.602.3322  or email Lauri@DrDeanKane.com and make an appointment soon. We're located on Reservoir Circle just a block off the Baltimore beltway, convenient to greater Baltimore, Annapolis, the Eastern Shore, Southern Pennsylvania, Delaware and Carroll County.