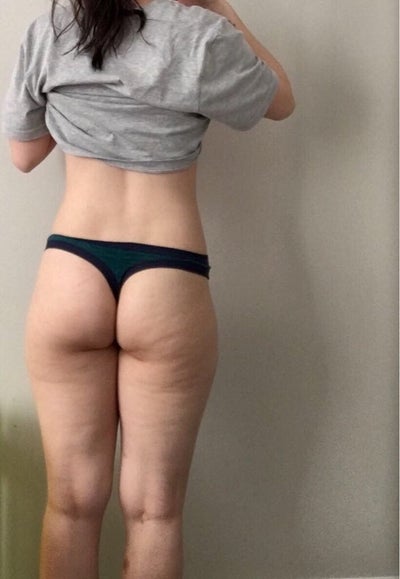 Q. I'm 5'1, have issues with only my lower half. Saddle bags, inner thighs, knees and back of legs. Would CoolSculpting help? I am 107-110 pounds and I gain weight only on my lower body. I am looking into CoolSculpting but I am not sure if it would help with that I want. I am hoping to get rid of my saddle bags, have somewhat of inner thigh gap and get rid of the fat located above my knees which is really bad in the light. Would CoolSculpting help? Also I have cellulite on the back of my legs wold CoolSculpting help eliminate some of it? if there is any other treatments to lo me have slimmer legs please let me know.

A. Sorry for the weight gain; its genetic where you put it on but options exist today to help you achieve an even more beautiful shape! Thanks for sharing your photos.
CoolSculpting is a non-surgical option which is tried and true for focused areas of fat thinning such as:
Tummy pooch and love-handles
Breast rolls and back rolls
Inner thigh and under the butt "banana-roll"
Outer thigh and arms
Search out a Certified CoolSculpting team with the  "CoolAdvantage" applicators! This updated technology increases the efficiency of cooling fat loss with faster procedure times and more comfort. Ask about the  CoolSmooth applicator to tame larger, flatter areas like the hips, thighs and tummy.
I believe this to be best for you but please consult with a talented team at a Board Certified Plastic Surgeons practice for an in-person evaluation and best outcomes.
Other options to consider for skin tightening include:
Sculptra, and
ThermiTight
I hope this is helpful. All the best!
Read more about similar topics:
CoolSculpting, ThermiRF, Scultpra
This information is not meant as medical advice. It is provided solely for education. Our practice would be pleased to discuss your unique circumstances and needs as they relate to these topics.
Give us a call at  410.602.3322  or email Lauri@DrDeanKane.com and make an appointment soon. We're located on Reservoir Circle just a block off the Baltimore beltway, convenient to greater Baltimore, Annapolis, the Eastern Shore, Southern Pennsylvania, Delaware and Carroll County.