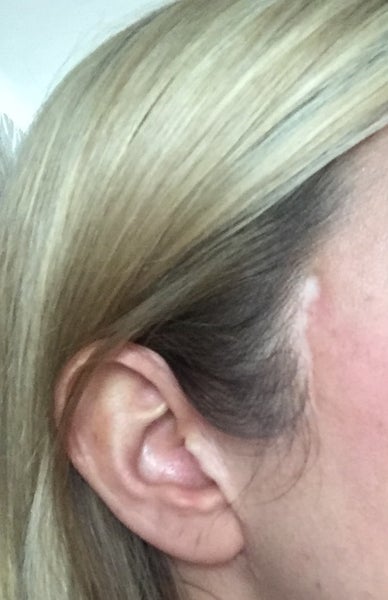 Q. Are these scars from a facelift permanent? I had a facelift 17 months ago , and I'm left with white thick scars on both sides of my face, how can I get rid of these, scar revision? Of permanent tattoo?
A. Yes, unfortunately, all scars are permanent. Your pre-auricular scars appear perfect and hidden behind the tragus or under the hair growth. The scarring that you present is the reason many of us now stop our incision at the sideburn and place temporal incisions higher in the scalp.
Your temporal scars appear flat, slightly wide and hypo-pigmented. As with most incisions, the elements making pigment and oil are not included within the scar so they appear shinier and whiter. The scar itself is reasonable other than its placement.
I have tried revisions and tattooing of unfavorable scars along the hairline and have been disappointed due to re-widening of the newer scar or pigment color change with some inks. My best recommendations include:
Consult a Obagi Certified Sklin Health Team for retinoid and hydroquinone to blend the natural, sun freckled skin with that of the scar
Consider fractionated CO2 or pixelated erbium laser to refresh the scar and adjacent skin texture to further blend together
Try "dermablading" a technique relatively new in the US for the eyebrows which is a combination of superficial tattoo but created in a hair-like appearance
My favorite is hair transfer within the scar and just in front of it. Your hair grafting surgeon may premedicate the scar with tretinoin/retinol for improved survival  and post-medicate with Latisse for improved growth.
I hope this was helpful. All the best!
Read more about similar topics:
This information is not meant as medical advice. It is provided solely for education. Our practice would be pleased to discuss your unique circumstances and needs as they relate to these topics.
Give us a call at  410.602.3322  or email Lauri@DrDeanKane.com and make an appointment soon. We're located on Reservoir Circle just a block off the Baltimore beltway, convenient to greater Baltimore, Annapolis, the Eastern Shore, Southern Pennsylvania, Delaware and Carroll County.