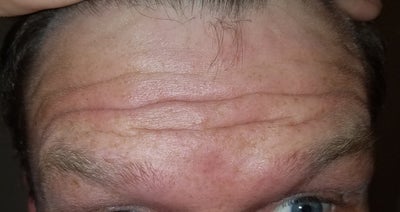 Q. I have some pretty severe forehead lines. Would Botox even help? Even when my forehead is completely relaxed they are so obvious and noticeable. All the pictures below are my forehead in its relaxed state except for the one where I am shown raising my eyebrows. You can see how deep the lines are in all of them They started to really show I'd say around my mid 20's. I am 33 now and they just get worse each year. Just curious if botox would even be able to do anything for it or if not something else?
A. Thanks for including photos. They are helpful and show the deeper furrows you have statically and dynamically of your forehead. They also show the ptosis (lowering, sagging) of your forehead onto your  nose, brows and eyelids. 
Botox will help relaxing the muscles that pulls your forehead down. Gravity and skin laxity also cause these wrinkles and will not be helped by Botox. For skin laxity, wrinkles and sagging concerns, consider:
1. fillers
2. Obagi, ZO Skin Health tightening with peels and laser
3. Silhouette InstaLift, minimally invasive skin suspension
4. Brow / Forehead Lift
Please consider consultation with a skilled, experienced and well rounded, Board Certified Plastic Surgeon to review this wide range of options for your needs. I wish you the best!
Read more about similar topics:
This information is not meant as medical advice. It is provided solely for education. Our practice would be pleased to discuss your unique circumstances and needs as they relate to these topics.
Give us a call at  410.602.3322  or email Lauri@DrDeanKane.com and make an appointment soon. We're located on Reservoir Circle just a block off the Baltimore beltway, convenient to greater Baltimore, Annapolis, the Eastern Shore, Southern Pennsylvania, Delaware and Carroll County.